Witch Doctor was one of four BattleBots competitors to be chosen by HEXBUG for the first and only wave of their Push Strike line of toys, released in 2016.
Like other toys released in the line, it is based on the ABC Season 1 version of Witch Doctor, evidenced by its predominantly purple and gray body and its 2015 season decals. The vertical spinning weapon is replicated well on the toy, and is connected to the right-front wheel by a gear mechanism inside. Therefore, as the Witch Doctor toy is pushed forwards and backwards, its primary weapon spins the opposite way.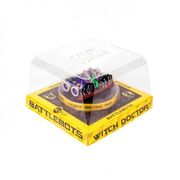 Considering its size, the Witch Doctor Push Strike toy is impressively detailed, with much of the complex decoration on the front scoop and disc itself replicated nicely. However, the graphics on the top panel are slightly inaccurate, as the Witch Doctor font was closer to the rear of the not on its real-life counterpart. The front scoop is also split into three individual pieces with separation lines still visible on the finished toy, whereas it was one wide section of metal on the actual bot. Lastly, its tires are a noticeably lighter gray than they were in real life.