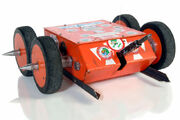 WindChill was a middleweight robot built by Team Toad for Seasons 3.0 and 4.0. It was built by team captain Michael "Fuzzy" Mauldin and his son, Danny. WindChill was a box-shaped robot with a pointed front, painted orange in the tradition of most Team Toad robots. The initial design for WindChill was a wedge with spikes, but it was eventually decided that the robot would have a lifting spike instead. WndChill did not have a very successful run, winning only one fight in two seasons. After Season 4.0, WindChill retired from competition.
WindChill was first known as Lockdown but it was renamed WindChill to fit in with the rest of the teams robots.
WindChill was also the team's planned entry into Robotica, but they did not make the show despite auditioning.
Robot history
Season 3.0
WindChill's first ever match was against Phoenix. At one point WindChill lifted Phoenix against the wall. The fight went to the judges, who turned a 24-21 decision for WindChill.

Season 4.0
Windchill's only opponent was Armadillo. Windchill had an early advantage, it lifted Armadillo and slammed it into the spike strip. That was followed by a pushing match, and Windchill got a few more lifts. However, Armadillo was doing more pushing, and one of WindChill's wheels got bent, causing steering trouble. Armadillo pressed its advantage, pushing Windchill around and into the spikes, and eventually getting that bad wheel to fall off entirely. Armadillo won, 35-10, and Windchill was out.
Wins/Losses
Community content is available under
CC-BY-SA
unless otherwise noted.