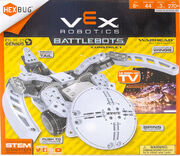 "Take your love for BattleBots to the next level with this construction set. With over 270 pieces, you can build a model of the BattleBots hero: Warhead. Featuring the push activated spinning disc weapon!"
— Official description on the HEXBUG website.
Warhead was one of five BattleBots competitors released as part of HEXBUG's VEX Robotics set of construction kits.
According to the BattleBots Store, the Warhead VEX Robotics kit is made up of 270 separate pieces. Like the other toys in its range, it is priced at $24.99.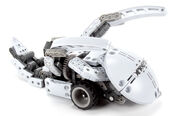 It is a relatively accurate representation of the British bot, with its iconic domed spinner and wings replicated on the toy. The spinning weapon rotates as the toy is driven forwards and backwards, however, the dome itself is inaccurate to the real-life robot. The wings are connected to gears which allow them both to move up and down in unison, and they can hold an upright position as was seen on the actual bot. The Warhead toy also features several stickers which can be added to the finished build. The toy also lacks the side armor which protected Warhead's wheels and the jagged shapes of its wings and tail. However, the latter was likely intentional to appease a young audience.
Trivia
[
]
Warhead and Nightmare are the only two BattleBots competitors who fought in both eras of the show and received HEXBUG toys. However, the Nightmare Push Strike toy ultimately went unreleased.
Like the End Game kit, the Warhead kit comes with a sheet of paper that calculates the strength of Warhead's weapon.
Warhead and End Game are the only VEX Robotics releases to not also receive HEXBUG remote control toys, even despite End Game's title-winning 2020 season.