Vanguard is a heavyweight robot from the built by Jack Tweedy of Team Nebula, which applied for Discovery Seasons 6 and 7 of the BattleBots reboot.
Designed to be a heavily upgraded version of his 2018 season entry Vanquish, it is a four-wheel drive control bot built with a 6082 aluminum frame varying from 20-25mm in thickness. Vanguard sports modular weaponry, though both options revolve around a lifting mechanism.
The first is a HARDOX lifting plow much like Jack Tweedy's first BattleBots entry Vanquish, emblazoned with a black "V" on the arm, likely to be used against horizontal spinners. The second setup consists of lifting forks with static claw-like arms used to control opponents and carry them around the BattleBox. Both options are geared to a 256:1 ratio for the most efficiency possible from its weapon motor.
Vanguard also boasts two different drive configurations. The first is a more traditional and likely defensive setup which features wheelguards, whilst the second was a "bouncy setup" with larger wheels primarily used for larger opponents, or for anyone the team believe they can clamber over to attack. According to Jack Tweedy, Vanguard uses the same speed controllers seen in Bloodsport during their successful 2020 season run.
Work commenced on Vanguard in early 2020, but Jack Tweedy opted against applying for Discovery Season 5 prior to its postponement. The team confirmed their application for the sixth season of BattleBots in April 2021, named "Say No to Icewave" in reference to Vanquish's brutal loss, and teasing a rematch.[1] However, Vanguard was ultimately rejected and would have been forced to withdraw regardless, due to travel issues affecting UK teams.[2]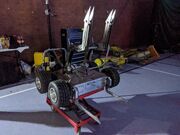 Despite this setback, Jack Tweedy confirmed his intention to reapply for Discovery Season 7 in early 2022. Vanguard also competed at Extreme Robots in May 2022, marking its competitive debut with a fight against Team Outlaw's Meggamouse.[3]
References
[
]