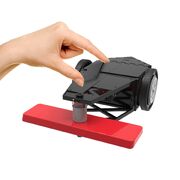 Tombstone was one of four BattleBots competitors chosen for the construction toys produced by Tech4Kids. It was released individually as well as with Bronco in a two-pack in 2017.
The toy is easily recognisable as Hardcore Robotics' title-winning robot, with its iconic red bar spinner included in the kit to spin like the real robot. Like other toys in the line, it needs to be constructed and includes instructions to do just that. Many of the parts either clip or press together, with each part made from slightly flexible plastic. These can come off during play to represent damage, and a "kill switch" is hidden behind the removable rear-left piece. When hit, this not only stops the robot from being able to drive, but also throws its top armor away leaving a red light to signal its immobilization.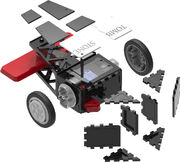 Tombstone is powered via remote control using the four main buttons on the front for steering, and two buttons on the top to spin Tombstone's weapon either clockwise or counter-clockwise. It features 14 pieces in total, excluding the option alternative top armor parts.
Its wheels are noticeably thinner than those on the real robot, and do not protrude as far out of the robot as in real life. The primary weapon is also belt-driven on the toy, whereas it is belt-driven on the 250lb robot.
Trivia
[
]
The toy features an unpowered third wheel underneath the shaft for the weapon, which did not feature on the real robot.
Both Tombstone and Minotaur's Tech4Kids toys feature the same chassis.
Trivia
[
]
Unlike other BattleBots toys, the remote control for Tombstone does not have an on/off switch. Instead, it has a sleep mode function which turns off the remote after two minutes of inactivity.
This toy and Minotaur have the same chassis.