Tombstone was one of four BattleBots competitors to be chosen by HEXBUG for the first and only wave of their Push Strike line of toys, released in 2016.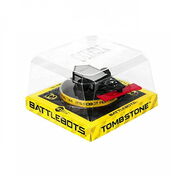 As with other toys released in the line, it is based on the ABC Season 1 version of Tombstone. It is equipped with its iconic horizontal bar spinner, red in color, though it was originally black on the prototype toy. This weapon is driven by a small black O-ring which not only mimicks the real bot's chain, but connects to the drive wheels. This means Tombstone's bar is able to spin as the toy moves forwards and backwards.
The toy is largely identifiable as Tombstone though is different in several ways to its real-life counterpart. For example, the gray used is much more akin to its 2016 and 2018 season looks. Its bar weapon is also red rather than silver, and a line where the halves of the chassis were sandwiched together in production is still visible. However, other details such as the black wheel hubs, shape of the bar and font on the top panel of Tombstone are replicated well.