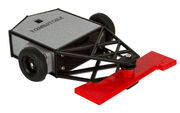 "This BattleBot can be summed up in one word, "deadly"! Steer clear of Tombstone, the grave maker! With a sinister rotating blade, this worthy adversary is known to leave the competition six foot under.
REST IN PIECES!"
— Tombstone's official description.

Tombstone was one of the BattleBots competitors released as part of HEXBUG's Rivals line of remote control toys. It was originally released in 2016 alongside Witch Doctor in two-pack, individually and as part of an Arena set as one of the first HEXBUG releases in the BattleBots range. Tombstone has since been re-released several times. Much like other toys in the range, Tombstone features removable parts which come off to mimic damage. In the case of all three Tombstone HEXBUG remote control releases, both rear panels and the large top panel can be removed.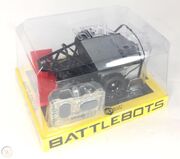 The first version of Tombstone sports its iconic solid red bar and is based off its ABC Season 1 look - specifically how it looked in 2015 season fights against Bronco and Bite Force. It is a highly accurate representation of the real robot, with the Tombstone name adorning the top panel and its tubular weapon support replicated in the toy. Much like Ray Billings' machine, the HEXBUG toy is able to run upside-down.
The second version features a very similar chassis to its initial release, but the side panels are now black rather than gray, and sport the logos of NPC Motors, one of Tombstone's major sponsors. The most notable difference, however, is the large black bar with white wording across the top. Initially released in 2018 exclusively alongside the updated version of Minotaur in an Arena set, the black bar edition of Tombstone was later also released individually.
A third version of Tombstone was released in 2021 as part of the Arena MAX playset, alongside a repainted Tank chassis from the Build Your Own Bot line of custom chassis. This version features Tombstone's all-black look which it adopted from the 2020 season onwards, as well as the armor protecting its weapon support. The weapon itself is also unique, as Tombstone's blue bar with weight-saving holes is replicated in this variation. The magnets holding its rear panels in place were made stronger and it features slightly more powerful drive and weapon motors. As of 2022, this version of the toy is only available as part of the Arena MAX set. It is currently unknown whether this Tombstone toy is set to be released individually.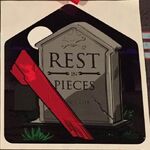 Trivia
[
]
Tombstone was the first toy in the HEXBUG remote control line to have three unique releases, with red, blue and black spinning bars among other aforementioned changes.
The weapon bar on the original prototype Tombstone toy was orange rather than red.
If purchased from the HEXBUG website, the Tombstone toy comes with a unique sticker which can be applied to its top or bottom panel.