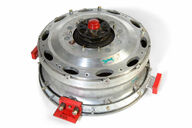 Spinning Mayhem
 was a heavyweight robot which fought in the final two seasons of
BattleBots
. It was a silver robot armed with a four-toothed spinning shell. It didn't do well in competition, losing all three of its matches.
Spinning Mayhem also entered Season 3.0 but had technical issues and was forced to forfeit.
Robot history
Season 3.0
Spinning Mayhem's first opponent was supposed to be Sharkbyte, but Spinning Mayhem began to experience technical difficulties and had to forfeit.
Season 4.0
Spinning Mayhem fought against RoboVore. RoboVore drove itself straight into the arena wall just as Spinning Mayhem started spinning. Spinning Mayhem got a couple hits on RoboVore and a piece of armor on RoboVore flew off from the impact of Spinning Mayhem. Spinning Mayhem stopped spinning and RoboVore started pushing Spinning Mayhem against the corner of the arena. The two robots circled and pushed each other before the time ran out. The judges scored a 26-19 decision for RoboVore.
Season 5.0
Spinning Mayhem's opponent this time was Mauler 51-50. As the match started, both robots spun up, but Spinning Mayhem backed up from Mauler's approach. Spinning Mayhem took one hit and stopped moving, while Mauler chewed on the carcass. This quick knockout brought Mauler to the final preliminary round and Spinning Mayhem was eliminated yet again.
Wins/Losses
Outside BattleBots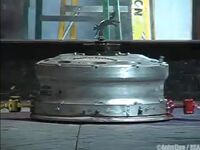 After BattleBots ended, Spinning Mayhem competed in the 2004 RFL Nationals, where it finally achieved success, winning two fights before losing to Stormovik and Sewer Snake. Spinning Mayhem also competed in RoboGames 2006 and 2007, where it had limited success, winning only once against
Eugene
and losing 4 other matches. Having become obsolete by that point, it was retired.
Trivia
Spinning Mayhem has multiple similarities to Technofool.

Both are heavyweight robots.
Both are made out of car rims.
Both have forfeited at least 1 battle.
Community content is available under
CC-BY-SA
unless otherwise noted.