SawBlaze was one of the BattleBots competitors made into infrared remote control toys by HEXBUG in 2021. It was released alongside Whiplash in the first two-pack Platinum Rivals set, but not separately as of 2022.
Unlike HEXBUG remote control releases before it, SawBlaze uses a rechargeable lithium polymer battery, a much smaller version of the kind of batteries often seen in heavyweight BattleBots machines, meaning the toy could be charged from a micro USB port rather than needing to totally replace AAA batteries. It also features an additional motor to power both its hammer arm and spinning disc. These upgrades saw SawBlaze and Whiplash priced higher than past Rivals packs at $69.99.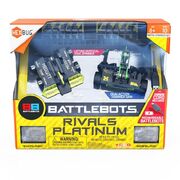 The toy is very accurate compared to SawBlaze's real-life counterpart. Its chassis, weaponry overall appearance a bear strong resemblance of SawBlaze during the 2020 season. Both its active weapons can be powered together in order to replicate its hammer saw weaponry of Jamison Go's heavyweight. It even features many of the sponsorship decals present on the bot. However, the disc is not interchangeable with a saw blade as was seen during Discovery Season 5 in their fight against Rusty.