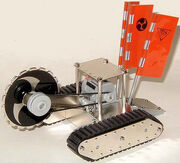 As well as a
Battle Basher
,
Ronin
was offered as a kit in 2001 by Jakks Pacific and Road Champs for those willing to build their own version. The saw blade is motorized and spins slowly enough to avoid being a safety hazard as well as replicate the speed in which the real robot's weapon spun. The rubber band drive belt is somewhat prone to slippage while the kit's treads are the wrong color and too stiff to allow proper locomotion. The instructions erroneously depict the sticker that is applied to the weapon being applied while the weapon is attached and having the blade face with the sticker facing left, though this could be fixed if one can make a replica sticker of the decal and apply it to the other side, taking note of the hole where the weapon is attached. The flags are an accurate representation of the real robot's flags and since they're decals, they'll stay where they're applied. When battling with the toy, the tread pods do not pivot like the real robot, which actually makes it better.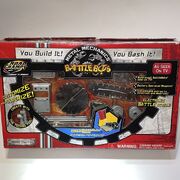 Community content is available under
CC-BY-SA
unless otherwise noted.