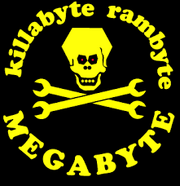 Robotic Death Company is a team well known for their destructive full-body spinners. The RDC have mainly competed in the Heavyweight class, but have had other robots in other classes. The team are most well known for the decently successful Megabyte and Lightweight Rambite, as well as less successful robots like Agsma and Superheavyweight Super Megabyte. The team most recently appeared in the BattleBots 2016 reboot with Invader and the following seasons with Gigabyte. In July 2021, it was announced via the Skorpios team's YouTube channel that Robotic Death Company would take ownership of Cobalt for Season 6 in the absence of Sam Smith and Dave Moulds.
Most (but not all) robots built by Robotic Death Company were spinners (Full-bodied spinners and overhead spinners).
The team were well known for competing in various other robot events like Combots, RoboGames, and the King of Bots championships in China as well.
Robots entered into BattleBots
| Robot Name | Weight Class | Events Participated In |
| --- | --- | --- |
| Megabyte | Heavyweight | Season 5.0, 2004 NPC Charity Open, 2009 Professional Championship |
| Super Megabyte | Superheavyweight | 2004 NPC Charity Open |
| Rambite | Lightweight | Season 4.0-Season 5.0 |
| Invader | Heavyweight | ABC Season 2 |
| Gigabyte | Heavyweight | Discovery Season 3-Season 6 |
| Cobalt | Heavyweight | Discovery Season 6 |
Wins/Losses