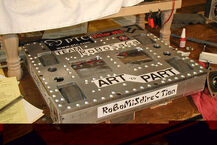 RoboMisDirection was a lightweight robot which competed in the final two seasons of BattleBots. It was a box-shaped robot which was originally armed with two spikes and an unpowered sideways-swinging hammer, but it was revised into a four-wheeled robot armed with only the swinging hammer. With these revisions, it performed decently in competition, reaching the round of 32 in Season 5.0.
The team that built RoboMisDirection also built a middleweight version called Bigger-MisDirection. RoboMisDirection also competed in ROBOLympics 2004 as Hadoouuu Ken.
Robot history
Season 4.0
Claymore had a shaky start, going up on edge and starting to dance instead of spinning up, and getting pushed by Robo Misdirection. But as soon as it recovered and spun up, it was all Claymore's fight. The spinbot smashed RoboMisDirection apart in relatively few hits, leaving a crumpled mass behind. Claymore did dent its dome a bit by hitting into the wall a few times, but won a KO.
Season 5.0
Wins/Losses
Community content is available under
CC-BY-SA
unless otherwise noted.