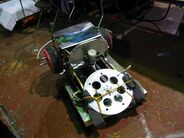 Rhode Hog was a lightweight competitor which competed in the final three seasons of BattleBots. It was armed with a clamping shell, which was replaced with a horizontally-spinning disc for Season 5.0. It performed decently in competition, reaching the round of 64 as a rookie. It featured a Slam Cam during Season 3.0 but it was never shown.
The team hailed from Rhode Island, hence the name.  
Robot History
Season 3.0
Rhode Hog's first match of the season was
Archangel
where it won on a 30-15 judges decision by using its shell to effect. Rhode Hog's next opponent was
Road Dot
but Road Dot had technical issues and it was forced to forfeit. Rhode Hog was now in the taped rounds against
Matts Bammer
.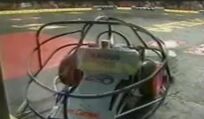 In the match, Rhode Hog couldn't clamp into Matts Bammer as it kept hitting Rhode Hog with its axe. Moments later in the match, Rhode Hog stopped moving and Matts Bammer slammed into Rhode Hog against the spike strip before it was counted out at 2:42. This KO meant Rhode Hog was eliminated from the competition.
Season 4.0
Rhode Hog's first match was against
Learning Curve
. As the match began, Learning Curve missed its initial ram and slammed itself into the wall. Then both robots started pushing each other. Rhode Hog managed to get half of Learning Curve in its shell but couldn't move with Learning Curve and both robots had to be separated. Both robots circled around each other and Learning Curve got a few light rams in before the time ran out. Learning Curve won on a 27-18 judges decision and Rhode Hog was eliminated from the competition.
Season 5.0
Rhode Hog went through a bye in the first round and advanced to the second round against Fang. In the match, Fang lost one of its wheels due to Rhode Hog's new spinning disc but Rhode Hog suddenly lost power and was counted out.
Wins/Losses
Community content is available under
CC-BY-SA
unless otherwise noted.