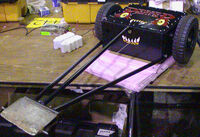 Reaper was a lightweight competitor which competed in Seasons 3.0 and 5.0 of BattleBots. It was a two-wheeled robot armed with a thwacking wedge on a long arm. Reaper did decently, reaching the round of 32 as a rookie and winning one consolation rumble.
The team that built Reaper also had a middleweight named Trocar, which didn't compete as frequently or had as much luck.
Robot History
Season 3.0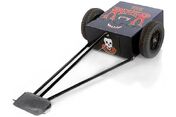 Reaper's first ever match was against Daisy. Reaper won on a 34-11 judge's decision and advanced to the TV rounds, where it faced Wedge-O-Matic. Reaper won by KO at 2:24 and advanced to the round of 32, where it faced Bad Habit. Bad Habit won on a close 23-22 judge's decision and Reaper was eliminated from the tournament.
Reaper wasn't finished, however, as it participated the lightweight consolation rumble at the end of the tournament. It's unknown how well it performed, but it won overall with The Crusher and came back for the lightweight royal rumble. Reaper almost scoops The Crusher, then gets attacked by Backlash. It is bumped by Dr. Inferno Jr., but later lands a hit. It then got stuck temporarily on Mecha Tentoumushi. It also got slammed by Gamma Raptor. Reaper didn't do much else after. It was one of few robots still moving in the end, but it lost overall to Ziggo.
Season 5.0
Reaper's only match in Season 5.0 was against UGV Scorpion. UGV Scorpion won on a 33-12 judge's decision and Reaper was eliminated from the tournament again.
Wins/Losses
Community content is available under
CC-BY-SA
unless otherwise noted.