The re:MARS all:STARS BattleBots Challenge, often shortened to re:MARS, was a knockout tournament held in Las Vegas, Nevada as a collaboration between Amazon and the Discovery network.
Unlike mainstream episodes of BattleBots, this tournament was not available to watch on Discovery television and was instead livestreamed via Twitch on June 6, 2019. It was hosted by Chris Rose and Kenny Florian with Faruq Tauheed introducing bots as normal, though the team were joined by Kelly Link, a presenter and commentator for the Amazon-owned Twitch platform.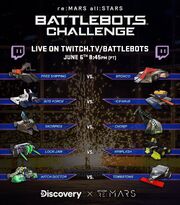 re:MARS consisted of ten all-star BattleBots competitors who fought in five 1v1 initial battles. The winners of each were ranked by the live Twitch chat, which determined who would advance to the Championship final, the winner of which would be presented with the Giant Bolt. Two grudge matches were held in the meantime, the first of which being Skorpios vs. Lock-Jaw, who fought one another for a spot in the Top 16 during the 2019 season. Following on from this was Bite Force vs. Whiplash, a repeat from Discovery Season 3's semi-final matchup. Though Whiplash was unable to gain revenge on Paul Ventimiglia's Bite Force, Skorpios defeated Donald Hutson's Lock-Jaw on a judges' decision.
As it happened, the chat voted for Bronco to fight Witch Doctor in the final, which in itself would be a grudge match from ABC Season 1. Witch Doctor ultimately won the final, and were declared winners of the re:MARS all:STARS BattleBots Challenge.
In May 2022, a second re:MARS BattleBots event was announced.[1]
Fights
[
]
Trivia
[
]
The re:MARS tournament was the first BattleBots event of the modern era to be held in Las Vegas, Nevada. Just over two years later, the city would become the permanent filming location of BattleBots as of Discovery Season 6.
For the competition, Tombstone was driven by Justin Billings as opposed to Ray.
For its rematch against Bite Force, Whiplash was driven by Jason Vasquez as opposed to Matt.
re:MARs was the last event Bite Force was seen in prior to its BattleBots hiatus, and the only fights it had as defending 2019 season champion.
It was also the last event where Bronco would earn a BattleBots victory.
This was the only reboot era BattleBots competition that HyperShock didn't participate in.
References
[
]