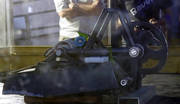 Not to be confused with Season 5.0 Lightweight The Raven.
Raven was a Heavyweight robot built by Steve Buescher which attended the 2018 season of BattleBots. The team arrived to the event with the bot in pieces, and they were given the two weeks of filming time in order to prepare it for its one and only battle. It was slated to fight Red Devil in the USA vs the World event, but due to the hasty construction it burned out its electronics in the test box. As a result of this Kraken was brought in as a replacement.
During the Comedy Central era Steve Buescher was part of Team Dangerous Drums which had a great deal of success with pioneering drum spinner Little Drummer Boy.
Community content is available under
CC-BY-SA
unless otherwise noted.