Not to be confused with the Comedy Central BattleBots lightweight of the same same, or Mecha Rampage.
Rampage is a heavyweight robot built by Team X, a family team from North Florida which competed in Discovery Seasons 5 and 6 of the BattleBots reboot.
It is a large, box-shaped robot which is black and bronze in appearance, armed with a single-toothed vertical spinner at the front. In its debut year, Rampage was two-wheel drive and featured 90 degree L-brackets bolted to the front face. Notably, these were fixed in place, so struggled to get underneath opponents and feed them into the disc as intended.
According to the CAD submitted to BattleBots ahead of its debut year, Rampage was supposed to be fitted with a front-mounted lifter and sloped wedge as well, though this was scrapped in the build stage "due to time and cost constraints", according to the team.
Rampage lost its only main season battle to fellow newcomers Black Widow, which went untelevised. Though the robot was ready to battle again shortly after its debut, Team X were not given any more fights in the main season, and did not make the Top 32 as a result. The team's televised debut came in the Bounty Hunters spinoff, where it was brutally torn apart at the hands of Team Whyachi and Fusion in the first round of the Beta bracket.
Rampage returned for the 2021 season fully rebuilt from the previous competition, sporting a fully welded AR500 steel chassis varying in thickness across the bot, and 6mm 7075 aluminum top and bottom. Rampage now has a wedge configuration at the front, with a second layer of metal bolted on top of it and "ears" protruding from the top. The vertical spinner is now powered by a stronger Magmotor S28-400, replacing the AmpFlow A28-400 used in Discovery Season 5. It also boasts four-wheel drive, but this comes at the cost of the wheels being exposed.
"For Season 6 we decided to stick with making the vert better and not add a potential new problem into the mix with a lifter..."
— Team X explain their reasons against incorporating the lifter with more time ahead of Season 6.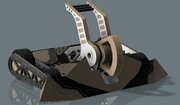 Their first fight came in a YouTube exclusive battle against a new robot from a seasoned team, Retrograde. After being overturned early, Rampage was unable to run inverted and lost by knockout. Team member Daniel Knox claimed their invertibility issues were resolved following this loss, but Rampage suffered a brutal second loss at the hands of MadCatter after being left stranded on the Upper Deck.
Team X revealed CAD for a considerably more refined design of Rampage for 2022, highlighting their intention to apply for Discovery Season 7. Their application was confirmed in May 2022.
Robot History
[
]
Discovery Season 5
[
]
Rampage vs. Black Widow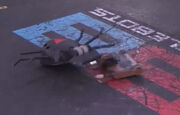 For its first and only fight of Discovery Season 5, Rampage faced Black Widow. This went untelevised during the main season, only being shown in full as part of the Basement Tapes. The fight started slow, with Black Widow losing parts of its cosmetic legs in the initial impact. Black Widow threatened to attack with its flame and through Rampage's weapon was spinning, it struggled to get underneath its opponent with its fixed L-bracket wedgelets. Rampage then drove into the side of the box and for a few moments, was not moving. The cumbersome Black Widow could not capitalize on this however, allowing Rampage to escape. Black Widow turned to face its opponent and used its wedge to kill Rampage's weapon, starting to get a hold of the fight. Rampage attempted to push Black Widow in the closing moments, but the fight went to the judges, who unanimously scored the fight in favour of Black Widow.
BattleBots: Bounty Hunters
[
]
Rampage vs. Fusion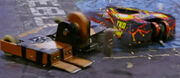 Rampage fought in BattleBots: Bounty Hunters for a shot at facing Beta for a share of a $25,000 prize. First up for Team X was Team Whyachi and Fusion. Both bots were able to spin up early on, but it was Rampage who took the first hit, causing both robots to be thrown to opposite sides of the BattleBox.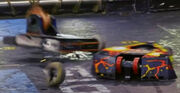 Rampage was hit again and lost both of its left-side wedgelets.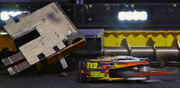 The next hit caused Rampage to bounce off the screws, costing it one of its wheels and disabling both their disc and their drive. However, while immobile, they took one last hit from Fusion that flipped them over. Rampage then was counted out and lost by KO after just 46 seconds.
Discovery Season 6
[
]
Rampage vs. Retrograde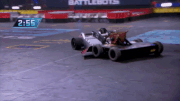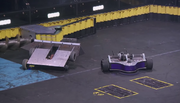 Rampage opened its 2021 season against newcomer Retrograde. For this battle, Rampage went in with pieces of polycarbonate sheet bolted to their front wedge. The fight commenced with Retrograde charging at the front of Rampage, leading with their lifting forks. They were immediately able to breach the ground clearance of their opponent, overturning Rampage within the first ten seconds of the fight. Rampage was able to free itself from the arena barrier it was leaning against, but it then became apparent that its rear wheels were not large enough to allow the bot to run inverted. Retrograde spun around and attacked with its undercutter, tearing a wheel away from Rampage before landing several more glancing hits to its top side. Unable to show translational movement or right itself, Rampage was counted out, awarding Retrograde a debut win by knockout.
Rampage vs. MadCatter
After 1-1 SMEEEEEEEEEEEEE withdrew from the main competition due to damage withstained, Team X were granted their first televised fight in the form of a match against MadCatter following SMEEEEEEEEEEEEE's withdrawal. MadCatter was quickest out of its box and dealt a frontal blow to Rampage, tearing the front strip added to improve their ground game and throwing it onto the Upper Deck. Rampage escaped, but appeared to suffer drive issues as it sat beside the BattleBox hazard. MadCatter then delivered a brutal hit to the front of Rampage, tearing the wedge off and sending the bot flying back onto the Upper Deck. Upside-down and unable to escape, Rampage was counted out and MadCatter took the win by knockout.


In a March 2022 post from the team, they revealed MadCatter's assault on Rampage shattered the magnets within all four drive motors and warped the entire frame.[1]
Results
[
]
RAMPAGE - RESULTS
Discovery Season 5
Fight Nights
0-2
Fight Night (Untelevised)
vs. Black Widow
Lost (JD)
Bounty Hunters 2020
Bounty Hunters 2020 - Beta Episode

Round 1
vs. Fusion
Lost (KO)
Discovery Season 6
Fight Nights
0-2
Fight Night (Untelevised)
vs. Retrograde
Lost (KO)
Fight Night
vs. MadCatter
Lost (KO)
Wins/Losses
[
]
Competition
Wins
Losses
Discovery Season 5
None
Black Widow (Untelevised Undercard Match)
BattleBots: Bounty Hunters
None
Fusion
Discovery Season 6
None
Retrograde (Untelevised Undercard Match)

MadCatter (Undercard Match)
Faruq Tauheed Introductions
[
]
"From Port St. Joe, Florida, here to pan-handle you, it's RAMPAGE!"
"From Port St. Joe, Florida, this whole family got together to make your family just a little bit smaller. It's RAMPAGE!"
"This bot's captain is a Gen Z killer so he'll shut you down and do a Fortnite dance on your grave. It's RAMPAGE!"
"From Port St. Joe, Florida, don't worry about his age, just prepare to face RAMPAGE!"
Trivia
[
]
The only component of the first iteration of Rampage which utilized CAD software was its disc.
According to multiple teams present at filming for the 2020 season, Rampage was considered as a third opponent for Beta, as its original opponent Sharko was not ready to fight. GRABOT, however, were ready first and fought Beta instead of Rampage.
Rampage was originally supposed to have wheelguards in Season 6, but these had to be removed to keep the bot within weight.
A version of Rampage was built in Garry's Mod and entered into the fourth season of web-series Bashbots.

It is one of two replica BattleBots competitors to take part in the series, alongside Jonathan Schultz and HUGE.
References
[
]
↑ Private message in a BattleBots Discord server.