Rainbow was a heavyweight robot hailing from Russia, which competed in Discovery Season 4 of the BattleBots reboot.
The robot was two-wheel drive and invertible, armed with a rainbow-colored horizontal spinning bar, driven by a large brushless motor and belt drive. Although the primary weapon could reach a deadly speed, it struggled to cause damage to well-armored machines, largely due to its weapon belt being too tight and suffering issues with their speed controllers. Debuting in the fourth season of the show, Rainbow won two matches, including a rumble and a KO win over Nelly The Ellybot, but failed to make the Top 16 after a convincing loss at the hands of Yeti.
Team Rainbow cited earlier seasons of BattleBots on ABC and Discovery as inspiration to compete in live events hosted in their native country, Russia.[1] Prior to competing in BattleBots, team captain Petr Kravchenko had previously competed as part of Team Solarbot with a 65kg (143lb) pneumatic flipper called Shelby. He, along with Rainbow teammate Karina Khatkevich, also owned and competed with heavyweight Barracuda in several local live events, though the robot was not built by their Team Solarbot.
Daria Antipova was also part of Team Solargirl, who competed in Russia's ARMOR-2017 competition with 90kg (198lb) heavyweight entry Donut and 60kg (132lb) sit-and-spin entry Tortik, which was designed to look like a cake.[2]
Rainbow was originally called Pinkie Pie (Russian: Пинки пай) featuring characters from TV show My Little Pony on the top armor panel, which were hand-painted by the team. Despite competing under this guise in Russia and India, due to copyright issues, the name and top panel artwork had to be changed to fit the new name.[3] As such, Rainbow was weighed ahead of filming without its Team Rainbow artwork, which was applied by Karina Khatkevich and Daria Antipova ahead of their official photos. The original version of the robot weighed just 198lbs, but was beefed up to fit the 250lb limit ahead of BattleBots.
Rainbow was originally supposed to be the first HyperShock Approved team, but this team sponsorship fell through due to issues relating to shipping parts to Moscow.
"Technically Rainbow was the first team we tried to sponsor. Didn't quite work out. Turns out you can't ship industrial hardware into Moscow ... we tried to ship them a box of stuff and it got stuck in customs in France."
— Kyle Awner on HyperShock's attempts to sponsor Team Rainbow.
The team have not returned to BattleBots after Discovery Season 4, with the COVID-19 pandemic impacting almost every international team in Seasons 5 and 6. Despite this, the team have remained active within the Russian scene.
Robot History
[
]
Discovery Season 4

[

]
Rainbow vs. Nelly The Ellybot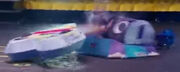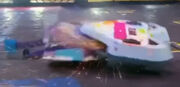 Rainbow's first match was against fellow newcomer Nelly The Ellybot. When the match began, Rainbow's weapon got up to speed and began to attack Nelly's wedge, causing minor damage. Rainbow continued to attack and tore into the face of Nelly, leaving Nelly's left googly eye inoperable and sending one of Nelly's ears flying. Rainbow continued its assault and tore off Nelly's right eye completely. Nelly was still mobile, so Rainbow went after the other eye, ripping it off and damaging the face further. Nelly showed very limited movement after this attack, so Rainbow delivered a final hit which also dislodged its own weapon belt. Nelly The Ellybot was counted out, giving Rainbow the win by KO after 1:05.
Rainbow vs. Extinguisher vs. Double Jeopardy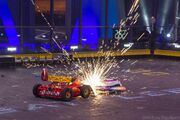 Rainbow's second match was in a rumble with Double Jeopardy and Extinguisher. When the rumble began, Rainbow was doing well as they were able to get their weapon going and dish out some damage to Extinguisher while also avoiding the latter's hammer, even twisting it a bit in a later hit, and juking out Double Jeopardy's projectiles. After another hit, Rainbow's weapon struggled to get up to top speed, but was able to cause minor damage. While Extinguisher and Double Jeopardy were losing mobility, Rainbow mostly stayed away, trying to get their weapon going again. Time ran out with only Rainbow showing true translational movement, so the judges awarded Rainbow a unanimous 3-0 decision.
Rainbow vs. Yeti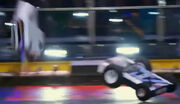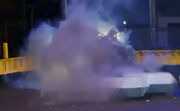 Rainbow's next opponent was Yeti and Greg Gibson. Unfortunately, the team was unable to repair its weapon in time, forcing Rainbow to fight with its bar barely functioning. As the match began, Rainbow was immediately on the retreat, trying to spin up its slow-moving bar. Rainbow took a big hit from Yeti which cracked part of their rear armor, dislodged their top plate, and flipped them over. To make matters worse, Rainbow started smoking heavily as a result from its batteries being ruptured inside. Rainbow was no longer moving and was counted out, giving Yeti the win by KO in under a minute.
Results
[
]
Wins/Losses
[
]
Faruq Tauheed Introductions
[
]
"From Russia, meet the new kid on the eastern block. It's a borscht of nature and you're about to get beat. But hey, vhat can you do? It's RAINBOW!"
"From Russia, It'll send you to space like a dog, yo. Hits you harder than Ivon Drago. You are not Rocky, you're Bullwinkle, and frankly you bore us. She's about to ne-squash-a. RAINBOW!"
"From Russia, here to put on the iron hurtin, the crème de la crème'-in. It's RAINBOW!"
Trivia
[
]
In order to fund Rainbow ahead of Discovery Season 4, the team organised a fundraiser, which raised over 200,000₽ (approximately $2750).
Team Rainbow introduced HyperShock captain Will Bales to pryanik - spiced cookies made from honey which are native to Russia. In turn, Team HyperShock gifted Rainbow an inflatable ride-on unicorn.
Rainbow was the first Russian team to compete in BattleBots, and the second team to represent Russia in a televised show after Weber Robotics fought in the World Series special of Robot Wars.
The team behind Rainbow uploaded several videos of their backstage preparations for their robot during the course of Discovery Season 4, which can be found on YouTube.
In one of Faruq's intros for Rainbow, he references fictional Soviet-Russian boxer Ivon Drago from the Rocky film franchise.

In the same introduction, he makes reference to long-standing animated television series The Adventures of Rocky and Bullwinkle and Friends, which was rebooted in the same year as Discovery Season 4 of BattleBots.
References
[
]