Not to be confused with the robot which applied for ABC Season 2 of the BattleBots reboot.
Ragnarök was a heavyweight robot built by Team Nebula, which competed exclusively in Discovery Season 4 of the BattleBots reboot.
It was a two-wheel drive robot armed with a large electric hammer powered by a LEM-170 motor, as well as a thick plow at the front to deflect opponents with spinning weapons. The hammer head could also be swapped out for a serrated axe head. Built by Jack Tweedy of Vanquish in the previous season, he was joined by Discovery Season 3 quarter-finalist Monsoon's Tim Rackley for the 2019 season. Ragnarök sported a heavy viking theme, both with the bot's appearance and the team's overall attire. Tim Rackley often wore a viking helmet and carried a large axe to fit the look. Ragnarök's name derives from the apocalyptic event in Norse mythology that symbolized the end of the world.
Despite its strong TIG-welded HARDOX frame, Ragnarök struggled for luck during BattleBots, often working inside the test box and experiencing issues inside the BattleBox itself. Notably, it suffered receiver issues affecting both its drive and primary weapon, most evident in their Desperado Tournament match against WAR Hawk.
Following a disappointing 2019 season for the team, Ragnarök did not return to BattleBots as Jack Tweedy turned his attention to a brand new robot called Vanguard, intended to be a heavily revamped version of Vanquish. A second Ragnarök build was designed, but Tim Rackley ultimately reunited with Team Monsoon. However, he was unable to compete in either of the following two seasons due to COVID-19 related travel restrictions, and then documentation issues affecting all UK teams ahead of Discovery Season 6.
Outside of BattleBots, Jack Tweedy is an established competitor on the UK scene, fighting with robots from 150g to 250lbs. His most recent beetleweight is a vertical spinner called Toxin. which won 2nd place overall in the 2021 Chatham Challenge Belt event. He drove a robot called Tanto for the unaired Robot Wars pilot in 2016 where it lost its melee which included Beta in its non-BattleBots specific identity, Basher. After not being selected to compete with Tanto under the name Nebula, joined Team Danby to compete as part of Apex in Series 10.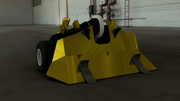 As well as his involvement with Monsoon during BattleBots, Ragnarök team member Tim Rackley competed in the Chinese TV show Clash Bots with AU Thumper, a repurposed version of Robot Wars competitor Thor. He himself also competed in Robot Wars with drum spinner Concussion, and also the 2018 King of Bots UK International Championships with a featherweight called Furious George. Tim Rackley was a referee for UK web-series Bugglebots and has assisted with many Bristol-based live events in recent years.
Robot History
[
]
Discovery Season 4
[
]
Ragnarök vs. Monsoon
Ragnarök began the 2019 season with a fight against Tim Rackley's former team member Tom Brewster and Monsoon. Before the fight, Ragnarök was equipped with a steel spear dubbed "The Heartbreaker" to try and cause additional damage to its opponent. As the match began, Ragnarök missed with its axe, allowing Monsoon to come in for an early hit, which sent Ragnarök into the air. It landed upright, but Ragnarök was hit again and landed upside-down. Smoke began to pour out from the bot as it became evident the functionality of Ragnarök's primary weapon had been affected in the assault from Monsoon. Without a way to right themselves, Ragnarök was counted out, giving Monsoon the win by KO.
Ragnarök vs. Valkyrie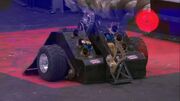 Ragnarök's next opponent was against Leanne Cushing and her undercutter, Valkyrie. For this fight, Ragnarök went with its traditional axe head, but as the match got underway, Ragnarök approached Valkyrie and took the first hit, attempting to tank the disc. This flipped Valkyrie over, but also damaged themselves in the process. Ragnarök was no longer moving as their gearbox forced their link into a tight spot, and the axe had also been bent out of shape. Being invertible, Valkyrie was unaffected by being flipped over, so delivered a final hit to Ragnarök, who was counted out. This gave Valkyrie the KO win and relegated Ragnarök to 0-2 and the Desperado Tournament.
Ragnarök vs. WAR Hawk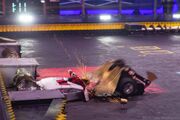 Due to damage sustained in its previous fight, the team had just 24 hours to rebuild Ragnarök in the hope of earning a guaranteed Top 16 spot via the Desperado Tournament. As the No.7 seed, they faced Rob Farrow in the first round and the No.2 seed, WAR Hawk. The team managed to repair the damaged gearbox and axe mechanism, and charged at WAR Hawk from the first second of the match. WAR Hawk was experiencing drive issues early on, allowing Ragnarök to attack with its weapon, but causing little damage to its opponent. Upon retracting the arm, Ragnarök's own weapon broke off its own rear stopper, forcing the weapon to go farther back each time it retracted. Sparks flew as WAR Hawk's disc made contact with Ragnarök's plow, before Ragnarök delivered WAR Hawk to the arena barrier for another overhead attack. In retaliation, WAR Hawk delivered several big hits in succession which sent Ragnarök flying through the air. During the exchanges, the power link for Ragnarök's primary weapon fell out, rending it useless. From then on, WAR Hawk saw no reason to fear its opponent and dealt another hit with its vertical spinner. This bent the plow upwards on Ragnarök and it was no longer moving. WAR Hawk advanced in the bracket, and Ragnarök's hopes of advancing against the odds were quashed.
Ragnarök vs. MadCatter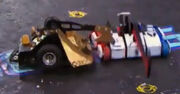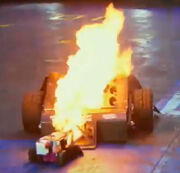 Fresh off its Desperado loss, Ragnarök was scheduled to face MadCatter in a Science Channel exclusive fight. Strangely, the fight did not air within US broadcasts of the episode, but did air in several Asian broadcasts. Ragnarök started the fight well, attacking MadCatter's side early on, even managing to disable half of its opponent's drive. However, one side of Ragnarök's drive had also died in this exchange, leaving it mostly to drive in circles and wait for MadCatter to approach. When it did, Ragnarök began swinging again and tore off another piece from MadCatter. However, it was torched by Crazy Cat, minibot of MadCatter, and suddenly stopped moving. Ragnarök was counted out again, giving MadCatter the win by KO.
Ragnarök & Monsoon vs. MadCatter & Chronos
Ragnarök returned for a 2v2 exhibition Tag Team match with Monsoon, allowing Tim Rackley to reunite with former teammate Tom Brewster. Ragnarök had an immediate chance to earn revenge over MadCatter as the UK team of two faced it again, as well as its partner, Chronos. For this fight, Ragnarök opted for its hammer configuration over its axe, hoping to land similarly devastating shots to MadCatter and to the flat top of Chronos. Ragnarök started off strong, largely mobile but seemingly unable to land any major hits on either opponent. Luckily, Ragnarök took little damage in return from the ring spinner of Chronos, but was suddenly knocked out and left for the rest of the match, leaving Monsoon to carry the team for the remainder of the fight. Ragnarök played no further part in the battle, but it went the distance and the judges awarded Monsoon and Ragnarök a unanimous 3-0 decision, marking a first BattleBots win for Jack Tweedy and Ragnarök.
Results
[
]
RAGNARÖK - RESULTS
Discovery Season 4
Fight Nights
0-4
Fight Night
vs. Monsoon
Lost (KO)
Fight Night
vs. Valkyrie
Lost (KO)
Desperado Round 1
vs. WAR Hawk
Lost (KO)
Fight Night
vs. MadCatter
Lost (KO)
NOTE: The battle against MadCatter was intended for Science Channel, but was ultimately only aired in international broadcasts.
Exhibition Matches

Team Match (with Monsoon)
vs. Chronos & MadCatter
Won (JD)
Wins/Losses
[
]
Competition
Wins
Losses
Discovery Season 4
Chronos and MadCatter (Exhibition Tag Team Match with Monsoon)

Monsoon (Undercard Match)

Valkyrie (Undercard Match)

WAR Hawk (Desperado Tournament)

MadCatter (Untelevised Undercard Match)
Faruq Tauheed Introductions
[
]
"From the Isle of Sheppey, off the English shore. When it lays down the hammer, you're the one that's Thor. Valhalla for RAGNARÖK!"
"What? You didn't know. You better axe somebody. It's RAGNARÖK!"
"You're about to go down so J-Lo when you suffer a devastating blow. Parts are gonna fly when you hear its battle cry. Don't be fooled by the axe that I got, I'm still, I'm still Raggy. RAGNARÖK!"
"A Norse is a Norse, of course, of course, and no one messes with its axe, of course. Unless the dark horse of force is the famous RAGNARÖK!"
"It's the North Star. If it offers you a Danish, even a Sweden, it's a trap. The smorgasbord of violent shots, it's RAGNARÖK!"
Trivia
[
]
In January 2020, the team auctioned Ragnarök's hammer on eBay to fund future projects.