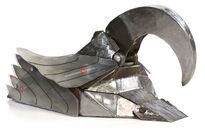 Photon Storm was a robot built by Team Storm from the United Kingdom which competed in the second season of ABC's BattleBots reboot. It was armed with a powerful hydraulic crushing ram similar to that of Razer which was capable of 12 tonnes of crushing force. It didn't do well as it lost its first match to Minotaur, which it almost got a crush in.
Photon Storm was an upgraded version of Robot Wars competitor Tiberius, technically Tiberius 4, and driven by Ed Hoppitt, who had purchased it in 2013. Hoppitt himself had also entered Robot Wars with Storm 2. Storm 2 itself was originally built for Season 6.0 of BattleBots but entered Robot Wars due to BattleBots getting axed by Comedy Central. Also on Hoppitt's team were Alan Young, who brought Chronic to BattleBots for the first season of the reboot, as well as Andrew Marchant of Tornado fame.
Before its overhaul by Team Storm, the robot Tiberius was originally built by Sam Smith, who entered the same series as part of Team Carbide, with Cobalt.
Robot History
ABC Season 2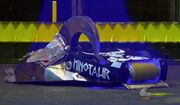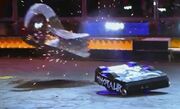 Photon Storm's first and only match in BattleBots was against Minotaur. The fight started off in Minotaur's favor, with Minotaur getting in a hit on Photon Storm, ripping decorative panels off. Afterwards, Photon Storm managed to get a grip inside the opening for one of Minotaur's wheels before releasing it. However, Minotaur then lined up a shot and got a good hit with its drum, causing one side of Photon Storm's welds to fail. This took out both of its drive motors and damaged the battery while also damaging the hydraulic line that powered the weapon. Photon Storm was left unable to move and spewing hydraulic fluid around the arena, giving Minotaur the win by KO at 1:41. Photon Storm unfortunately was not chosen to be a wildcard meaning it was eliminated from the tournament.
Wins/Losses
| Competition | Wins | Losses |
| --- | --- | --- |
| ABC Season 2 | None | Minotaur |
Faruq Tauheed Introductions
"If it were a rock star, it would be Mick Dagger. Get ready to get rocked! It's PHOTON STORM!"
See Also
Community content is available under
CC-BY-SA
unless otherwise noted.