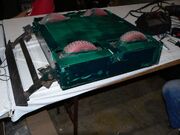 Paminator was a Middleweight robot built by Team X-Bots that competed at BattleBots Rochester R3 in 2005. It was a Black, four wheeled, invertible robot armed with a bladed hinged ramming wedge that was designed to work either way up.
Paminator did not do well in the competition, being destroyed by Green Wave. in its only battle, and forfeiting its second one as a result of this. Before BattleBots, Paminator competed at RoboGames 2005, where it had a little more success, and War Bots Xtreme II where it was the runner up.
Robot History
BattleBots Rochester R3
Paminator's first fight at BattleBots Rochester R3 was against
Green Wave
. This fight started with Green Wave getting up to speed, and immediately hitting Paminator, knocking it away. Paminator then rammed Green Wave, however this cost it as Green Wave's spinning blade messed up Paminator's wedge leaving only two of its four wheels on the ground.
Green Wave then delivered a nasty hit which knocked loose the right rear corner of Paminator's top armor. Following this Paminator charged at Green wave with its messed up wedge again, this fixed it, however Green Wave then sliced into Paminator again, ripping the aerial of the machine, and immobilizing it. Paminator tapped out, and Green Wave won by knockout.
This loss put Paminator in the loser's bracket where it was next scheduled to fight Terminal Velocity. However Paminator was unable to be repaired in time, and was forced to forfeit the match. This meant Paminator was eliminated from the tournament, following this performance Paminator was retired.
Wins/Losses
Community content is available under
CC-BY-SA
unless otherwise noted.