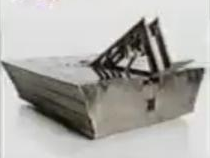 My Nutz Are Stainless was a superheavyweight competitor which competed in the final season of the original run of BattleBots. It was a trapezoid-shaped robot that was armed with a pneumatic flipping arm. It performed decently in its only season, reaching the round of 64.
Robot History
Season 5.0
My Nutz Ar Stainless' first ever match in BattleBots was against Hostile Intent. My Nutz Are Stainless won the match on a 30-15 judge's decision and advanced to the final preliminary round, where it faced Fantom Thrust. My Nutz Are Stainless won the match by KO and advanced to the TV rounds, where it faced Steel Reign.
The fight was a slow pushing match with Steel Reign pushing My Nutz Are Stainless for most of the match with My Nutz are stainless getting the occasional lift. In the end, Steel Reign won on a close 24-21 judge's decision and My Nutz Are Stainless was eliminated from the tournament.
Wins/Losses
Mark Beiro Introductions
"Like Pat Eucanaa? He is willing to implement his foreignt policies with extreme prejudice, protect your rights from MY NUTZ ARE STAINLESS!"
Community content is available under
CC-BY-SA
unless otherwise noted.