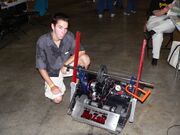 MoZar was a Middleweight robot built by Team Thrasher from Campbell, NY that competed at BattleBots Rochester R3 in 2005. It was a four wheeled, Black, double wedge shaped robot armed with two Red vertical spinning bars.
MoZar proved to be quite destructive, winning at least two of its matches by KO, and reaching the quarterfinals. However MoZar had a major flaw that proved to be its undoing, it could not self right, and this cost it as it lost two fights to SubZero. MoZar was originally built for LTRCG-304 in 2003 where it went 2-2.
Robot History
BattleBots Rochester R3
MoZar's first fight was against Bouncing Betty. This fight started with Bouncing Betty trying to get around to the side of MoZar, which got a hit on the side of Bouncing Betty, and took it into the wall where it lost its right tire, and tapped out.
This put MoZar into the next round where it faced Funnel Cloud. MoZar won by KO after destroying Funnel Cloud so badly that it had to forfeit its next fight. This destructive win put MoZar into the next round where it faced SubZero.
SubZero won by KO, and was now in the loser's bracket where it faced Whirlee. It won this match, and was now in the quarterfinals against Alph. It won this fight, and since there were six Middleweights still in the competition, MoZar was still in the quarterfinals where it faced SubZero again. It lost this fight by KO, and was eliminated from the competition.
Wins/Losses
Trivia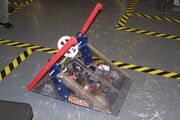 MoZar was originally a clear robot with Blue weapon brackets. For Rochester R3 it had Black sides, and Black weapon brackets although it did keep the lexan armor on the front, and back.
The robots name was likely a pun on the name of famous German classical musician Wolfgang Amadeus Mozart.
Community content is available under
CC-BY-SA
unless otherwise noted.