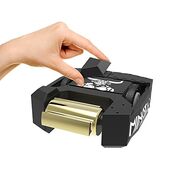 Minotaur was one of four BattleBots competitors chosen for the construction toys produced by Tech4Kids. It was released individually as well as with Blacksmith in a two-pack in 2017.
Based on the Team RioBotz machine's ABC Season 2 appearance, the toy features Minotaur's iconic drum spinner. The toy needs to be constructed and includes instructions in the box. It features 16 parts in total, which either clip or press together. These can come off during play to represent damage, and a "kill switch" is hidden behind a removable panel at the back of the toy. When hit, this not only stops the robot from being able to move, but also causes its top panels to fly off and a red light signals that Minotaur has been immobilized.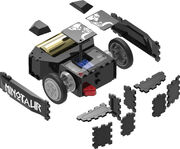 Minotaur is powered via remote control using the four buttons on the front for driving and steering, and two buttons on the top to power its drum spinner. The primary weapon is capable of spinning in both directions and can rotate fast enough to force pieces of other toys in the line to come off.
Compared to its initial prototype, the final design features a richer color for the drum which more closely resembles that of the real robot. The top armor featuring the Minotaur bull design was also changed to be two separate parts in order to enhance the effect of it "exploding" when immobilized. Minotaur was packaged alongside Blacksmith in reference to its Round of 32 battle from the 2016 season, which proved to be one of the most viewed in BattleBots history on ABC's YouTube channel.[1]
Trivia
[
]
The Minotaur and Tombstone toys share the same chassis design.
Unlike the HEXBUG Minotaur toy, the Tech4Kids toy did not receive a rereleased version with updated graphics for its top panel.
References
[
]