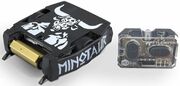 Minotaur was one of the BattleBots competitors released as part of HEXBUG's Rivals line of remote control toys. It was released in 2017 alongside Minotaur individually and also in a two-pack. An updated version of Minotaur was later released in an Arena set alongside Tombstone.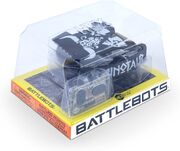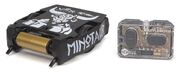 It is based on Minotaur's ABC Season 2 look, evident by its lack of a feeder wedge and small front wedgelets. The toy is highly accurate to its real-life counterpart, with the drum modeled in full and side armor angled slightly as has been the case with every version of the Team RioBotz machine. The robot's intricate bull design on the top panel was also replicated well, though the red eyes do not light up as they did on Minotaur in its debut year. Another detail is the glowing blue interior when the robot is powered on, which was noticeable on the real robot.
Like other toys in the line, several parts of Minotaur are removable to represent damage. In the case of the Brazilian bot, its side panels and top can come off during battle, both of which are held in place with small magnets.
Minotaur was later re-released in an Arena set alongside a unique black-bladed Tombstone toy. The second version of Minotaur had additional VEX Robotics sponsorship decals on the top panel as well as a more accurately colored drum. The primary weapon itself was also made slightly more powerful, but it was otherwise near identical. The second version of Minotaur was made available to purchase on its own soon after.
Trivia
[
]
Alongside Beta, Minotaur was the joint-first international robot made into a HEXBUG remote control toy.