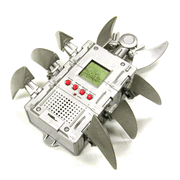 The Mechadon Handheld Game was a video game created by Tiger Electronics, the parent company to Hasbro also responsible for the Furby robotic toys.
Likely inspired by the popularity of portable video game consoles at the time, such as the Game Boy Advance, the toy was based around the design of Mark Setrakian's superheavyweight robot. It is clearly identifiable as Mechadon, though features jaws which were not present on the real robot. Four red button on top allow for the game to be turned on and off, toggles the sound and and other options.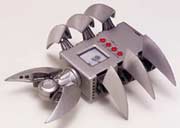 It was priced at $20 on the BattleBots website.[1]
Gameplay
[
]
As Mechadon, the player fights in a black and white rendition of the BattleBox against opponents in the form of KillerHurtz, Vlad the Impaler, Minion and El Diablo. The game is divided into five stages, where you fight each of the robots one-by-one in three minute battles, followed by a rumble against all four opponents at once.
Mechadon is controlled using the wheels underneath the console which when spun, also move the console's legs. Its jaws allow for Mechadon to grab hold of opponents and carry them to the Pulverizers and Killsaws, resembling real BattleBox hazards.
References
[
]