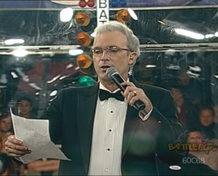 Mark Beiro was the ring announcer for all five seasons of Comedy Central BattleBots, as well as the 1999 Las Vegas event.
His broadcasting career began when he worked part-time as a DJ, before moving into play-by-play work for a variety of different sports, from baseball to professional wrestling.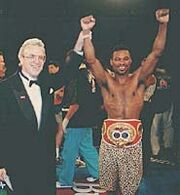 His ability to handle the stress on his vocal chords as ring announcer for even the untelevised preliminary BattleBots battles gave him the nickname "Iron Throat". Despite building a reputation working in some of the biggest boxing matches on national television, Beiro credited his on-screen work for BattleBots as the role that gave him notoriety.
"Once I was on BattleBots, there wasn't a place I could go without someone recognizing me and calling me out. I told my wife when this was happening to me, 'This was my taste of what The Beatles and these popular groups and the movie stars must feel like.' It was incredible. Doing boxing and wrestling, you would get a certain amount of respect and recognition, but this was totally different."
— Mark Beiro shows gratitude to BattleBots for his rise in popularity.[1]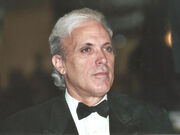 In late 2002, he began to lose his vision, shortly after filming of Season 5.0 of BattleBots had come to a close. As he continued to work through his issues and maintain his role as a popular ring announcer, fans of BattleBots who recognized Beiro from the show assisted him with his ring announcer work, a gesture he was incredibly grateful for. However, as his vision worsened, Beiro had to give up his work. Worse still, BattleBots had not been renewed for a sixth season on Comedy Central, so he took up radio work in the meantime. In August and November 2002, he had surgery on his left and right eyes respectively, which partially restored his vision.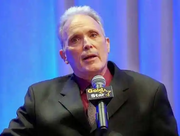 He also hosted a Sunday night radio program on Newsradio 970 WFLA for over a decade, forced to give it up in January 2007 due to budget cuts.[2] He continued ring announcer work well into the 2010s despite his sight issues.
In March 2018, he suffered a triple heart bypass. A fundraiser was started by his wife, Jackie Beiro, to raise funds to cover medical equipment to aid his recovery.[3] He resides in Tampa, Florida with his wife Jackie Beiro. They own a business together called 'At Your Service'. He is also the chairman of the Hillsborough County Democratic Party's public relations committee.
He performed a speech at the twelfth annual Florida Boxing Hall of Fame in November 2020, which he was inducted into back in 2009.[4]
Trivia
[
]
When Mark Beiro was first approached about BattleBots, he was unfamiliar with the concept of robot combat. Only after his first event was he convinced to continue this role into the televised Comedy Central era.
References
[
]