Long Beach 1999 was the first competition ever sanctioned by BattleBots in Long Beach, California.
It was held at The Long Beach Pyramid, a 4000-seat multipurpose indoor arena which has since been renamed to Walter Pyramid.[1]
There were three weight classes at the event: Lightweight (named the Kilobots class), Middleweight (named Megabots) and Heavyweight (named Gigabots). Each weight class ran in a double-elimination bracket, dividing the field into a winners bracker and a losers bracket. The tournament was broadcast online on ZDTV (later known as TechTV), and was also taped for the BattleBots Beginnings DVD released in 2004.
For this competition, the Kilobots could weigh between 25-55lbs, or up to 83lbs for walkers. Megabots weighed between 56-109lbs and likewise had a bonus for walking robots: 84-164lbs. The heavyweight Gigabots could weigh from 110-200lbs, or between 165-300lbs for walkers.[2]
The Kilobots division was ultimately won by Ziggo, having fought through the losers bracket to make the latter stages of the competition. Derek Young's Son of Smashy took home the Megabots title after defeating Knee-Breaker in the final, and BioHazard triumphed over the British KillerHurtz to claim the Gigabots crown.
The rumbles for each division were won by HammerHead, Deadblow and Razer respectively.
A copy of the event's brochure is available on Archive.org.
Kilobots (Lightweight)
[
]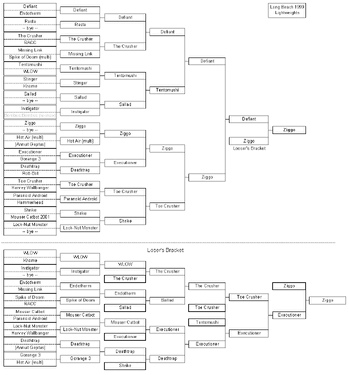 Megabots (Middleweight)
[
]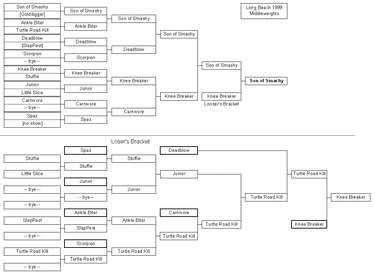 Gigabots (Heavyweight)
[
]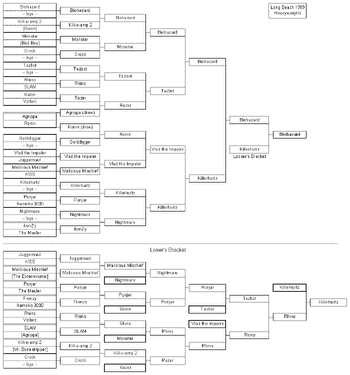 Results
[
]
Other Awards
[
]
Trivia
[
]
Tentoumushi's name was misspelt as "Tentomushi" on the official tournament bracket.
References
[
]