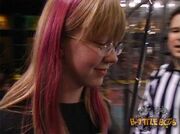 Lisa Winter, daughter of Mike Winter, is a roboteer that entered BattleBots. Her vision for robot building is to have a robot look like art and be successful and has been into robotic combat since seeing VHS tapes of Robot Wars 1994. She entered lightweight Tentoumushi into original Comedy Central era of BattleBots and Doughboy in Robot Wars 1994. She also She entered Tentoumushi in the Middleweight Melee in Robot Wars: The Third Wars and it and UK Middleweight, A-Kill. And defeated A-Kill in the War of Independence. She entered Plan X into the ABC 2015 reboot of BattleBots. Then, Lisa brought a new 250lb bot named Mega Tento (succsessor of Tentoumushi) to the 2016 event.
Profile
Lisa Winter started building robots at the age of 10 and competed in every Robot Wars and BattleBots from 1996 until 2016. For her first competition at Robot Wars 1996 she built a robot called Dough Boy. It was basically a metal box with a lawnmower blade on top that spun horizontally. The parts were almost entirely bought at a local midwestern farming store. Doughboy made it all the way to the semi-finals.
Her next robot was called Tentoumushi and was a large ladybug robot that captured its opponents and then ground them up with a spinning blade. This robot also reached the semifinals, and won an award for Funniest Robot. Tentoumushi and Lisa made an appearance on The Tonight Show with Jay Leno in 2000, and a Happy Meals toy of Tentoumushi was produced in 2002. Fun fact: Tentoumushi fought Dr. Inferno Jr. (Jason Bardis's robot in the original season 5).
When BattleBots ended it was perfect timing for Lisa to start high school, then college. Yadda yadda yadda, eventually it was 2015 and BattleBots came back. In 2015 she joined forces with her dad to build Plan X, a 250lb spaceship-themed robot with a vertical spinning weapon. For 2016 she made a 250lb version of Tentoumushi, called Mega Tento. If you couldn't tell already, she likes to experiment and make artistic robots.
Starting in 2018 she became a guest judge, then full time for the 2019 and 2020 seasons. If you watch the latest season you can see robots flying towards her like a magnet. "It was a terrifying seat".
Outside of BattleBots Lisa is the Head of Hardware at a construction technology startup in SF. She's also on the Board of Directors for Women In Robotics, and volunteers her hardware skills to the Marine Mammal Center.
She was also one of the women mentioned on "The top 25 women in robotics that you need to know about" list that was done by a popular website called "Robohub.org". Lisa still has the remains of the original Tentomushi but the parts were used for her more recent projects. For Season 3 of BattleBots' reboot on Discovery, Lisa is a guest judge as is Complete Control's former builder Derek Young. Since Discovery Season 4, Lisa became a full time BattleBots judge alongside former competitors Derek and Jason Bardis.
References
External Links