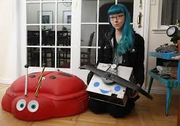 Lisa Winter, daughter of Mike Winter, is a roboteer that entered BattleBots. Her vision for robot building is to have a robot look like art and be successful and has been into robotic combat since seeing VHS tapes of Robot Wars 1994. She entered lightweight Tentoumushi into original Comedy Central era of BattleBots and Doughboy in Robot Wars 1994. She also entered Plan X into the ABC 2015 reboot of BattleBots. Then, Lisa brought a new 250lb bot named Mega Tento (succsessor of Tentoumushi) to the 2016 event. She was also one of the women mentioned on "The top 25 women in robotics that you need to know about" list that was done by a popular website called "Robohub.org". Lisa still has the remains of the original Tentomushi but the parts were used for her more recent projects. For Season 3 of BattleBots' reboot on Discovery, Lisa is a guest judge as is Complete Control's former builder Derek Young.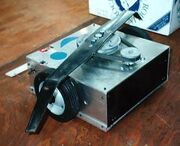 References
Community content is available under
CC-BY-SA
unless otherwise noted.