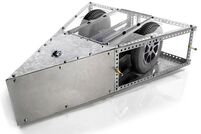 Not to be confused with the robot which entered into Discovery Seasons 3, 4 and 5.
Kraken was a middleweight robot which competed in Season 3.0 of BattleBots. It was a silver triangular robot with no active weapon. It performed decently in competition, winning one match by forfeit before losing to T-Minus.
Robot History
Season 3.0
Kraken vs. Batray (Forfeit)
Kraken's first fight was suppose to be against Batray. However it had technical issues was forced to forfeit. Kraken won by default and moved on to the next preliminary round where it faced T-Minus.
Kraken vs. T-Minus
Unfortunately, the first few flips were able to shutdown Kraken completely and T-Minus won by KO at 43 seconds meaning Kraken was eliminated from the tournament.
Wins/Losses