Juggernaut was a heavyweight robot built by Jascha Little (who would eventually go on to build The Judge) that fought at the BattleBots Long Beach 1999 competition. It was a robot constructed entirely out of wood and armed with a large hammer weapon. The chassis had a rubber stopper at the end of the hammer's arc so the frame could absorb impacts from it. Juggernaut had a decent win record, winning one battle, but losing twice.
Robot History
[
]
Long Beach 1999
[
]
Juggernaut vs. Vlad the Impaler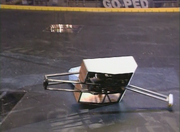 Juggernaut's first match in BattleBots was against Vlad the Impaler. Here, it attempted to hammer Vlad, but it was immediately bulldozed and flipped, losing by knockout within around five seconds. This loss put Juggernaut into the losers bracket where it faced K.I.S.S.
Juggernaut vs. K.I.S.S.
Juggernaut won this fight by KO and moved on to face Malicious Mischief in the next round.
Juggernaut vs. Malicious Mischief
Malicious Mischief won the fight by crowd vote and Juggernaut was eliminated from the tournament.
Gigabot Royal Rumble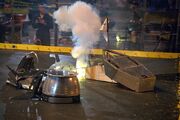 Juggernaut wasn't finished though as it participated in the gigabot royal rumble at the end of the tournament.
Wins/Losses
[
]