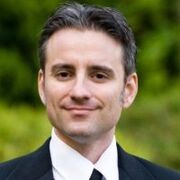 Jason Dante Bardis (ジェイソンダンテバルディス Jeison Dante Barudisu) lit. Dr. Inferno was a long-time robotic combat competitor, notably for winning Battlebots Season 3.0 and 5.0 lightweight championships with Dr. Inferno Jr. and providing entertainment with Towering Inferno.
Profile
[
]
Jason Bardis was born (12/15/70) and raised in Toledo, Ohio, where he mostly grew up with Lincoln Logs, Hot Wheels, LEGO, Zoids, and Erector Sets. Before he sprang out into the world, his parents and older brother, Byron Galen Bardis were in Florence, Italy, visiting the house of the famous poet, Dante Alighieri. His brother, three years old at the time, hit upon the idea that it would be neat if his forthcoming baby brother were named Dante. His parents were obviously paying attention.
23ish years later with mechanical engineering degrees from Cornell University, Jason struck out into the "real world." He stumbled upon a Project Analyst position at PTCG, a Boston company that wrote big huge software that trucking companies used to schedule and route their trucks.
While in Boston, he read of a strange new event called "Robot Wars" in San Francisco, but that was way over on the other side of the country, and he didn't have a machine shop or much time on his hands...
Having had enough of the "real world" and "snow," he traversed across the country to escape back to college for more degrees, this time at UCSB (the "SB" stands for "Santa Barbara").
Little did he know that tempting distractions would abound on this coast.
Brushed up on his French, he landed a job in Luxembourg, employed at Les Laboratoires Des Spécialités Du Dr. Ernst's Tisanes where he taught employees how to use these strange things called "computers" and set in motion the automated revamping of their manufacturing line of medicinal herbal teas.
Christian Carlberg helped him with a couple of movie special effects jobs over his school breaks. Bardis designed a fiber optic lighting system for those mean and nasty Borgs in Star Trek: First Contact and he machined a mountain of internal parts for those mean and nasty mutated cockroaches in Mimic. Despite his handiwork, he doesn't recommend either movie...
His first Battlebot, Rampage, was constructed on a shoestring budget in collaboration with his fellow classmates from UCSB's Mechanical Engineering department. It performed poorly in a featherweight rumble during Robot Wars 1996 where the bot was later upgraded and renamed to "Bot will Eat Itself." It performed better than it's previous predecessor during Robot Wars 1997, save for some minor damage.
His 1997 Summer job related directly to his research as a lab technician in McDonnell Douglas' Long Beach composites prototyping area.
Christian collaborated on several bot projects with Jason such as the completion and performance of Slugger during the Las Vegas 1999 event. Following through the year of 1999 during a LEGO Mindstorms event, the two lacked sleep, creating a short promo video to document their fighting LEGO bots: the Infernolab's 2A & Coolrobots' Dreadnaught.
More bots were built singlehandedly by Jason throughout 1999, The Missing Link and Dr. Inferno following right after. After several wins and losses took record, an assembled team made up of his brother Byron, his girlfriend Lauren Herold, and other members took the pits of season 1.0 - 3.0, supporting Dr. Inferno Jr. and the Missing Link.
The majority of the bots made public TV appearances such as UPN's Grown Ups sitcom, the KCAL news with The Missing Link and Slugger, and Movies for Guys who like Movies with Dr. Inferno Jr. and Towering Inferno.
He was also a brief competitor on Season 1 of Robotica with Mini Inferno, which had much less success.
During the phase of Dr. Inferno Jr.'s season 3 victories and Towering Inferno's win / loss attempts, the team stayed the same minus Christian who continued to lead Cool Robots with his friends. More and more sponsors were pitched in support of the Infernolab, until Season 5.0 where Dr. Inferno Jr. won the Lightweight championship and a Lightweight rumble.
14 years later, he has returned to robotic combat on the ABC Reboot of BattleBots with The Disk O' Inferno, which hasn't had much success either. Jason has since been confirmed to be a judge for the duration of BattleBots Season 4 on Discovery. He lives in Irvine, CA with his wife: Michelle, his kids: Alex and Katherine, and his bots: Dr. Inferno ]I[, Dr. Inferno IV, and The Disk O' Inferno.
Reddit AMA Bio
[
]
Jason Bardis' first robot combat event was Robot Wars 1996, in which he entered Rampage, an awkward double-saw, double-wedge sheet metal box filled with the guts from his Tamiya Frog RC buggy that he got in junior high. (In grade school, he used to use Tomy Rascal & Acrobot wind-up robots to knock down towers of dominoes with his best friend.) It stopped working the first time it bumped into another robot. Jason was in graduate school at the time, where he had convinced the Mechanical Engineering department to give him keys to the machine shop to be an after-hours supervisor ("I'll build robots, I'll keep an eye on the undergrads building their projects, & the staff won't have to work evenings & weekends! Everybody wins!") & to give him & other students a small budget for that competition.
After that modest beginning, and after a few only-slightly-less-modest years of building bots, he realized that his path to bot stardom would not lie in actually winning fights, so he dressed up his team in flashy outfits & built the cute Dr. Inferno Jr., figuring he could appeal to kids & gain audience sympathy when he lost.
That plan didn't work. Dr. Inferno Jr. won 2 seasons & won the rumbles in another season.
In the dark times between Comedy Central & ABC, Jason (now "Dr. Jason") leveraged the invaluable network of bot builder colleagues to take turns working with each other in various interesting jobs, where he contributed to: 2 robotic arms & 2 cameras for Mars exploration missions, dancing multimedia fountains for Vegas casinos, antennas on passenger aircraft that let you read reddit on your flights, a mobility scooter for the elderly or disabled, high efficiency brush & brushless motors, movie special effects, & creative development for The Big Brain Theory: Pure Genius TV show.
In 2016, when Jason's 2 young children had squeaked past the so-young-that-they-need-so-much-care-that-bulding-a-bot-is-out-of-the-question age, he & Richard Loehnig put together a team. They built The Disk O' Inferno, a 250-pound disk + lifter bot whose disk weapon stopped working after 1 hit, based on Jason's 2005 Disko Inferno 120-pound disk + lifter bot whose disk weapon stopped working after 2 hits.
Realizing that competing today is slightly more challenging than doing so when single, in your 20s, with no job, with keys to the school machine shop, & being able to more easily secure sponsorship by employing poor-grad-student-with-sad-puppy-dog-eyes, Jason finally accepted BattleBots' request to judge.
How does judging compare to competing? I'm petitioning BattleBots to start holding 2-week events once a month indefinitely.
In between BattleBots events, Jason likes taking his safer, littler robots to schools, daycares, libraries, & scout meetings to give talks & demos to youth to get them interested in Mechanical Engineering. "Yeah, coding is cool and all, but come on & torque this 10-24 socket head cap screw with this Bondus. Doesn't that feel great? See, somebody needs to design & build the robotic platforms that everybody wants to program!"
Trivia
[
]
Jason came up with the name "Dr. Inferno" while being a grad student at UCSB. His first name, Jason, is greek for Doctor while his middle name "Dante" derives from italian poet and critic, Dante Aligheiri, who wrote about the Divine Comedy, which includes a trip to the Inferno.
Dr. Inferno was Jason's radio DJ title during his college days.
Bardis used inspiration from the toys he played with during his childhood to build more robots.
At a young age, he would construct model cars & planes & then melt them after he got bored with them. His brother taught him how to just soften up the parts with a match instead of burning them, so he could deform the car doors & hoods & such and make them look all dented up.
Then there was the time that Jason emptied the remnants of gas from the lawnmower for winter storage (his parents told him to do this) and decided to empty it on the driveway then light it. He was surprised by how much fire & smoke so little gas can produce...
As a novice skater, Jason used to own a Powell Peralta Skull & Sword deck before it was stolen from his car during a rock concert. He later bought a used board from a friend but it turned out to be too big for him.
Besides skating, Jason is also a novice SCUBA diver. He took a class, trained at a Scuba school, & got his certification for fun, diving once or twice at Catalina Island in southern California with his friends.
During his journey to obtaining his PhD for 7 years, Jason worked with many different companies focusing on composite materials and project designs, one of them being the Mars Phoenix rover arm for NASA.     
Jason's other hobbies besides robotic combat include: Swing dancing, Playing classic video games & pinball machines, Racing go-karts, Working on his cars & his home, Tinkering with electronic & mechanical stuff (putting them back together is the hard part), Attempting to keep in practice with his French (the language, that is...) and playing with LEGO.
Followed by one of his hobbies, he has a huge desire for arcade and pinball machines, one of them earning his title as an internationally ranked pinball player from Orange County, CA.
Besides the Infernolab, he was also on Heisenberg Racing, an autocross team in 2009 that championed 13th place from a major event with Erwin, an upbeat 1991 BMW 318is.
His favourite fruit are bananas, as he is seen snacking on them once in a while during a BattleBots reboot match.
Besides his personal robot music playlist, he also favours Japanese music, bands such as Shonen Knife, Pizzicato Five, and Tokyo Ska Paradise Orchestra.
Note from admin Falco276: I'm no longer gonna upload any more pictures of Jason and his bots due to a congested gallery of 230 images. If you want to see the new images, they are posted here on my personal wiki, Dragoma. :)
External Links
[
]