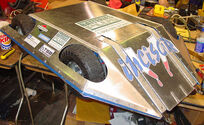 Incisor
was a heavyweight robot built by Team Pain USA which competed in the final three seasons of
BattleBots
. It was a silver wedged robot armed with two thin flipping arms. It did not do too well in competition, winning two fights and losing three.
Team Pain USA also fought in the superheavyweight division with Swirlee.
Robot History
Season 3.0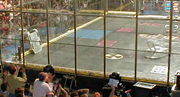 Incisor's first ever match was against Maximum Overdrive. Incisor flipped Maximum Overdrive against the spikestrip and it was being counted out. Incisor won by KO at 1:15 and advanced to the TV rounds, where it faced Center Punch. Center Punch won on a 29-16 judge's decision and Incisor was eliminated from the tournament.
Because it lost in the round of 64, Incisor couldn't participate the heavyweight consolation rumble at the end of the tournament.
Season 4.0
Incisor was scheduled to fight Bumble Bee, but Bumble Bee had technical issues and was forced to forfeit. Incisor won by default and advanced to the next preliminary round, where it faced Silverback.
The bots started into the circling routine, until Incisor lifted Silverback. Silverback retaliated with ramming, got under and tried to lift Incisor, but it was unable to. Silverback tipped over too easily. Instead, Silverback pushed Incisor onto an entrance ramp and high-centered it, getting the win by KO at 1:57. This meant that Incisor was eliminated from the tournament again.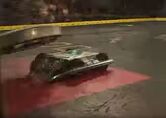 Season 5.0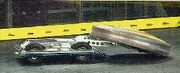 Incisor's only match in Season 5.0 was against Mauler 51-50. Incisor was the aggressor in this fight, able to get under Mauler and lift it, but Mauler caused more damage and won on a close 23-22 judge's decision. This meant that Incisor was eliminated from the tournament once again.
Wins/Losses
Community content is available under
CC-BY-SA
unless otherwise noted.