This page/section of page contains SPOILERS about re:MARS all:STARS 2022 and/or BattleBots: Champions. If you are unaffected by potential spoilers, then continue to read the page. Otherwise, this page/section of page should not be read before watching the relevant episodes.
HyperShock is a heavyweight robot built by Will Bales' team, formerly known as Shenanigans and Co., which has competed in every season of the BattleBots reboot.
HyperShock was built by former members of the Ransom Everglades team, which previously competed with SpiderPig, El Cholo and Fluffy DeLarge while in high school. Team captain Will Bales is the brother of Mohawk driver Greg Bales, who himself joined the HyperShock team in Discovery Season 5.
Originally black and silver in color for ABC Season 1, HyperShock's primary weapon was a vertical spinner formed from sandwiching a drum between two large discs. It was also equipped with two hydraulic clamping arms. In order to fit these two weapons systems, the frame was made out of carbon fiber. Its wheels, which are black with a lime outline, were protected by steel.
HyperShock also had sharp "ears" protruding above the weapon for driving inverted, also referred to as "horns" by the team. Despite looking potent versus Mohawk, HyperShock suffered at the hands of Bite Force when its drive motors burned out.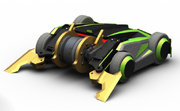 For ABC Season 2, HyperShock was completely rebuilt from the ground up. The claws were replaced by a feeder wedge to drive opponents into its weapon. Defensively, HyperShock sported stronger rear armor and had lifting arms to help it self-right. It could also swap out these arms for different opponents, proven when they opted for a rake attachment against Poison Arrow, though they ultimately lost this match and were eliminated from the tournament.
In Discovery Season 3, HyperShock was once again rebuilt. Its spinning weapon was now significantly chunkier to allow for more bite on impact. HyperShock debuted the neon aesthetic which would become the house style of the team for seasons to come. This, combined with other aesthetic changed meant the overall design was similar to a racecar, even described as "an RC car on steroids" during the season. It failed to make the Top 16, after losing out to Skorpios on a judges' decision.
HyperShock underwent another total rebuild ahead of Discovery Season 4. This included but was not limited to a brand new chassis, top armor mounting, wheel hubs, motor controllers and an overhaul of their drive system, now opting for brushless Revolt motors to replace the brushed drive used in previous seasons.[1] The new self-righting panel was reminiscent of Witch Doctor's rib-cage srimech, though this proved unreliable throughout the season. Harking back to the 2016 season, HyperShock brought back a modified version of their rake strategy against HUGE, but they could not replicate the same success, ultimately missing out on the Top 16 yet again.
For Discovery Season 5, HyperShock's design looked visibly similar, though subtle changes were noticeable. The team chose to change their drive again, now opting for brushless NeuMotors in place of the Revolts. To hammer home the racecar look, its tires now had "HyperShock" printed on the sidewalls. For this season, HyperShock also featured a large QR code on the underside of the robot. When scanned, the QR code leads to a secret page on the team's website offering merchandise not available on their regular store, as well as an option to buy the robot itself for $70,000. Due to previous reliability issues, the team changed the motor for their self-righter as it had previously let them down. Unfortunately, the self-righter still proved to be an issue, though HyperShock managed to make the Championship Tournament for the first time since the ABC era.
HyperShock was again redesigned ahead of Discovery Season 6, now with a longer and narrower chassis to give it a sleeker look, and a wheelbase more closely resembling a high-performance racecar. The bot has a blend of AR500 steel, titanium and aluminum armor across the bot, with aesthetically identical spares in each material to adhere to the weight limit with alternate configurations. The team sacrificed their self-righter for the 2021 season, saving around 40lbs in total and distributing the newfound weight across several aspects of the build.[2] HyperShock's primary weapon was now powered by twin dedicated motors, rather than a single motor. The main single and double disc configurations had received attention too, with the single disc now comprised of a S7 steel disc sandwiched between two discs made from AR500 steel, which in total measures two inches in thickness.
Each 1.25" disc in the double disc configuration was made from S7 steel, almost twice the thickness of their respective double disc option from previous seasons. The weapon belts were also swapped out for chains, with the hub itself being manufactured from AZ31B magnesium as opposed to 6061 aluminum, a less dense but more brittle material.[3] HyperShock's season began with a convincing victory over Craig Danby and Slammo!, before throwing Lock-Jaw out of the arena in a Main Event. However, HyperShock again fell in the Round of 32, this time to Brandon Zalinsky and P1.

This page/section of page contains SPOILERS about re:MARS all:STARS 2022 and/or BattleBots: Champions. If you are unaffected by potential spoilers, then continue to read the page. Otherwise, this page/section of page should not be read before watching the relevant episodes.
HyperShock returned for the re:MARS all:STARS BattleBots Challenge in June 2022 as one of eight robots selected for the event. However, the team were without captain and driver Will Bales as he instead took the role of co-presenter alongside Chris Rose. Instead, Alex Bales took control of HyperShock for the first time competitively, having practiced in the weeks leading up to the event. The team publicly confirmed that HyperShock won the event overall, beating Tombstone, Blip and in the final, Hydra.[4]
In a July 2022 episode of Behind the Bots podcast, Will and Alex Bales revealed that HyperShock would not only return for Discovery Season 7 with minor upgrades rather than a full rebuild, but that they also fought in the first episode of BattleBots: Champions, publicly stating that it fought in Gigabyte's Sin City Slugfest bracket.[5] Its place and initial match-up in the latter was confirmed on August 1 by BattleBots themselves, revealing that it would fight DUCK![6] HyperShock ultimately won its bracket, defeating DUCK!, Valkyrie, MadCatter and Gigabyte en route to the Golden Bolt tournament. It is as yet unknown how well it performed in the final bracket.
Outside of BattleBots, HyperShock regularly competes at Robot Ruckus events in Orlando, Florida. Due to it being a sportsman event with no big spinners allowed, the primary weapon has to be removed for the competition. HyperShock first fought in the 2017 competition, which was held in the off-year for BattleBots between ABC Season 2 and Discovery Season 3. It picked up a win by KO over an untelevised heavyweight called Maulboard. HyperShock returned in its neon guise for the 2018 competition, where it is known to have fought Kraken and brutally dispatched of a weaponless heavyweight called Momentum.[7][8]
They also competed in the 2019 event and first fought Gruff, a fight became a BattleBots Main Event during Discovery Season 5, before losing to Bots FC's Blue. Sporting two large pink saws also known as HyperSaws, they beat a robot from Team X called Yugo Nowhere. HyperShock then met Krusty Grab, a second heavyweight from OYES Robotics, but lost by judges' decision.
Robot History
[
]
ABC Season 1

[

]
HyperShock vs. Mohawk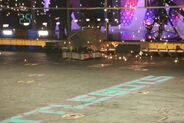 HyperShock's first ever match in BattleBots was against Mohawk. HyperShock aggressively attacked Mohawk to start the match, delivering one massive hit which immobilized Mohawk completely. HyperShock won by KO in 35 seconds, the fastest KO of the season, advanced to the Round of 16 as the No.14 seed, where it faced the No.3 seed Bite Force.
HyperShock vs. Bite Force
HyperShock controlled the fight at the beginning as it pushed Bite Force under the pulverizer many times with its arms and later flipped it with its spinning drum. After this, Bite Force regained the upper hand, pushing HyperShock around the BattleBox. Soon after, HyperShock's drive motors began to burn out, causing smoke to pour from the robot. Bite Force pushed HyperShock against the screws and HyperShock stopped moving entirely. Bite Force then started lifting HyperShock from the side, but backed off soon after. HyperShock was then counted out. Bite Force won by KO at 2:41 and HyperShock was eliminated from the tournament.
HyperShock vs. Icewave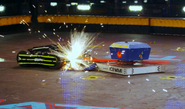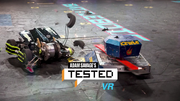 HyperShock returned for an exhibition grudge match against Icewave. Little is known about this fight, as footage is limited to a brief highlight provided during a TESTED video. This highlight was reuploaded to YouTube in 2021.[9] Icewave can be seen tearing a panel off a seemingly immobile HyperShock in the video as well as at least one tire. Icewave won the match by knockout, but not before losing power to its primary weapon.
ABC Season 2

[

]
HyperShock vs. HellaChopper (Forfeit)
HyperShock's first match in Season 2 was originally going to be against HellaChopper but due to technical difficulties, HellaChopper was forced to forfeit the match. HyperShock therefore went up against HellaChopper's replacement, UltraViolent in the Round of 48.
HyperShock vs. UltraViolent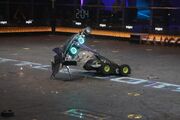 In the match, HyperShock went straight at the right side of UltraViolent, who was lifting itself off the BattleBox floor, and nearly flipped it without spinning its drum. UltraViolent backed into HyperShock and flipped itself onto its back. Suddenly, HyperShock got its spinning drum going and hit the rear of UltraViolent, tearing off wheels and other pieces of armor in the process. After receiving many blows from HyperShock's spinning drum, most of which were on UltraViolent's wheels, UltraViolent was sent up onto a screw where it was chewed up briefly before falling back down onto the BattleBox floor. Another strong hit from HyperShock's drum completely removed UltraViolent's base plate, allowing its batteries to hang loose or fall out completely. One final hit did the damage as UltraViolent lost all power, immobilizing it and giving HyperShock the win by KO at 1:30. This win put HyperShock to the Round of 32 with its No.11 seeding, where it faced the No.22 seed Warrior Clan.
HyperShock vs. Warrior Clan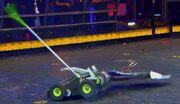 For this match, HyperShock added a rake to one of the arms used for self-righting in hopes of knocking Warrior Clan's drone to the floor. The match was fairly even to start as only sparks were emitting from HyperShock's weapon contacting Warrior Clan. However, HyperShock gained the upper hand and started to damage the top that housed Warrior Clan's spinning ring weapon. After taking out the drone with the rake, HyperShock resumed attacking Warrior Clan and managed to deliver more big blows that left Warrior Clan with less mobility. Eventually, Warrior Clan stopped moving and was counted out under the pulverizer. This win put HyperShock into the Round of 16, where it faced the No.27 seed Poison Arrow.
HyperShock vs. Poison Arrow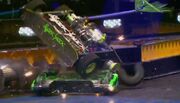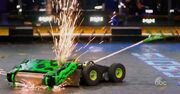 This match started out reasonably well for HyperShock as Poison Arrow's weapon was not very effective and HyperShock was able to push it around for much of the match. However, HyperShock's weapon stopped working as one of the impacts bent the axle and shattered the drum tube and Poison Arrow was able to take advantage by continuing to attack. Making matters worse, after remaining aggressive and pushing Poison Arrow around the arena for a majority of the match, smoke was pouring out of HyperShock as a result of its overheating drive train batteries, leaving HyperShock with little movement. Eventually, HyperShock could no longer move and was counted out, allowing Poison Arrow to advance to the quarter-finals. This meant that HyperShock was eliminated from the tournament again.

Despite bowing out of the tournament, Will Bales went on to win the Best Driver Award at the end of the season, presented by Greg Munson and Trey Roski.
Discovery Season 3

[

]
HyperShock vs. Bite Force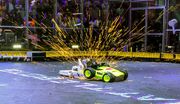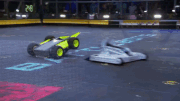 HyperShock's first match of the 2018 season was a rematch against former champion, Bite Force. As the match began, sparks caused by an electrical short led to HyperShock experiencing drive issues early on. Even so, HyperShock drove around to look for a weak spot on Bite Force. However, HyperShock was hit hard by its opponent and thrown onto its back, where it remained motionless as the self-righting arms had jammed due to screws stripping out of the motor. With the motor free to move around, it bent the axles the arms were attached to. Worse still, the "horns" that were meant to help HyperShock drive inverted were also damaged. Unfortunately, Bite Force decided not to end the fight there and HyperShock was struck again, losing its top armor and two battery boxes that managed to land on the arena floor undamaged. Since HyperShock had not moved since the first hit, it was counted out, giving it its first loss of the season.
HyperShock vs. Battle Royale With Cheese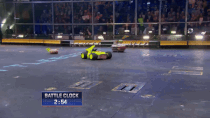 Up next for HyperShock was Battle Royale With Cheese, which had come off a poor performance against Tantrum. When the match began, HyperShock was in control as Battle Royale With Cheese still couldn't get their weapon going to top speed. HyperShock decided to take out Shorter Pounder, Battle Royale With Cheese's minibot, nearly throwing it out of the arena in the process. With Battle Royale with Cheese's defenses down, HyperShock hit it hard, dislodging the bun and exposing some of the electronics. Even so, Battle Royale With Cheese continued to fight but it was all in vain as HyperShock's attacks managed to disable its opponent. Battle Royale With Cheese was counted out with HyperShock continuing its attacks and ending up on top as the countdown finished but got the win by KO anyway.
HyperShock vs. Free Shipping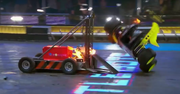 HyperShock's third opponent was against Free Shipping. For this match, HyperShock removed one of its front lifting forks to save weight for the modifications made for this fight. The match was off to a relatively even start as neither robot got much purchase on the other. However, HyperShock landed a hit, then seemed to have trouble keeping its weapon up to speed. Free Shipping continued to advance so HyperShock delivered another hit and was flipped over by its opponent. This left HyperShock struggling to self-right but it eventually did so near the screws. Unfortunately, its weapon was still not working properly and it was eventually flipped again. This time, the fork went underneath HyperShock's body and lifted all four of HyperShock's wheels off the arena floor. HyperShock was counted out, giving Free Shipping the win by KO.
HyperShock vs. Reality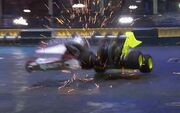 Next for HyperShock was Reality as part of the USA vs. The World special tournament. The match started very well for HyperShock as they were delivering multiple hits on Reality, who wasn't really able to fight back. Unfortunately, these hits took its toll on HyperShock as well as they soon lost drive on one side, leaving them vulnerable. Luckily, Reality had also lost the use of their weapon. HyperShock continued to attack until their remaining drive quit working as well. HyperShock was smoking and counted out, giving 1 point and the win to Reality and The World team.
HyperShock vs. Skorpios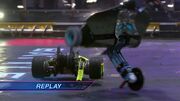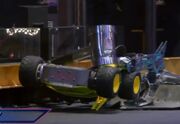 Up next for HyperShock was Skorpios. HyperShock opted for its usual configuration and as the match began, they found success in racing around Skorpios, looking for the first hit and before delivering an impact and sending Skorpios into the air. HyperShock continued to attack but its weapon was struggling to get. However, Skorpios was also struggling with weapon issues by this point. After taking off one of Skoropios' top panels and removing its angle grinder weapon, HyperShock was flipped over by Skorpios under the pulverizer where it took several hits. Making matters worse, HyperShock's lone fork got stuck underneath the robot and it was left immobile in the final ten seconds of the fight. The fight went the distance and the judges awarded a split 2-1 decision to Skorpios. This prevented HyperShock from making the Top 16 bracket and the team crashed out at this stage.
Discovery Season 4

[

]
HyperShock vs. Valkyrie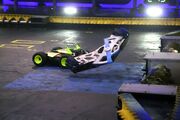 After a disappointing 2018 season, HyperShock came back for Season 4 and was first drawn against Leanne Cushing's Valkyrie. HyperShock took the opportunity to box rush Valkyrie, leaving it up on the screws, but Valkyrie eventually got down. HyperShock stayed on its opponent, unwilling to let their weapon get up to speed. As the match wore on, HyperShock took minor damage to its tires, leaving the right side tires partially shredded. HyperShock continued to battle and got Valkyrie under the pulverizer, managing to take glancing blows from the hammer. They released and moved Valkyrie around again, and as HyperShock brought it under another pulverizer, it became apparent that Valkyrie was no longer moving, HyperShock went in for another attack and Valkyrie was counted out, giving HyperShock the win by KO.
HyperShock vs. Monsoon
HyperShock's next match was against former quarter-finalist, Tom Brewster and Monsoon. When the match got underway, HyperShock was quick to get under Monsoon and tear into Monsoon's underbelly. This left Monsoon's weapon mount dangling by a thread. HyperShock went in once more and this ripped off Monsoon's weapon mount and disabled Monsoon completely. Monsoon was counted out, giving HyperShock the win by another quick KO.
HyperShock vs. Bite Force
HyperShock's third match of 2019 was a third encounter with the two-time champion, Bite Force. As the match began, HyperShock was unable to mount much of an attack as they were quickly attacked from the side, causing damage to the right front wheel. HyperShock was unphased and attacked with their weapon, causing Bite Force to have drive issues. However, this was not severe enough to hinder its mobility, so HyperShock went in again but was tossed onto its back. HyperShock self-righted, but took another hit from Bite Force soon after that tossed it into the air, costing it a weapon belt. Making matters worse, smoke was starting to pour out as HyperShock had lost the use of its primary weapon. HyperShock then lost its right front wheel and was now struggling to move at all. Still, it managed to pin Bite Force against the screws for the last few seconds of the match, but the judges awarded Bite Force a unanimous 3-0 decision.
HyperShock vs. Breaker Box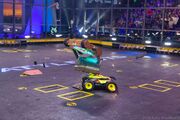 Next for HyperShock was a match against Jim Smentowski and Breaker Box. Unfortunately, HyperShock's self-righting mechanism wasn't working so they had to rely on their driving ability and their weapon. As the match got underway, HyperShock threw Breaker Box through the air multiple times, tearing off small pieces from Breaker Box's lifting plow.

Breaker Box was unphased however so HyperShock went in for another attack but didn't aim properly and ended up flipping itself over. This left HyperShock quite vulnerable, especially once it got one of its weapon supports stuck in the slot for the killsaws. Luckily, Breaker Box freed them but HyperShock again got stuck and was freed. HyperShock tried in vain to right itself using the arena barrier and even the screws but to no avail. Instead, Breaker Box stopped moving and was counted out, giving HyperShock the win by KO with seconds left on the clock.
HyperShock vs. HUGE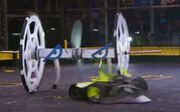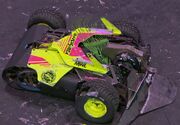 Having performed much better than last season, HyperShock was now within reach of the Top 16 as it was placed against Jonathan Schultz and HUGE. HyperShock opted for its current season's original configuration, but with two rakes on the self-righting mechanism. When the match began, HyperShock was doing rather well, using its twin rakes to get control of HUGE. Unfortunately, the rakes were no match for HUGE's weapon and were quickly torn up, with one ending up blocking HyperShock's weapon, leaving HyperShock to fight using its driving ability and pushing power. HyperShock continued to have control by keeping to HUGE's side and shoving them around that way to avoid HUGE's weapon. However, HyperShock began to take damage and lost its rear armor panels and its entire right rear wheel. After some more maneuvering and hits, HyperShock began smoking and stopped moving before being counted out, giving HUGE the win by KO and a spot in the Top 16.
HyperShock vs. Hydra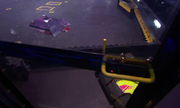 HyperShock later had an exhibition match against Hydra. HyperShock didn't start well, moving slowly and getting flipped into the air by their opponent. HyperShock landed upside down, and began smoking as it made its way back towards Hydra. The fight progressed to the corner and when HyperShock tried to attack, its spinner caught Hydra and it ended up throwing itself out of the arena, righting itself behind the barrier. With no way back in, HyperShock was counted out, giving Hydra the win by KO.
Discovery Season 5

[

]
HyperShock vs. Gruff
HyperShock faced off against Gruff to start off the 2020 season and was doing well to start, throwing Gruff into the air and even flipping it over. However, after attacking Gruff's flames head-on, HyperShock began slowing down and somewhat driving in circles. Making matters worse, they lost the use of their weapon after colliding with Gruff some more. HyperShock began to emit smoke and was slammed hard into the screws, disabling its drive completely. HyperShock was counted out, giving Gruff the win by KO.
HyperShock vs. Mammoth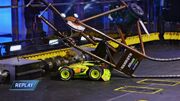 HyperShock went on to battle Ricky Willems and Mammoth for it's next battle. The team opted to switch out HyperShock's wedge with it's two frontal plates for the fight. The match began with HyperShock circling around trying to attack from the side, and as Mammoth failed to get any flips in, Will Bales' bot swiftly ripped off the front left tube from its opponent's frame. Mammoth attempted again to flip HyperShock, but it sent Mammoth flying across the BattleBox, overturning the giant bot. HyperShock charged once more, breaking off a significant section of its weapon and the chain powering it, as it slammed Mammoth against the screws. With Mammoth unable to self-right due to its weapon no longer being powered, Ricky Willems begged HyperShock to flip his robot over and keep the fight going. However, this resulted in HyperShock ramming into their battery box, causing smoke to pour from it. Mammoth was counted out, giving HyperShock the win by KO.
HyperShock vs. End Game
HyperShock's final battle in the fight cards saw it against New Zealand representatives End Game. HyperShock immediately charged and met End Game in a head-on collision. HyperShock took glancing shots to its front plates before being knocked over by End Game, disabling their spinner. With no working self-righting mechanism and no spinning weapon, HyperShock was sent flying and ended up into the BattleBox plexiglass in front of the judges by End Game, losing one of its right frontal plate in the process. HyperShock struggled to get off the screws, but when it did, HyperShock had its rear end struck by End Game, lodging its open self-righter between the arena wall and the lexan outer wall. Unable to get down and move, HyperShock was counted out, giving End Game the win by KO.
HyperShock vs. Hydra
Just managing to make it into the Top 32 as the final No.32 seed, HyperShock was given a rematch from last season against the No.1 seed Hydra. HyperShock opted not to use its front wedge and just go with its weapon for more bite. This proved okay to start as they delivered a slight hit to Hydra but didn't cause any real damage. HyperShock began circling before being tossed upside down and lost the use of its weapon. HyperShock was righted but without a working weapon or front wedge, they were unable to take advantage and were soon tossed again, losing a weapon belt. HyperShock began to show signs of the repeated flips as one of its wheel hubs was now bent and it was no longer moving as it sat near the Pulverizer. With around 15 seconds left, HyperShock was tossed out of the arena for an instant KO, giving Hydra a spot in the Top 16.
BattleBots: Bounty Hunters

[

]
HyperShock vs. Sporkinok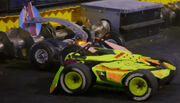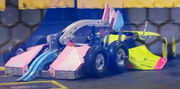 HyperShock also participated in one of six mini tournaments with the potential to have a rematch with Icewave and receive a portion of the $25,000. To do it, it first took on newcomer Sporkinok. This fight did not air fully, but what is known is that both robots struggled out of the gates and didn't really have working weapons until late in the match, when HyperShock's drum got going, chewing up at least two wheels and a majority of Sporkinok's hammer. HyperShock was able to push Sporkinok into the screws, where it was stuck. The time ran out and the judges awarded HyperShock the decision to advance to the second round.
"It was a bad fight. Our front wheels weren't touching the ground. Had fitment issues that weren't apparent until we didn't have time to fix it. Last minute swapped chassis and it was a bit tacoed. lce skated around. Spork was having similar drive issues and their hammer wasn't quite there."
— Kyle Awner of HyperShock briefly sums up issues for both bots during the fight.
This remains the only competitive battle to not be aired in full, even as a Basement Tapes upload to Facebook Supporters.
HyperShock vs. Ghost Raptor
In the second round, HyperShock was matched against Ghost Raptor, whom had squeaked by a win over Deadlift in its previous fight. HyperShock started off very well, tearing off half of Ghost Raptor's weapon and leaving its opponent unbalanced. HyperShock maintained control and got Ghost Raptor to the screws, where Ghost Raptor was tipped on its back end and unable to get back down again. HyperShock continued to attack and got Ghost Raptor up onto the screws briefly but at this point, Ghost Raptor had no life left and was counted out, allowing HyperShock to advance again.
HyperShock vs. Skorpios
One step from earnin the right to fight Icewave, HyperShock found itself in a rematch against Skorpios, who for this fight had set up to block HyperShock's drum from biting against their wedge. Despite trying to get a few shots in early, HyperShock's drum could not cause any damage and eventually shut down. HyperShock found itself being pushed around and took a shot from the Skorpios disc. In what largely became a fight without many damaging attacks, the match went to the judges, who ruled unanimously in favor of Skorpios.
Discovery Season 6

[

]
HyperShock vs. Slammo!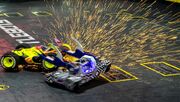 HyperShock began its season against Craig Danby's Slammo!, looking to showcase their new design from the off. For the fight, the team opted for their AR500 steel top plate and dual disc weapon. From the first few seconds, HyperShock proved to be the early aggressor, circling Slammo! before landing several uppercuts to it. HyperShock was able to use its superior drive power to bully Slammo! into the side of the Upper Deck, landing more shots. Slammo! appeared to now only be driving on one side and was stuck underneath the pulverizer. HyperShock delivered one final hit which sent Slammo! twisting in the air. The audience chanted HyperShock's name as a count began less than a minute into the fight, and Will Bales' team were declared winners by KO.


Following the win, Will Bales stated he would dye his hair green like teammate Isaac Lumbarsky if HyperShock earned a Top 10 seed in the Championship bracket.
HyperShock vs. Lock-Jaw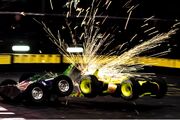 HyperShock's second fight was a Main Event against Lock-Jaw - the first meeting of two teams who had competed in all six seasons of the reboot era of BattleBots. As the fight began, HyperShock opted out of a box rush, instead going weapon-to-weapon and forcing Donald Hutson to think quickly. As Lock-Jaw charged, HyperShock turned quickly and delivered a blow with their primary weapon, but then connected with Lock-Jaw's own weapon, damaging one of its front tires followed by the other. Surprisingly unharmed, HyperShock dealt a brutal hit to Lock-Jaw which flipped it over. HyperShock was able to land a glancing blow on the side of Donald Hutson's bot, which damaged one of its own front wheels. HyperShock attacked Lock-Jaw again, but lost one of the two damaged tires in the process. However, in the very next exchange, HyperShock tore away one of Lock-Jaw's wheels and flipped it over again. Lock-Jaw continued to go weapon-to-weapon with HyperShock in the hope that they could disable their opponent's primary means of attack, but saw no luck. HyperShock punted Lock-Jaw into the corner, and it landed on the arena barrier before wriggling free. HyperShock then pointed itself at Lock-Jaw as it attempted to reposition and made direct contact with their rear plow, throwing Lock-Jaw over the barrier and out of the arena completely. Lock-Jaw was counted out, and HyperShock went to 2-0 for the season.

"We were the first Out of the Arena of Season 6, thus Will and I making "oops" faces when it happened. We were terrified they'd disqualify us. I was worried about a worse possibility where we end up in some kind of controversial debate with production about the legality of the OotA."
— Kyle Awner explains the climax to the Main Event.[10]
Team HyperShock also revealed that they mysteriously lost a weapon chain during the fight, but could not pinpoint when exactly this damage occurred.
HyperShock vs. P1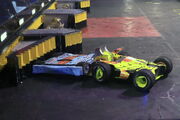 HyperShock advanced to the Round of 32 with just two fights to its name. Seeded No.13, it faced the No.20 seed P1 and was unchanged from its previous fight. Both robots sought to escape their squares and they met for the first time in front of the teams. HyperShock got under P1 momentarily, but its primary weapon was not spinning up to full speed. After a brief tussle in the corner, HyperShock drove over P1 and was finally able to spin up. P1 turned to face HyperShock but in doing so, was flung into the air, landing upside down. Brandon Zalinsky's bot righted itself, but while its lifter was still slightly up, HyperShock saw an opportunity to attack and drove over the top of its opponent again, this time landing upside down itself. P1's confidence grew as HyperShock was less effective when inverted, but it could still drive on its two rear wheels and cause issues for P1. HyperShock was kept in the short corner as P1 hoisted its opponent atop the Upper Deck, but Will Bales' bot clambered off before using its opponent as a ramp and climbing over the BattleBox hazard a second time. Still inverted, HyperShock continued to drive around in the hope of bouncing right side up, but its weapon dragged across the floor as the titanium ears designed to prevent this had bent out of shape.[11] Meanwhile, P1 was reluctant to right its opponent as HyperShock again mounted the Upper Deck, but could not get back onto all fours. HyperShock drove over the top of P1 several more times, but was not causing damage. With over half the fight gone, HyperShock finally self-righted and spun its weapon again to make up for lost time. The forks slid underneath P1's wedge and again threw the front-hinged lifter across the BattleBox. P1 righted itself, but now HyperShock's weapon was not spinning at all. They did, however, drive P1 into the killsaws in the closing moments and pinned it against the wall as time ran out. The judges unanimously ruled in favor of P1, a decision which surprised both teams, eliminating HyperShock from the tournament.
re:MARS all:STARS BattleBots Challenge (2022)

[

]

This page/section of page contains SPOILERS about re:MARS all:STARS 2022 and/or BattleBots: Champions. If you are unaffected by potential spoilers, then continue to read the page. Otherwise, this page/section of page should not be read before watching the relevant episodes.
HyperShock vs. Tombstone
HyperShock was one of eight robots selected to compete in the second re:MARS all:STARS Challenge in June 2022. In the first round of the bracket, it faced a rebuilt Tombstone, driven by Justin Billings. After a brutal opening encounter, HyperShock had lost its front-right and rear-left wheels, but Tombstone began smoking heavily. Smoke filled the BattleBox, which obstructed the view of both teams. A count began on Tombstone as it became clear it could no longer move and HyperShock won by knockout with just a couple of seconds to spare, advancing to the semi-finals.
HyperShock vs. Blip
Next up for HyperShock was Aren Hill and Blip. They managed to land one hit with their primary weapon during the fight, and HyperShock showed uncharacteristic patience and tried to bait Blip throughout the fight. Blip launched HyperShock, who landed atop the Upper Deck. One side of their drive was no longer working and HyperShock struggled to escape the hazard before being counted out, but it then became clear that Blip was no longer moving. One of their battery wires had come loose and Blip was counted out instead. HyperShock won by KO and moved on to the final.
HyperShock vs. Hydra
Now in the re:MARS final, HyperShock faced Hydra for the third time in their respective careers. Hydra had won both previous fights by knockout in the 2019 and 2020 seasons. After the previous fight, HyperShock was now without both of its ears and did not have time to make the necessary alterations to repair this damage. Both robots got attacks in with their primary weapons, with Hydra appearing to come off worse. Jake Ewert's bot suffered damage to its side skirts, which led to it becoming lodged in a killsaw slot. Hydra fired its flipper and an unspecified part tore away before it stopped moving and began leaking hydraulic fluid. Unsure whether to engage, an upside-down HyperShock attempted to free Hydra, but was unsuccessful in its attempts. Hydra was eventually counted out and Team HyperShock were crowned re:MARS champion.
BattleBots: Champions

[

]
HyperShock vs. DUCK!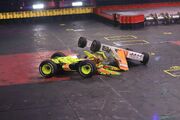 HyperShock competed in BattleBots: Champions with the ambition of winning the Golden Bolt tournament. However, it first had to win the Sin City Slugfest bracket of 2020 season Bounty winner Gigabyte. In the first round of the bracket, it met DUCK!. HyperShock began strong as it was able to get in underneath the front of DUCK! and pressed it against the corner before getting its primary weapon up to speed. As DUCK! charged at HyperShock, Will Bales swerved to face it head on. This impact shattered the end of the top beak, though DUCK! was then able to get a brief hold of its opponent. HyperShock escaped and spun up again, popping DUCK! up into the air before using its superior drive power to maneuver DUCK! into the screws. HyperShock almost flipped itself over but balanced itself and set after DUCK!, tearing away the fork from its mounting point. DUCK! took the brunt of another head-on attack, which broke part of the lower beak this time. Now stuck on the opposite set of screws, DUCK! freed itself but only found itself at the mercy of HyperShock once again. HyperShock threw DUCK! up into the air and buckled its left-front wheel on impact. DUCK! landed upside-down and what was now its right-front wheel gave way as it was flung onto the Upper Deck. DUCK!'s mobility had been hampered and HyperShock took full advantage, ramming it into the barrier and trying to deliver it to the pulverizers in the final thirty seconds. Despite the punishment it took, DUCK! managed to last the full three minutes. However, HyperShock won by unanimous judges' decision and they moved on in the bracket.
HyperShock vs. Valkyrie
Advancing to the next round with only a burnt weapon motor to replace,[12] HyperShock then had a rematch from the 2019 season against Valkyrie, who disabled SMEEEEEEEEEEEEE in the previous round. For this battle, HyperShock returned to its plow and single disc configuration in order to absorb hits from the undercutting blade of Valkyrie. In the opening seconds, HyperShock box rushed Valkyrie and caught it off-balance. Valkyrie was riding on its back wheels and took another hit from HyperShock, which righted it. HyperShock then dealt a brutal hit to Valkyrie's front, which sheared the weapon shaft and saw the undercutting blade come clean off. The blade continue to spin on the BattleBox floor as Valkyrie looked helpless. HyperShock continued to assault the remains of Valkyrie, tearing into its wheel protection on both sides and tossing it around the center of the arena. HyperShock then buckled the back panel of Valkyrie and continued to maneuver it around the arena, even hitting the dismembered blade high into roof of the BattleBox, damaging a truss beam in the process. It then got to the rear of Valkyrie and leant it against the screws with its wheels off the floor. The screws reversed to allow it to escape, where HyperShock lay waiting. As it went in for another shot, a large piece of Valkyrie went flying and it was eventually counted out. HyperShock advanced to the finals, where they were one step away from facing the Bounty holder, Gigabyte.
HyperShock vs. MadCatter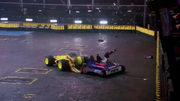 With another win under its belt, HyperShock faced MadCatter, who had defeated Triple Crown and Claw Viper up to this point. HyperShock again opted for its forks and dual disc combination for this bout, and MadCatter was joined by its flaming minibot, Gassy Cat. As in its previous fights, HyperShock attempted to box-rush and stun its opponent. It did not land a big hit with the weapon, but was able to uppercut the wedgelets on the front of MadCatter and get in underneath the side to push it around. MadCatter was flipped over, but used its lifting arm to right itself as Gassy Cat attempted to ride up the front of HyperShock. MadCatter was flipped again before escaping to the center of the arena, where HyperShock gave chase and grazed the side panels. After a sharp turn, HyperShock then flipped itself over, running into the walls as it tried to keep its weapon pointed at MadCatter. Will Bales was able to ride its weapon up the front of MadCatter and eventually landed upright again, but driver Calvin Iba was able to overturn it again. HyperShock threw itself into the arena in an attempt to self-right, but a hit from MadCatter flipped it back onto all fours. This proved to be MadCatter's undoing, as HyperShock dealt several vicious hits which upended Martin Mason's bot and sent it towards the Upper Deck. After dishing out a hit to Gassy Cat, HyperShock threw MadCatter on top of the BattleBox hazard. It escaped to the short corner, but HyperShock punted it atop the Upper Deck again. This time, MadCatter escaped across the screws with its vertical spinner appearing to no longer be working as Gassy Cat was launched high into the air. MadCatter was now also without its right wedge and as it was overturned, HyperShock went to work attacking the top armor of its opponent. Parts continued to fly off as HyperShock delivered yet another vicious assault, ultimately throwing MadCatter on top of the Upper Deck one final time as it was counted out. HyperShock moved on to face the defending Bounty holder.
HyperShock vs. Gigabyte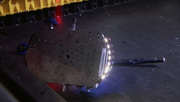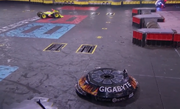 Standing in the way of Team HyperShock and a place in the Golden Bolt tournament was the bot which dethroned the legendary Son of Whyachi in 2020 - Gigabyte. HyperShock again reverted back to its single disc and plow configuration for this all-important battle. HyperShock immediately drove at Gigabyte in an attempt to smother it and prevent the shell spinner from getting up to speed. Gigabyte evaded, but drove itself close to the Upper Deck where HyperShock threw it across the BattleBox. After bouncing around, Gigabyte landed upright but in the short corner. HyperShock dealt three successive hits to the side and underneath of Gigabyte's shell before both robots escaped to the center of the arena. Gigabyte got up to speed once again, but HyperShock charged at it and hurled John Mladenik's bot almost half the length of the BattleBox and crashing into the screws. After self-righting, HyperShock nicked the shell again and threw it underneath the pulverizer. Now in the other short corner, Gigabyte drove away as it appeared one of HyperShock's wheels had locked up. However, Will Bales discovered settings on his transmitter had swapped and looked to adapt. After arcing in the center of the arena, Gigabyte maintained its spinning speed. HyperShock then charged forwards with its own disc spinning and launched Gigabyte high and far, completely separating the shell, self-righting pole and the rest of the chassis. The shell flew into the BattleBox signage which came away, and parts of Gigabyte were strewn across the Upper Deck and both short corners. Gigabyte's wheel had also come off on impact, and the remainder of the robot lay upside-down without any armor to protect it. Gigabyte was counted out and HyperShock won by a devastating knockout blow, ending Robotic Death Company's hopes of advancing to the Golden Bolt tournament.


In the post-match interview, Will Bales revealed that the transmitter issue concerned HyperShock's throttle and steering inputs swapping over unexpectedly. This was backed up in Kyle Awner's blog which discussed the incident.[13]
HyperShock vs. TBC
In winning the first Sin City Slugfest episode, HyperShock qualified for the Golden Bolt tournament. Its first opponent is as yet unknown, but will either be against a fellow Sin City Slugfest champion or a former Giant Nut winner.
Results
[
]
HYPERSHOCK - RESULTS
ABC Season 1
2015 Championship
14th seed
Round of 24
vs. Mohawk
Won (KO)
Round of 16
vs. Bite Force (3)
Lost (KO)
ABC Season 2
2016 Championship
11th seed
Round of 48
vs. UltraViolent
Won (KO)
NOTE: HyperShock was originally drawn against HellaChopper, but UltraViolent took its place.
Round of 32
vs. Warrior Clan (22)
Won (KO)
Round of 16
vs. Poison Arrow (27)
Lost (KO)
Discovery Season 3
Fight Nights
1-3
Fight Night Main Event
vs. Bite Force
Lost (KO)
Fight Night
vs. Battle Royale With Cheese
Won (KO)
Fight Night
vs. Free Shipping
Lost (KO)
Fight Night
vs. Skorpios
Lost (Split JD)
USA vs The World
Representing the USA
USA vs The World
vs. Reality
Lost (KO)
Discovery Season 4
Fight Nights
3-1, Lost Play-in
Fight Night
vs. Valkyrie
Won (KO)
Fight Night
vs. Monsoon
Won (KO)
Fight Night Main Event
vs. Bite Force
Lost (JD)
Fight Night
vs. Breaker Box
Won (KO)
Play-in
vs. HUGE
Lost (KO)
Exhibition Matches

Exhibition Match
vs. Hydra
Lost (KO)
Discovery Season 5
Fight Nights
1-2
Fight Night Main Event
vs. Gruff
Lost (KO)
Fight Night
vs. Mammoth
Won (KO)
Fight Night
vs. End Game
Lost (KO)
Top 32
32nd seed
Round of 32
vs. Hydra (1)
Lost (KO)
Bounty Hunters
Bounty Hunters - Icewave Episode

Round 1
vs. Sporkinok
Won (JD)
Round 2
vs. Ghost Raptor
Won (KO)
Round 3
vs. Skorpios
Lost (JD)
Discovery Season 6
Fight Nights
2-0
Fight Night
vs. Slammo!
Won (KO)
Fight Night Main Event
vs. Lock-Jaw
Won (KO)
Top 32
13th Seed
Round of 32
vs. P1 (20)
Lost (JD)
re:MARS all:STARS BattleBots Challenge (2022)
Winner
Round of 8
vs. Tombstone
Won (KO)
Semi-Final
vs. Blip
Won (KO)
Final
vs. Hydra
Won (KO)
BattleBots: Champions
Sin City Slugfest
Gigabyte Episode
Round of 8
vs. DUCK!
Won (JD)
Semi-Finals
vs. Valkyrie
Won (KO)
Finals
vs. MadCatter
Won (KO)
Golden Bolt Qualifier
vs. Gigabyte
Won (KO)
Golden Bolt Tournament

Quarter-Finals
vs. TBC
TBC
Wins/Losses
[
]
Faruq Tauheed Introductions
[
]
"It's caused more blackouts than a case of wine coolers. It's HYPERSHOCK!"
"It puts the kill in kilowatts. It's HYPERSHOCK!"
"If this bot were a radio station, its call letters would be K-I-L-L. Transmitting a frequency of pain, it's HYPERSHOCK!"
"This bot was hotel overlooked. Now, it's shining. Redrum! Redrum! Watch out for this drum! It's HYPERSHOCK!"
"Like a toaster in the bathtub, a golf club in a lightning storm, finding your girlfriend's retainer in your best friend's MOUTH?! This robot will give you the shock of your life. It's HYPERSHOCK!"
"If it was a 90's hip-hop legend, it would be Cypress Kill. It's insane in the main frame. Here's something you can't understand. This is how you kill a bot, HYPERSHOCK!"
"Better call the electrician, because this bot is about to cause a black out. It's wired for destruction and looks so damn electro-cute. It's HYPERSHOCK!"
"This beautiful voracious bot causes amber waves of pain. Don't be a skeptic. This next bot's electric. It's HYPERSHOCK!"
"When this bot orders a coffee, it gets a slap-puccino. It'll grind you with its spinners and pour you into an espress-OH NO! It's HYPERSHOCK!"
"Call in the exorcist, cause this bot is a speed demon. It'll drive circles around and make your head spin until you puke. The power of hype compels you! The power of hype compels you! It's HYPERSHOCK!"
"This bot drives faster than a NASCAR at Daytona and its driver has a wild persona. Gentlemen, start your vengeance, cause you're about to get wrecked! It's HYPERSHOCK!"
"If this bot were a movie star, it'd be Spin Diesel because it's ready to drive Fast and the Furious until the franchise ends. Or, until I get that spinoff, Fast and Faruq-uious. It's HYPERSHOCK!"
"It's the fastest in the BattleBox. So fast, you could call it Usain Bot. *Jamaican accent* Hope you can handle the speed, man. You never gonna catch it because it's Jamaican you die... It's HYPERSHOCK!"
"Moves like lightning, claps back like thunder, this bot's driven by a real boy wonder. Will Bales like to dress in style, let's see if he can stay awhile. Knock knock, it's HYPERSHOCK!"
"This bot feels the need, the need for speed, the Maverick here to make you bleed. You're getting goosed, you're getting iced, man. Weapons are loaded and locked. It's HYPERSHOCK!"
"It'll charge you like Abila Sales and when you're broke, wondering why, all I gotta say is Will Bales. When it rolls, you get rocked. It's HYPERSHOCK!"
"Last year, they weren't in sync and they fell in a giant rut. But this year, they're looking One Direction towards the Giant Nut. They're going to mmm-bop the competition, and show that experience rocks and say bye bye bye to all those new kids on the block. It's HYPERSHOCK!"
"He came from Miami and he's here to slam thee, it's HYPERSHOCK!"
"Matching raw combat with some flair and some grace. Call this robot RuPaul cause honey, he'll beat your face. He'll drag you for filth but he ain't wearing mascara, serving you carnage, unstoppability, nightmares, and terror. Sashlay, Shante, it's HYPERSHOCK!"
"This team has like 80 members, even a team mom. She gives rides in the minivan and hands out snacks. She is the bomb. Their bot can carve up your grill with a spinner that comes from above and leave you with a mangled face only a mother could love. Give it up for HYPERSHOCK!"
"From Miami, Florida, time for your shock treatment from HYPERSHOCK!"
"Hailing from the birthplace of 'Dexter,' that show with Michael C. Hall, his spinners will make your blood splatter till it lines all the walls. Well, guess what? It's showtime. You'll be seeing a thriller going against Miami's newest serial killer, HYPERSHOCK!"
"From Miami, Florida, he's from the Sunshine State and he'll leave your bot so broke, it'll have to panhandle. It's HYPERSHOCK!"
"From Miami, Florida, here to turn up the heat, it's HYPERSHOCK!"
"From Miami, Florida, this bot forgot to take its Ritalin... again. It's HYPERSHOCK!"
"This thing is from Miami like that song by Will Smith. And it'll toss you aside like Jazzy Jeff on the Fresh Prince. He's a bad boy like Ali so you'd better play it mellow, or Agent J will give you an L. Here comes the bot in black and yellow. Prepare to Die, Robot. It's HYPERSHOCK!"
Merchandise
[
]
Any appearances by HyperShock in merchandise are listed below:
Trivia
[
]
HyperShock was one of the first bot-sponsor teams established, under the "HyperShock Approved" name. The team successfully sponsored Nelly the Ellybot, HiJinx, and Icewave, as well as attempting to sponsor international teams Rainbow and Spirit of TAGA.
During the fight with End Game, a red QR code was visible on HyperShock's titanium underbelly which seemingly leads to "HyperShock's Totally Not a Secret Store."
HyperShock captain Will Bales was introduced to the pryanik by the Rainbow team during the 2018 season. In turn, the team gifted Rainbow an inflatable ride-on unicorn prior to their flights back to Russia.
HyperShock vs. Sporkinok remains the only fight from the 2020 season not to have been shown in full, even after the Basement Tapes were uploaded to YouTube.
HyperShock is one of only six teams to have competed in every season of the reboot era of BattleBots. The others are Tombstone, Witch Doctor, Lock-Jaw, Captain Shrederator and Whiplash (including Splatter).

The 2016 build of HyperShock now resides with Craig Danby of Slammo!.
The Season 3 iteration of HyperShock was sold in 2021 to fund future versions of the robot.

The robot was painted blue and repurposed as Drift King, making an appearance at Robot Ruckus in November 2021.

Following their win over Slammo!, the team auctioned off a damaged wheel and front fork on eBay.[14][15]
Concerning the order of filming, HyperShock was the first robot to throw another robot out of the arena following the rule change discouraging OOTAs in the corners of the arena. Team HyperShock went unpunished despite this, and more instances of OOTAs followed later in the season.
Despite HyperShock's 2022 re:MARS all:STARS success being announced before its involvement in BattleBots: Champions, the latter was filmed almost a year prior to the June 2022 event.
Ahead of HyperShock's Sin City Slugfest battle against MadCatter, stat cards were shown with one category tallying up "flaming mini bot named after a flatulent feline". This referenced a joke made by Will Bales in one of his interviews.
References
[
]