Horizon is a heavyweight robot built by Team Horizon which applied for Discovery Seasons 6 and 7 of the BattleBots reboot.
"Introducing the world's first continuous horizontal hammer saw..."
— The team introduce Horizon on their website.[1]
A scaled up version of Joshua Kong's 12lb robot Skyline, Horizon is a four-wheel drive robot armed with a large, truss-like overhead bar which spins above the main chassis. What makes Horizon unique, however, are the horizontal discs attached to each end of the bar, which spin independent to the bar due to torque reaction. Each disc has three teeth (one slightly larger than the other two) and are powered by dedicated motors. As the discs on either end of the AR500 steel arm spin, the arm itself will spin in the opposite direction. This process is known as torque reaction, and allows Horizon to find a loophole the 80lb spinning mass restriction which limits more traditional spinners. Each disc only has to weigh under the maximum mass, and team member Dylan McKenzie states they will weigh up to 30lbs on the final robot, and spin at the 250mph tip speed limit.[2]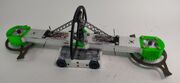 Notably, the latest CAD of Horizon made public lacks the top semi-circle and connecting supports seen on Skyline, known as the "taco". This assists the 12lb robot in self-righting when flipped upside-down. However, it is expected to be incorporated into the final design.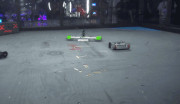 Despite applying with a unique concept proven to work at 12lb level, Horizon was rejected for Discovery Season 6. However, several team members including Alon Belkin, who captained Axolotl during the 2020 season, would assist with Cobalt, now under the ownership of John Mladenik. Though not officially registered as part of either team, Horizon's designated driver Kyle Loyola previously designed and built the 16ft wide minibot Timeline, which fought as a distraction bot for both Chronos and Valkyrie during Discovery Season 4.[3]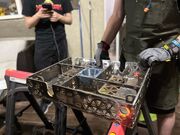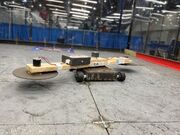 The team confirmed their intention to apply for Discovery Season 7 with "significant changes" made since the first CAD models were revealed, having learned a lot with the development of Skyline in recent Norwalk Havoc Robot League competitions. In January 2022, the team began producing a 1:1 scale wooden prototype of Horizon. A month later, the team announced via social media that they had finished recording their application video[4] and later confirmed their intention to split the team in half and also apply with a robot called Globetrotter.[5] However, this proved to be an April Fools' joke which lasted for three months, despite its name being a copyright issue and its ability to show controlled mobility lacking.[6] In their Horizon application video, the team revealed Derek Tran had joined the team to assist with fabrication, having also been part of Cobalt during the 2021 season.
Team Horizon signed up for the July 2022 Robotica event in Houston, Texas, beginning construction of the robot several weeks prior to the competition.[7] Primarily applying to test their drive train, the robot was billed as Rizon on the application form, with Alon Belkin stating the spinning mechanism would likely not be complete by the time of the event, and would measure 6.5ft end-to-end in an 8ft wide heavyweight arena.[8] Irrespective of its completion, the robot could not be used in its full combat form with Robotica being a sportsman event prohibiting that kind of kinetic weaponry. Rizon fitted circular saws to the ends of its prototype wooden arm, but struggled throughout the event. It chalking up a win against NEUMATIK as team captain Alon Belkin earned revenge for Axolotl's 2020 season loss to Team WAR? EZ!. It later beat Piranha, built by Wild Side Robotics, but suffered losses to Deferred Maintenance, Avalanche, Tiger Plywood, and Orly.
Trivia
[
]
References
[
]