HiJinx is a heavyweight robot from Offbeat Robotics, and fought in Discovery Seasons 5 and 6 of the BattleBots reboot.
It is a two-wheel drive, invertible robot armed with a long undercutting bar which spanned the circumference of the bot, with only the wheels and stabilizing tail protruding further from the bot than its bar. Measuring 48" in length, the primary weapon had more reach than the majority of other bots in the field, and could spin up to 1400rpm. Its wheels were custom made from 1" thick UMHW plastic, proving to be durable throughout the season as a result. The name HiJinx is an alternative spelling of hijinks or high jinks, which is a name given to lively and excited behaviour which often suggests mischief.
Design plans for HiJinx commenced in 2019, and the overall shape and functionality of the robot remained similar throughout this process. The bot was set to have an 80s aesthetic, hence the use of bright, neon colors, though this evolved into an owl theme over time, and culminated into the final look for HiJinx. Offbeat Robotics were sponsored by Team HyperShock for Discovery Season 5, as part of their "HyperShock Approved" brand.
"Between the robot idea, design, and build, the team settled on a theme caught between Blade Runner and Jem and the Holograms with a little Top Gun thrown in… very 80s ;)"
— Offbeat Robotics explain the aesthetic design of HiJinx in their build logs.[1]
Team captain Jen Herchenroeder was previously a part of Battle Royale With Cheese as well as Skorpios during the 2018 and 2019 seasons respectively. With Offbeat Robotics selling Skorpios to Zach Lytle and Diana Tarlson, allowing the pair to form a new team around the robot, Orion Beach and Jen Herchenroeder built HiJinx under the Offbeat Robotics name.[2] Armored in a mix of AR400 steel and anodized aluminum for its debut year, the bot impressed, going 2-1 and making the Top 32 before was ejected from the BattleBox in spectacular fashion by Uppercut. HiJinx returned for BattleBots: Bounty Hunters where it competed for a share of $25,000 if it could advance through the bracket and beat Beta. Despite beating SlamMow!, HiJinx ultimately lost to Bloodsport in the second round.
HiJinx returned for Discovery Season 6, sporting a newly-cut AR500 steel undercutting bar which weighed 68lbs. It also featured stronger head and tail pieces.[3] Though former Bite Force team member Tim Bogdanof would not return in 2021, the team picked up two new members in Chas Leichner and Paloma Fautley. HiJinx lost their first fight against Mammoth after an oversight in the pits saw a wheel fall off. HiJinx returned to form after beating Kraken by a unanimous judges' decision and then knocking out SubZero to finish with a 2-1 record. HiJinx met its match in the Round of 32, however, losing out to SawBlaze. Alongside a handful of other robots from the season, HiJinx made an appearance as a static display at a live premiere of the tournament conclusion in San Jose, California.
Outside of BattleBots, Jen Herchenroeder is a prototype and manufacturing engineer with experience in Power Racing events, having competed with Pokémon and Lightning McQueen themed vehicles in the past. Lead engineer of HiJinx Orion Beach has been building robots since 2004, notably designing and competing with Electric Boogaloo in RoboGames and Combots Cup competitions over the years. He designed the early versions of Skorpios, credited as such with the robot entering under the team name Offbeat Robotics from its debut up to the 2019 season.[4]
Robot History
[
]
Discovery Season 5
[
]
HiJinx vs. Claw Viper
HiJinx's first match was against fellow newcomer, Claw Viper. In response, HiJinx put on its shorter, but heavier bar with no holes to hit harder and potentially break through Claw Viper's wedge. HiJinx started off okay, managing to dodge Claw Viper's box rush and made Claw Viper ramp up their stabilizer. Hijinx landed a shot that disabled Claw Viper's clamping arm, but wasn't able to cause any other damage after that. HiJinx was continuously slammed by Claw Viper, who outdrove Offbeat Robotics' machine for the bulk of the match. Hijinx was starting to slow down and seemingly only able to crab-walk. After dishing out another hit, HiJinx was slammed hard enough to break its drive's gearboxes under the pulverizer. It was then grabbed and taken for a spin around the BattleBox by Claw Viper. Now immobile, Hijinx was counted out, giving Claw Viper the win by KO.
HiJinx vs. Tracer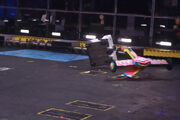 HiJinx's second match was against fellow newcomers Tracer. This fight was not shown in full during the regular season, and was shown among the Basement Tapes. Tracer began by attacking HiJinx's tail, making contact with the blade and flipping itself over. HiJinx delivered a final shot to Tracer when upside down, but without a srimech, it was counted out. HiJinx was declared the winner by a quick KO, and moved to 1-1 in the season.
HiJinx vs. Chomp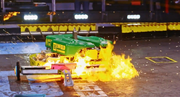 Hijinx was now in its third and final Fight Night match against the 500lb walker Chomp. HiJinx was cautious to start as they were working to avoid Chomp's flames as it slowly advanced. However, HiJinx soon went in and delivered a hit. Undeterred, Chomp threatened to attack with its hammer as HiJinx went in again. It breached the protective hoop of Chomp with the next attack, disabling several of its legs which were vital to its mobility. Chomp was counted out, giving HiJinx the win by KO.
HiJinx vs. Uppercut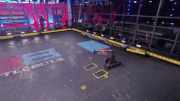 HiJinx fought Uppercut in the Round of 32 as the No.29 seed. HiJinx was initially able to keep Uppercut at bay using its rear stabilizer as a makeshift keep-away stick. However, as they turned to face Uppercut, they made contact with the vertical spinner and were popped into the air momentarily before being punted out of the arena, slotted perfectly behind the BattleBox wall. Unable to escape, HiJinx was counted out, giving Uppercut the win by KO and a spot in the Top 16.
BattleBots: Bounty Hunters
[
]
HiJinx vs. SlamMow!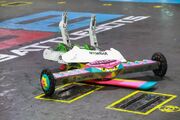 HiJinx also entered the Beta bracket of BattleBots: Bounty Hunters, where it faced SlamMow! in the first round. HiJinx started off well as they were able to get under the low wedge of SlamMow! and push them around momentarily. After letting them go, HiJinx was then cornered and flipped over, which meant their bar spun higher up. HiJinx could not capitalize on this as they were pushed onto the screws, which trapped their left wheel for a few seconds. However, HiJinx escaped and was able to keep moving while SlamMow! began to slow, before grinding to a halt. SlamMow! was counted out, giving HiJinx the win by KO.
HiJinx vs. Bloodsport
HiJinx next faced Bloodsport in the next round of the bracket. The fight began evenly as neither robot was able to cause major damage to its opponent. As their weapon spinup time was slower than that of Bloodsport, however, this left them vulnerable. It then became apparent that one side of their drive had been disabled by Bloodsport. HiJinx continued to fight but were unable to position themselves before taking a final hit that cost them a piece of the top plate and their entire drive. With their weapon spinning at top speed, HiJinx was counted out, giving Bloodsport the win by KO.
Discovery Season 6
[
]
HiJinx vs. Mammoth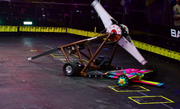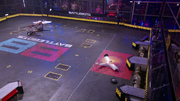 HiJinx's first fight of the 2021 season was against Mammoth. For this fight, Mammoth was equipped with a white UMHW bar to absorb the horizontal blows of HiJinx. The fight commenced with Mammoth charging directly at HiJinx and using its trunk to swat them away. HiJinx escaped to the center of the BattleBox to try and spin up to speed, but was obstructed by Mammoth's long front feet, ultimately finding itself coerced to the side of the Upper Deck. HiJinx was just wide enough to become high centered while sat on top of Mammoth's front feet, but managed to get away and spin up in the corner. Mammoth attacked again, using its trunk to unbalance HiJinx. The resulting lift caused HiJinx to be flipped over and the next interaction saw one of its wheel break away. Although HiJinx could spin on the spot and its weapon was fully functional, it could not show translational movement and was counted out, giving Mammoth its first win of the new season by KO.

After the fight, Jen Herchenroeder revealed in a YouTube video that HiJinx's issue was the result of its wheel not being screwed on properly, an oversight that was resolved ahead of future fights.
HiJinx vs. Kraken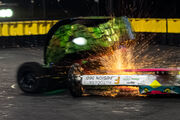 HiJinx's second fight was against Kraken. Ahead of this fight, the HiJinx team welded S7 tool steel teeth to their bar spinner. HiJinx also decided to start sideways for this fight, so as to spin up and protect itself from a Kraken box rush. As Kraken approached, it made contact with the bar and deflected away. The bar of HiJinx had been slowed in this early exchange, however, leaving Jen Herchenroeder's bot vulnerable as Kraken returned to clamp down on its opponent. HiJinx managed to escape, but had been flipped over as a result of the attack. This proved to be a blessing in disguise as the bar was positioned high enough to strike the head and teeth of Kraken, and did just that multiple times. This caused cosmetic damage to the head and buckled one of its teeth slightly. Suddenly, HiJinx was no longer moving, prompting Matt Spurk of Kraken to ask for a count, but HiJinx showed signs of life shortly after. HiJinx delivered several big hits to Kraken's head, before finding itself smothered by Kraken and unable to spin up. Kraken bit down on HiJinx, but failed to puncture their armor, then sent them to the Upper Deck via the screws. HiJinx attempted to drive off, but managed to beach itself on the edge of the hazard in doing so. With neither wheel able to gain purchase, HiJinx struggled to escape. In the background, Kraken was driving in circles, with neither robot appearing fully mobile. HiJinx fired its spinner and was eventually able to free itself and drive away. Another hit from the bar buckled the head of Kraken, and one more ripped a tooth away completely. Despite Kraken's hampered mobility, it survived to the end and the fight went to the judges. A unanimous decision was awarded in favor of HiJinx, putting them to 1-1.
HiJinx vs. SubZero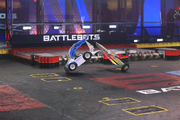 Last up for HiJinx in the Fight Night rounds was against SubZero. HiJinx again led with their tail to allow for the undercutter to spin up to speed, and SubZero charged right for them. However, it instead made contact with the front of HiJinx and deflected into the arena barrier. SubZero chased it into the center of the BattleBox and managed to get a good flip on its opponent. HiJinx was able to escape the short corner but could not spin up as quickly as usual. It attempted to flip HiJinx several more times without success before the primary weapon of SubZero became jammed open. HiJinx was finally allowed time and space to spin up before tearing a wedgelet away from Logan Davis' bot. It bore the brunt of several more attacks with the undercutting bar before HiJinx tore the entire back panel away from SubZero. Its side armor had now been bent into its left-side drive and SubZero was unable to show translational movement, so it was counted out. HiJinx took the win by knockout and earned a 2-1 Fight Night record.
HiJinx vs. SawBlaze
HiJinx broke into the Top 32 as the No.29 seed, and found itself against No.4 seed Jamison Go and SawBlaze. It once more led with its tail. Early on, however, SawBlaze charged HiJinx down and stopped the undercutting blade, snagging a wheel and controlling its opponent around the BattleBox. SawBlaze drove HiJinx to the pulverizer as their hammer saw got up to speed. HiJinx was rammed into the Upper Deck as the green flame of SawBlaze fired, and Jamison Go followed this up with strikes to the top panel and right-side wheel of HiJinx. Orion Beach was unable to escape as SawBlaze delivered a brutal shot which tore a panel completely off, exposing the drive motor which dangled loosely inside the chassis. HiJinx was rammed into the Upper Deck again, now high centred as a result of the tip of their tail bending downwards. Another overhead attack snapped the tip clean off, and the exposed drive motor eventually detached completely as HiJinx attempted to show mobility. Jamison Go's team landed more pulverizer blows as HiJinx was sent to the short corner and then to the screws. Jen Herchenroeder's bot was unable to mount any attacks of its own, but survived to the end of the fight despite being thrown onto the Upper Deck in the closing seconds and having spent half of the fight without a drive motor. SawBlaze won by unanimous decision and HiJinx were eliminated from the competition.
Results
[
]
HIJINX - RESULTS
Discovery Season 5
Fight Nights
2-1
Fight Night
vs. Claw Viper
Lost (KO)
Fight Night (Untelevised)
vs. Tracer
Won (KO)
Fight Night
vs. Chomp
Won (KO)
Top 32
29th seed
Round of 32
vs. Uppercut (4)
Lost (KO)
Bounty Hunters 2020
Bounty Hunters 2020 - Beta Episode

Round 1
vs. SlamMow!
Won (KO)
Round 2
vs. Bloodsport
Lost (KO)
Discovery Season 6
Fight Nights
2-1
Fight Night
vs. Mammoth
Lost (KO)
Fight Night
vs. Kraken
Won (JD)
Fight Night
vs. SubZero
Won (KO)
Top 32
29th seed
Round of 32
vs. SawBlaze (4)
Lost (JD)
Wins/Losses
[
]
Faruq Tauheed Introductions
[
]
"From Santa Rosa, California, the spinister of offense, HIJINX!"
"From Santa Rosa, California, the pink punisher, HIJINX!"
"From Oakland, California, the pink and yellow that turns you black and blue. It's HIJINX!"
"From Oakland, California, it's all fun and games until someone gets hurt, then it's really fun. It's HIJINX!"
"From Oakland, California, it's got a Lisa Frank binder to store your death certificate. It's HIJINX!"
"From Santa Rosa, California, it's hella cool and about to take you to school. It's HIJINX!"
"From Santa Rosa, California. It's straight out of the 80s and parties with Hades. It's HIJINX!"
Trivia
[
]
Between its debut year and its return for the 2021 season, Offbeat Robotics sold HiJinx's original weapon bar and various armor pieces to fans in order to fund upgrades for Discovery Season 6.[5]
The team had two owl mascots in the pits for their debut season, called Athena and Minerva, the Greek and Roman goddesses of wisdom.
Despite being a member of the team and assisting with HiJinx, Eli D'Elias is not listed on the BattleBots website.
In Discovery Season 5, HiJinx ironically fell at the same stage of the competition as HyperShock, who sponsored the team for the season.
References
[
]