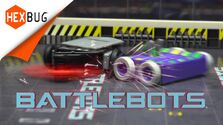 In 2016, HEXBUG began releasing remote control versions of BattleBots competitors to allow for fans to experience driving a bot for themselves.
Each toy in the line uses an infrared sensor and small four-channel remote with basic forwards/backwards and left/right steering controls, which is included with the toy. Most remotes have a single button on top to power the toy's primary weapon, though the most recent HEXBUG toys feature a button for each moving part of their more complex weaponry. The four separate channels mean that it is possible to fight up to four HEXBUG BattleBots toys against each other at any one time without interference. Each toy features several panels which are attached to the main body via magnets, and can be torn off during play to represent "damage". Standard Rivals HEXBUG releases were powered by non-rechargeable AAA batteries, though these were replaced by rechargeable lithium polymer batteries in 2021's Platinum Rivals set.
The HEXBUG BattleBots toys are available in a variety of sets, which are listed below:
Rivals Packs
[
]
The first HEXBUG toys shown were released in two-packs, to allow for at least two of the toys to fight one another without the need to purchase any additional toys. The first Rivals set was released in 2016, and included the earliest HEXBUG iterations of both Tombstone and Witch Doctor, though more were released with time. Rivals sets are priced at $59.99.
HEXBUG announced they intended to announce the next Rivals pack on February 18, 2022, where it was confirmed that the next two releases would be HyperShock and Rusty.[1]
Current Rivals two-pack releases are listed below:
Singles
[
]
As well as in two-packs, many of HEXBUG's remote control toys have also been released individually. Priced at $29.99, the packaging for these single releases is considerably smaller and features the bot itself on full display atop a card insert resembling the BattleBox floor, with a plastic case over the top. The only releases not made available as singles to date are SawBlaze, Whiplash, Tombstone's 2021 update, and the recolored Build Your Own Tank chassis (that has now been named Barnakills).
Platinum Rivals
[
]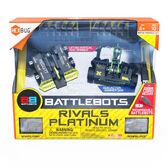 In 2021, HEXBUG announced they would be updating future Rivals sets to feature rechargeable lithium polymer batteries and upgraded components, including a secondary weapon motor.
Following on from this, Whiplash and SawBlaze were the first bots released under the Rivals Platinum name, priced at $79.99, twenty dollars more expensive than standard Rivals packs.
In early 2022, it was announced that Platinum Rivals sets would be sold in Europe for the first time, notably within the United Kingdom later in the year. This marked the first BattleBots merchandise to sell in Europe since DUCK! vs. Rotator Rivals pack, though an estimated release date and pricepoint is yet to be confirmed.
Arena Set
[
]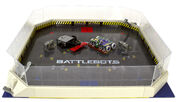 Similar to the standard Rivals sets, the original HEXBUG Tombstone and Witch Doctor releases were also available as part of an arena set, where the two remote control toys were packaged with the first HEXBUG BattleBox toy. This is priced at $79.99, and it is unknown whether HEXBUG intend to release future Rivals packs as an arena set with the updated HEXBUG BattleBots Arena MAX, based on the Discovery Season 5 BattleBox.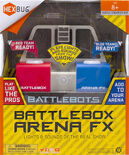 This set was originally going to feature Tombstone and Bronco, but the latter could not be produced in time, and its early prototype was never released. Bronco would, however, be released in a future Rivals set alongside a more recent version of Witch Doctor.
Later down the line, HEXBUG released the BattleBox Arena FX set to accompany the new BattleBox toy announced in line with the first Rivals Platinum set. This included lights and sounds to add further realism to battles, and was priced at $22.99.
Replica Releases
[
]
Build Your Own Bot
[
]
The Build Your Own Bot releases also have a variety of unique accessories sold separately, all of which are compatible with the three custom chassis releases.
Gallery
[
]
References
[
]