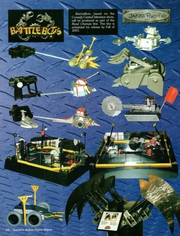 "Clear some space and watch out because here come the BattleBots Grip and Grapplers. Real working weapons are controlled by the power of your grip. Go into battle with your friends in one on one competition, or in rumble groups. Each Grip and Grappler includes a practice bot to sharpen your skills on too."
— The toy's official description.
The Grip N' Grappler (also spelt Grip and Grappler) line of toys were produced by Jakks Pacific under their Road Champs branding in July 2001, between Season 2.0 and 3.0. The company produced much of the Comedy Central era BattleBots merchandise, including but not limited to Battle Bashers, Metal Mechanics and Battle Chains.
All toys in this range was connected by a clear tube to a handle which featured a pull trigger. When activated, the trigger would pull on a thin piece of black string and activate the toy's primary weapon. Each of the robots were released individually, often alongside one of two custom training robots named Slicer and Striker.

Jakks Pacific also produced replica BattleBox playsets designed to fight these specific toys, complete with functional killsaws and pulverizer hazards. Available in physical stores at the time, tge Grip N' Grappler toys were also available on the BattleBots website, priced at $10.00.[1] The toys are still listed on the modern day BattleBots website under Vintage Merch, but are priced at $119.98 each, with the standard BattleBox playset, the Ultimate BattleBox Arena and Champions of the Arena playset listed at $299.98, $399.98 and $499.98 respectively.[2]
Soon after their release, a promotion saw Grip N' Grapplers reduced to $6.99 at participating stores and websites.[3]
To mark the reboot of BattleBots on ABC, toys of Bronco and Bite Force were produced by HEXBUG with near-identical functionality but without the training robots, named Clutch and Clash.
Trivia
[
]
The Grip N' Grappler line saw the only appearance for Grendel in BattleBots merchandise.
References
[
]