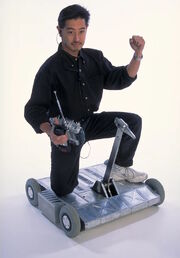 Grant Imahara, well known for his appearance on Mythbusters, was also one of the most dominant drivers in the original BattleBots middleweight division. Competing from 1999 to 2002, Imahara and his robot Deadblow always progressed far in the shows, finishing runner-up in the Season 1.0 middleweight championship and reaching the middleweight quarter-finals in Season 2.0. His combat record is 10-7.
Imahara also hosted the 2011 Science Channel special Killer Robots, the first televised robotic combat event since 2004, and was later the host of the 2015 RoboGames. In 2018, he announced his retirement from robot combat[1], while also appearing in the 2018 Discovery season as one of the guest judges.
Imahara died on July 13th 2020 from a brain aneurysm, aged 49.[2]
Outside BattleBots
Imahara was a former animatronics engineer and model maker for Industrial Light & Magic, where he worked on movies such as The Lost World: Jurassic Park, Star Wars: Episode 1 - The Phantom Menace, Terminator 3: Rise of the Machines, A.I.: Artificial Intelligence and Van Helsing. He also worked on multiple installments in The Matrix franchise, including The Matrix Reloaded and The Matrix Revolutions.
In 2016, he, along with fellow Mythbusters cast members Kari Byron and Tory Belleci, hosted the Netflix Original Series White Rabbit Project.
Imahara continued to work on multiple projects up until his death, including Energizer Bunny mascots, Geoff Peterson from The Late Late Show with Craig Ferguson and a giant robot duel organized by American company MegaBots.[3][4]
References
Community content is available under
CC-BY-SA
unless otherwise noted.