Not to be confused with the Team Whyachi robot with the same name.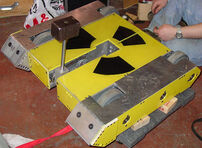 Fusion was a middleweight robot which competed in Seasons 2.0, 3.0, and 5.0 of BattleBots. Built by Team Saber, it was originally armed with a pneumatic spike for its first two seasons and then a 360-degree hammer for Season 5.0. It wasn't successful in its first two seasons, losing both of its first matches, but in Season 5.0 it won two battles before falling in the round of 64.
Team Saber also had two lightweights, Endotherm and T.U.S.K.
Robot History
Season 2.0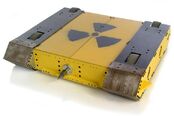 Fusion's first fight was
Buddy Lee Don't Play in the Street
. Both robots went straight at each other and the stuffed dalmatians were falling out of Buddy Lee's rear. Both robots came face to face and Buddy Lee got its front spike wedged into Fusion. The two robots were stuck together and both robots were pushing each other. Buddy Lee was able to push Fusion right into the killsaws, which finally separates the two robots. After the impact, Fusion stopped moving and it was being counted out. Buddy Lee won by KO at 3:00 and Fusion was eliminated from the tournament.
As of 2015, it is unknown if Fusion participated the middleweight consolation rumble during Season 2.0.
Season 3.0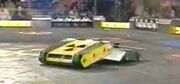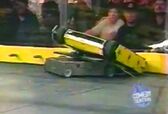 Due to previously competing in Season 2.0, Fusion was able to skip the preliminary rounds of Season 3.0, where it eventually fought the Season 1.0 middleweight champion
Hazard
. In the match, Hazard went straight at Fusion and Hazard's blade caused damage to the front of Fusion. After Hazard pushed Fusion on the killsaws, Hazard pushed Fusion under the spike strip. Fusion was being counted out and Hazard won by KO at 2:16. This meant that Fusion was eliminated from the tournament again.
Fusion wasn't done, however, as it entered into the middleweight consolation rumble. It survived until the end of the rumble, but it lost out on a spot in the royal rumble to Instigator and Alabama Slammer.
Season 5.0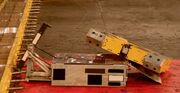 Fusion, unfortunately, was no longer seeded for this tournament and therefore had to go through the qualifiers again. It first went up against Blue Steel. Fusion won by KO and advanced to the next preliminary round, where it faced Mow-Blow.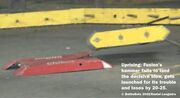 Fusion won by KO and advanced to the final preliminary round, where it faced Red Square. Red Square won on a close 25-20 judge's decision and Fusion was eliminated from the tournament once again.
Wins/Losses
Merchandise
Any appearances by Fusion in merchandise are listed below:
Community content is available under
CC-BY-SA
unless otherwise noted.