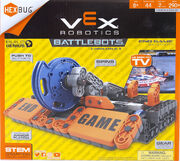 "Want to be a pro BattleBots builder? With over 290 pieces, you can build a model of the BattleBots hero: End Game. Watch as the realistic weapon spins as you drive forward!"
— Official description on the HEXBUG website.
End Game was one of five BattleBots competitors released as part of HEXBUG's VEX Robotics set of construction kits, released in line with Discovery Season 3.
Based on End Game's 2018 season design, the toy is easily identifiable by its large blue disc and bright orange wedge with its name across the front. It is largely accurate to the real-life robot due to this, as well as orange fins and coloring. The kit features over 290 pieces which, when assembled, allows for the vertical spinning disc to rotate as End Game is driven backwards and forwards.
Also included with the kit is a sheet of paper with various information, including how to calculate the actual End Game's weapon physics. Much like Warhead, the End Game VEX Robotics kit is priced at $24.99.[1]
See Also
[
]
Trivia
[
]
End Game is the only VEX Robotics kit to use rubber belts to power its weapon, rather than plastic gears or chains.
References
[
]