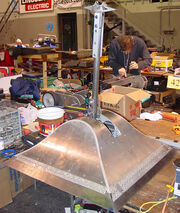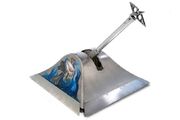 El Cucuy
(
El Spooky
in Season 5.0) was a middleweight robot which competed in Season 3.0 and 5.0 of
BattleBots
. It was a curved pyramid robot armed with an overhead pickaxe. Both versions of the robot were identical, having no external changes. It performed poorly in competition, losing both of its fights.
Robot history
Season 3.0
In El Cucuy's only fight, it fought Scheduled for Destruction. The two robots collided and El Cucuy deflected Scheduled for Destruction's punch. After a couple more glancing blows, El Cucuy was pushed by Scheduled for Destruction onto the entrance ramp, high-centering it. Scheduled for Destruction took the knockout, eliminating El Cucuy.
Season 5.0
In El Spooky's only fight, it fought
Moebius
. This fight started with Moebius spinning up to speed and darting across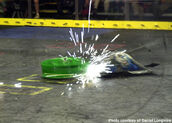 the arena to meet El Spooky. Unfortunately for El Spooky, instead of hitting El Spooky head on, Moebius turned right and grazed the corner of the front and left side skirts just as El Spooky's hammer came down. The bottom sweeper blades of Moebius then caught the edge of the left skirt and peeled it back. Moebius reversed into the gaping hole, tearing into El Spooky. Once El Spooky's skirts got peeled off, Moebius started chewing through the wooden chassis. Sawdust, splinters and sparks were everywhere. These attacks caused El Spooky to get tossed across the arena floor repeatedly. The last hit knocked something loose because El Spooky stopped moving. The team tapped out at this point. Moebius won by KO, eliminating El Spooky. The
CrewBots
had to come out with brooms to sweep up El Spooky's parts.
Wins/Losses
Community content is available under
CC-BY-SA
unless otherwise noted.