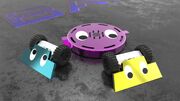 Doomba and Friends
(sometimes referred to just by Doomba) was a multibot that applied for the 2018 season of Battlebots. It was to be operated by Team Bots FC, a well-known team famous for their robots
Mega Melvin
and
Blue.
The team was to be accompanied by Adrian Bunny Sauriol, a former member of the team behind
Wrecks
. The robot was rejected for reasons currently unknown.
Team Bots FC was finally accepted into the 2019 season of Battlebots with an improved version of the two aforementioned robots called Shatter!
Design
The robot itself was a four wheeled, 220-pound full-body spinner coated with reflective pink vinyl. It was very short, as stated by the team it is less than 4" tall. It was accompanied by two 15-pound minibots (Doomba's "friends") which had no weaponry. The shell itself weighed 100lbs, nearly half the weight of the robot itself, and was driven by twelve brushless motors (four on the drivetrain, eight on the weapon) with a value around 6000$ USD.
See Also
Trivia
Doomba itself was originally built by Caustic Creations who built Poison Arrow for ABC Season 2.
Doomba's "friends" competed at both Motorama 2018 as a clusterbot under the name Boom Boom, and at RoboGames 2018 as part of the 220-pound clusterbot Cluster Flock.
Sources
Community content is available under
CC-BY-SA
unless otherwise noted.