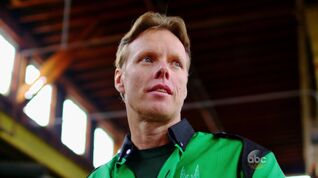 Donald Hutson is a seasoned roboteer from San Diego, California, who has competed since the early days of BattleBots. Leader and capitan of Team Mutant Robots, his robots feature unique designs and have won many battles over the years, with superheavyweight Diesector being his most successful, winning two championships in Comedy Central's BattleBots. He also built heavyweight robot Tazbot, which competed in the classic era of the show. Between eras, Donald fought on the live scene with a heavyweight version of his middleweight Root Canal with mixed success. In the modern era, Donald Hutson competed in every season of ABC and Discovery BattleBots withLock-Jaw. For more on Donald Hutson's robots, see Diesector, Tazbot and Lock-Jaw.
Profile
[
]
"My name is Donald Hutson and I am most definetly a robot enthusiast that has spent the last 20+ years fabricating and creating all sorts of robotic creations for both work and play."
Way back in 1996, he designed and built a heavyweight robot called Tazbot and a few years later a Super Heavyweight robot, Diesector. Both of these Robots were specifically built for Robotic Combat Shows like Robot Wars and BattleBots.
His background includes working as a Design Engineer at the Neuroscience's Institute (NSI) here in San Diego from January 2000 to July of 2013. Donald worked in the Machine Psychology lab designing and building robotic platforms know as Brain Based Devices . Nomad is one of the early brain based device that is not quite a computer or a robot. Instead, it is a machine that actually thinks and makes mistakes as it learns.
Hutson worked his way through school as a welder/fabricator for a local awning company.
Before NSI, Hutson worked as a Rehab Technology Specialist for about 9 years repairing & customizing home medical equipment like, liquid oxygen units, compressor's, infusion pumps and high tech power mobility devices with environmental control systems.
"My experience with robotics started way back in the day with Lego's and all other toys that I could either take apart or modify in some way or fashion. For some reason I always wanted to make them better or experiment with how they worked. I got into remote control gliders & helicopters at a early age and every since then, have had a blast creating high tech toys for covert news origination's, the medical equipment industry, Neuroscientist and most of all, ME!"
Donald currently works as the CTO of Modal AI, which makes AI drone systems. He obtained the experience from his duties for Qualcomm Research corp. in San Diego as a Support Engineer/Staff specializing in robotics.