Discovery Season 7 will be the seventh season of BattleBots since its return to television in 2015, and the fifth season since the Discovery network picked the show up from ABC.
In August 2021, The Hollywood Reporter announced BattleBots would remain on Discovery for at least another two seasons, following the success of Discovery Season 5.[1]
Several teams who opted out of applying for or were not selected for the 2021 season of the show have already expressed their desire to enter Discovery Season 7, notably international teams who were largely absent from the previous two seasons as a result of the COVID-19 pandemic.
Though unconfirmed, Discovery Season 7 will likely be filmed in mid-to-late 2022, with episodes potentially airing in early 2023. What is confirmed, however, is that the season will again be filmed at Caesars Entertainment Studios in Las Vegas, Nevada, which became the new venue for BattleBots in 2021. The studio also hosts US hit shows such as Hell's Kitchen, Who Wants To Be A Millionaire? and Love Island.
Though also unconfirmed, the 2022 season will likely follow the same competition structure as in the last two seasons, with bots getting three Fight Night matches each to impress the selection committee, who will ultimately determine who competes in the Top 32 single elimination bracket. The YouTube Bonus Fights will also presumably return for the 2022 season, where they'll be shown to Facebook Supporters on Thursdays when an episode airs before being released publicly on YouTube on Sundays. In response to several fights that were won under highly controversial circumstances during the 2021 season, BattleBots have stated their intention to revise the rules regarding controlled movement as well as unsticks and avoidance of engagement for the 2022 season.[2] The specifics of these decisions have not yet been made public, but proposed changes were revealed to Facebook Supporters in April and May 2022.
The 11-point judging system (5 points for damage, 3 points for aggression and 3 points for control) as well as the Matrix system the judges used to determine winners in a more objective manner will likely be back for the 2022 season.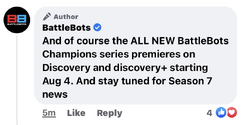 While Chris Rose, Kenny Florian, Faruq Tauheed, Pete Abrahamson, judges Derek Young, Lisa Winter and Jason Bardis and referees John Remar & David Sanfilippo are expected to return to their respective roles, it is currently unknown whether Jenny Taft will return for the season as pit reporter due to the birth of her child in March 2022.[3] In February that year, she responded to a Twitter post saying she will "hopefully" return for "next season", meaning Discovery Season 7.[4]
Its currently unknown whether BattleBots: Champions will return for the 2022 season, or if there will be any similar side competition. However, BattleBots acknowledged a seventh season on July 27, 2022 via their Facebook page.[5]
Teams Building for Discovery Season 7
[
]
Confirmed Applicants for Discovery Season 7
[
]
Trivia
[
]
Discovery Season 7 was the first to have been announced more than a season in advance, as it was confirmed alongside Discovery Season 6.
BattleBots: Champions was erroneously referred to as "Season 7" on multiple platforms, including YouTube and Amazon.
References
[
]