Discovery Season 6 was the sixth season of BattleBots since its return to television in 2015, and the fourth season since the Discovery network picked the show up from ABC.
Like every other reboot era season, it exclusively featured heavyweight robots. The season was filmed at Caesars Entertainment Studios in Las Vegas, Nevada across a two-week period spanning late August to early September 2021. To commemorate the new location, KONAMI developed a unique slot machine featuring a handful of iconic BattleBots competitors in their 2021 guise.[1] This slot machine was present during filming for the return of a live audience, as they were absent during the 2020 season due to the COVID-19 pandemic.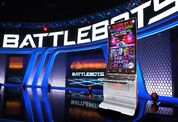 Discovery Season 6 of BattleBots had 60 competing robots in total. The roster included several established teams entering multiple robots, including but not limited to Seems Reasonable Robotics with Tantrum and Blip, and Team Fast Electronics with Whiplash and Defender.[2] This season saw the return of former runners-up Team Riobotz and Minotaur, as well as fan favorites Icewave and Yeti returning to the main competition for the first time since Seasons 3 and 4 respectively.
The season was ultimately won by Tantrum after defeating Witch Doctor in the Championship decider, led by co-captains Alex Grant and Ginger Schmidt with Dillon Carey driving.
Changes to the BattleBox
[
]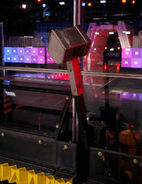 The biggest change to the BattleBox ahead of the season concerned a brand new hazard at the top of the arena - a 16' x 8' raised platform with flat sides and a pair of screws protruding from the front unofficially called The Shelf, but later dubbed the Upper Deck. It sat a total of six inches above the BattleBox floor, with slightly taller walls surrounding some of the edges to make it harder for bots to escape from. Once a bot drove or was moved onto the Upper Deck, red lights flashed behind the wall to signal a 20 second count. If a robot was sat upon the hazard for more than 20 seconds, irrespective of its mobility, it lost the fight.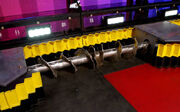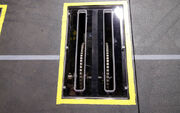 The out of the arena zones near the doors where robots enter and exit the BattleBox were initially off-limits for use before filming, though Greg Munson stated this was purely in the interest of safety to prevent these doors from being blocked by defeated bots. Notable competitors to have lost to these OOTA zones in previous seasons include Bombshell in Discovery Season 3 courtesy of Bronco and Bloodsport's freak exit from Discovery Season 4 during their play-in rumble with Railgun MAX and Uppercut. However, the OOTA zones by the doors to enter and exit the BattleBox were later back in use after several builders voiced their opinions to BattleBots officials during the season's first builders' meeting that this change, along with the lack of OOTA zones due to modifications to the BattleBox, was unfair. According to several teams, teams were not notified of this change, along with the addition of the Upper Deck, until shortly before filming, with teams such as Malice opting out of a total redesign after learning of the latter.[3] Despite these changes, Hydra was able to throw Gruff out of the arena in Episode 5, and HyperShock did the same to Lock-Jaw in the following episode's Main Event. However, the HyperShock instance was filmed first, hence the surprised and worried looks on some of the team. No punishments were issued for these out of the arena attacks, and they were permitted later in the season.
As well as this, the iconic BattleBox killsaws had their slots widened to be able to throw sparks at the beginning of each episode and before the Main Event. However, this proved to be detrimental to several robots during the season. Deep Six became immobile after jamming its front stabilizing leg into the slot in an unaired loss to SMEEEEEEEEEEEEE. Jamison Go's SawBlaze caught the casing for the hazard as it attempted to charge down End Game, jolting the whole robot sideways and making it vulnerable to an early attack from the defending champions.
"We wanted to race to the center first and establish position away from the walls but our forks were interrupted by the kill saws. Not the slots (our forks are designed to prevent that issue) but the covers, which are polycarbonate plastic, were gouged by the tips and dug in, spinning the whole bot around."
— Jamison Go reports on SawBlaze's loss to End Game.
Rule Changes
[
]
Concerning the rulebook, the sole major change concerned corralling following a highly controversial encounter between Hydra and HUGE in the 2020 season. Hydra's "bike rack" attachment prevented HUGE's spinning bar from making contact with Jake Ewert's machine while simultaneously being able to keep HUGE in a corner for much of the fight. Though not previously forbidden, fans and builders alike voiced their opinions on the fight. If a bot now corralls its opponent, the referee will instruct the operator of the corraling bot to move to a specific area of the BattleBox to free the corralled opponent. If the corralling bot's operator refuses to comply, the referee will issue a warning. If the operator still refuses to comply, the Referee will begin a ten-second countdown on the corralling bot and it will be considered knocked out. The first instance of this ironically came in HUGE's first fight of the season, as newcomer Riptide was instructed to back away from Jonathan Schultz's bot during their fight in Episode 3.
The eleven-point judging system, which scored five points for damage and three points for both aggression and control, remained the same. The judges now uses a Matrix system to determine the winners of fights that go the whole three minutes in a more objective manner than before. Aggression and Control are now ranked "minimal", "moderate" or "significant" and in the case of Damage, "massive" is the uppermost category.[4][5]
Damage
Aggression
Control
Minimal
"Doesn't reduce the functionality or effectiveness of the Bot."
"A Bot waits for its opponent to come to it, or else actively avoids contact with the

opponent (except when resetting or spinning up its active weapon)."

"Bot is rarely able (or unable) to initiate physical or weapon contact with, and also avoid

attacks from, its opponent. It also may inadvertently hit the guardrails or an Arena hazard."

Moderate
"Reduces the effectiveness of the drive, defensibility, or weapon system of the Bot."
"Bot occasionally demonstrates boldness and/or intent by utilizing its active weapon or

ramming to attack the opponent."

"Bot can occasionally use its weapon or armor to attack its opponent and sometimes

avoids opponent attacks. Generally avoids the Arena hazards."

Significant
"Eliminates the functionality of the drive, defensibility, or weapon system, or reduces the effectiveness of two or more systems of the Bot"
"Bot shows frequent demonstrations of boldness and/or intent by utilizing its active

weapon and/or ramming to attack its opponent."

"Bot moves decisively and effectively and is consistently able to attack its opponent and

avoid hits by the opponent's weapon or armor."

Massive
"Eliminates the functionality of at least two systems of the Bot."
N/A
N/A

As a result of the primary weapon usage controversy during the 2020 season, teams will now only get a maximum of two points in both the aggression and control categories if they don't use the bot's functional primary weapon and are just pushing their opponents around the BattleBox. Self-inflicted damage is now considered when the judges determine the winners.
Chris Rose, Kenny Florian, Faruq Tauheed, Pete Abrahamson, judges Derek Young, Lisa Winter and Jason Bardis, as well as referees John Remar and David Sanfilippo all retained their respective roles from the previous season, though pit reporter Jenny Taft did not return due to conflicting sporting commitments.[6]
The competition structure remained the same from last season, with each bot getting a maximum of three Fight Night matches to impress the selection committee, who eventually chose 32 bots for the single elimination Championship bracket. Each week, the Main Event and Fight Card were revealed to Facebook Supporters at 6am CT/PT and 2pm CT/PT on Mondays respectively. The Fight Card was then publicly revealed on Wednesday mornings via the podcast show Behind the Bots, with clothing released to commemorate Main Events throughout the 2021 season. The full Fight Card was officially revealed later on that same day.
Broadcasts
[
]
The season trailer was publicly released on December 2 2021, showcasing snippets from several fights across the competition. It largely focuses around Faruq Tauheed, while also teasing the Giant Nut and panned shots of several robots' weapons. The editing style, actions of Faruq and mood of the trailer pays homage to Styx and the music video for their lead single "Mr. Roboto", which plays throughout.
In the week leading up to the season premiere, BattleBots announced via Facebook that Supporters would get a bonus battle each Thursday morning at 7am ET/PT, with the battle going public on YouTube each Sunday. The first of these saw home team JackPot fight the redesigned Deadlift in a rematch from the Tombstone Bounty Hunters bracket. Discovery Season 6 premiered on January 6 2022 at 8pm ET/PT on the Discovery Channel, with episodes airing each subsequent Thursday at 8pm ET/PT, or available to stream from 3am ET/PT that morning on Discovery+. Discovery Season 6 concluded on April 7 2022, and the BattleTrot sculpture featuring parts of multiple competing robots was auctioned immediately after, with proceeds going to the Grant Imahara STEAM Foundation. The piece ultimately sold for $17,101 on April 17, 2022.[7]
BattleBots: Bounty Hunters will return for a second season following the conclusion of Discovery Season 6, though an air date has not been announced yet. Three robots turned out to be exclusive competitors for varying reasons, which turned out to be Perfect Phoenix, Big Dill and Double Jeopardy. It was later confirmed that the Bounty Winners from the 2020 season will try to defend their titles for the 2021 season.
2021 Season Competitors
[
]
| Competitor | Hometown | Builders/Team Captain | Win-Loss Record |
| --- | --- | --- | --- |
| Big Dill | Seattle, WA | Emmanuel Carrillo | ••• |
| Black Dragon | Itajuba, Minas Gerais, Brazil | Gabriel Gomes | 3-2 |
| Blacksmith | Edison, NJ | Al Kindle | 1-2 |
| Blade | Seoul, South Korea | Cheog Gyu Hwang | 1-2 • |
| Blip | Mountainview, CA | Aren Hill | 5-1 |
| Bloodsport | Cambridge, MA | Justin Marple | 2-2 |
| Captain Shrederator | Ormond Beach, FL | Brian Nave | 2-2 • |
| Claw Viper | Seattle, WA | Kevin Milczewski | 1-2 • |
| Cobalt | Oceanside, CA | Brent Rieker | 4-2 |
| Copperhead | Erie, CO | Robert & Kimberly Cowan | 3-1 •••• |
| Deadlift | Indianapolis, IN | Ryan Shulski | 0-2 •/•• |
| Deep Six | Norfolk, VA | Dustin Esswein | 1-2 • |
| Defender | Thousand Oaks, CA | Jason Vasquez | 2-2 • |
| Double Jeopardy | Irvine, CA | Evan & Bryce Woolley | ••• |
| Dragon Slayer | Denton, TX | Jordan Neal | 1-2 • |
| DUCK! | Palo Alto, CA | Hal Rucker | 0-3 |
| End Game | Auckland, New Zealand | Nick Mabey | 4-1 |
| Free Shipping | San Leandro, CA | Gary Gin | 0-3 |
| Fusion | Dorchester, WI | Reese Ewert | 1-2 |
| Ghost Raptor | San Jose, CA | Chuck Pitzer | 0-2 •• |
| Gigabyte | Oceanside, CA | John Mladenik | 2-2 ••••• |
| Glitch | Roseville, CA | Kyle Miller | 3-0 |
| Gruff | Palm Harbor, FL | Sam McAmis | 1-2 |
| HiJinx | Oakland, CA | Jen Herchenroeder | 2-2 |
| HUGE | South Windsor, CT | Jonathan Schultz | 2-2 |
| Hydra | Dorchester, WI | Jake Ewert | 5-3 |
| HyperShock | Miami, FL | Will Bales | 2-1 •••• |
| Icewave | Burlingame, CA | Marc DeVidts | 2-2 |
| JackPot | Las Vegas, NV | Robert Stehn & Jeff Waters | 3-1 •/•••• |
| Jäger | Gemunden, Germany | Ralf Schneider | 0-2 •/•• |
| Kraken | Titusville, FL | Matt Spurk | 0-3 ••••• |
| Lock-Jaw | San Diego, CA | Donald Hutson | 0-3 ••••• |
| Lucky | Ottawa, Canada | Mark Demers | 2-2 |
| MadCatter | Pomona, CA | Martin Mason | 2-2 |
| Malice | San Jose, CA | Adrian "Bunny" Sauriol | 1-3 |
| Mammoth | Baltimore, MD | Ricky Willems | 1-3 |
| Minotaur | Rio de Janeiro, RJ, Brazil | Marco Antonio Meggiolaro | 4-2 |
| Overhaul | Atlanta, GA | Charles Guan | 0-2 •• |
| P1 | Hudson, NH | Brandon Zalinsky | 3-2 |
| Pain Train | Staten Island, NY | Evan Arias | 0-2 •• |
| Pardon My French | Riviere-du-Loup, Canada | Philippe Voyer | 0-2 •/•• |
| Perfect Phoenix | Herndon, VA | Tyler Nguyen | ••• |
| Rampage | Port St Joe, FL | Melaina & Daniel Knox | 0-2 •/•• |
| Retrograde | Venice, CA | Aaron Lucas | 1-2 • |
| Ribbot | Worcester, MA | David Jin | 3-1 |
| Riptide | Tarzana, CA | Ethan Kurtz | 4-2 |
| Rotator | Miami, FL | Victor Soto | 3-1 ••••/••••• |
| Rusty | Antioch, IL | Dave Eaton | 0-2 •• |
| SawBlaze | Cambridge, MA | Jamison Go | 5-2 |
| Shatter! | Brooklyn, NY | Adam Wrigley | 2-1 •/••••/••••• |
| Skorpios | Moraga, CA | Zach Lytle | 2-3 ••••• |
| Slammo! | Raleigh, NC | Craig Danby | 0-2 •/•• |
| SMEEEEEEEEEEEEE | New York City, NY | Joe Fabiani | 1-1 •/•• |
| SubZero | Dallas, TX | Logan Davis | 0-3 • |
| Switchback | Dallas, TX | Greg Needel | 1-2 • |
| Tantrum | San Diego, CA & Cambridge, MA | Alex Grant & Ginger Schmidt | 7-0 •••• |
| Tombstone | Placerville, CA | Ray Billings | 2-2 ••••• |
| Triple Crown | Rancho Palos Verdes, CA | Todd Mendenhall | 0-1 •/•• |
| Uppercut | Cambridge, MA | Alex Hattori | 3-1 •••• |
| Valkyrie | Somerville, MA | Leanne Cushing | 2-2 • |
| Whiplash | Thousand Oaks, CA | Matthew Vasquez | 3-1 •••• |
| Witch Doctor | Miami, FL | Mike & Andrea Gellatly | 6-2 ••••• |
| Yeti | San Luis Obispo, CA | Greg Gibson & Christian Carlberg | 2-2 |
• = This robot fought in at least one untelevised undercard fight.
•• = This robot is confirmed to have not received any more undercard fights.
••• = This robot is confirmed to be exclusively competing in BattleBots: Bounty Hunters.
•••• = This robot made it into the Round of 32 despite not being given a third undercard fight.
••••• = This robot is confirmed to be competing in Battlebots: Bounty Hunters.
Controversy
[
]
Fight Night
[
]
Eighty pre-tournament battles were filmed in total, exactly enough for eight fights per episode for ten Fight Night episodes. However, with the announcement of Episode 10's fight card, it became apparent that a handful of teams currently sitting at 2-0 would not get a third Fight Night match. The only instance of a robot who had won a fight up to now who was not given a third battle was SMEEEEEEEEEEEEE, who had to withdraw from fighting MadCatter after damage sustained by Gigabyte in their second battle. SMEEEEEEEEEEEEE was replaced by Rampage, thus finishing 1-1.
Although the decision was made to act as a "bye" for teams already in good stead to seed highly in the Top 32 and make production more efficient within the filming schedule, several teams took to social media to voice their frustration at not being offered a third Fight Night battle. Outside of the fun aspect of getting an additional fight, teams cited sponsor exposure and the opportunity to properly test their robots as the main drawbacks to this decision.
"Everyone knows you're not guaranteed 3 fights. But up to this point we thought going 2-0 was a great way to get it - that the better you did the more fights you get. I don't think production realized at the time that teams want that third fight. They thought it was a reward, like a bye, but teams use the regular season for testing and going into a fight 2-0 gives you a great place to test something you might not want to risk in a do or die playoff fight. No only that, we need the airtime for sponsors. So, yea, not a lot of people were happy about this."
— Bots FC address the controversy on Reddit.[8]
OOTA Inconsistencies
[
]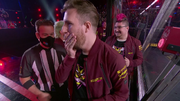 The aforementioned lack of consistency within enforcing the "out of the arena" rule by the BattleBox entrance for safety reasons also sparked controversy. Although Hydra's out of the arena flip on Gruff aired first, it was not the first filmed instance of an OOTA during the 2021 season.
"We were the first Out of the Arena of Season 6, thus Will and I making "oops" faces when it happened. We were terrified they'd disqualify us. I was worried about a worse possibility where we end up in some kind of controversial debate with production about the legality of the OotA."
— Team HyperShock's account of their Lock-Jaw victory.
At the time, there was no certainty over what sanctions may have been enforced if there was an out of the arena near the entry. This led to Team HyperShock and OYES Robotics following their OOTA of SawBlaze, to face potential punishments. As it happened, neither HyperShock, End Game nor Hydra were punished, and OOTAs were permitted from that point in the filming schedule onwards, becoming the cause of two of Tantrum's wins en route to the Giant Nut. However, this led to teams and fans alike airing their frustration at the mid-season change in stance on this rule.
Unstick and Crab-Walking Inconsistencies
[
]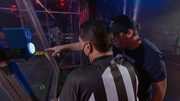 Likewise, there were a number of instances throughout the season where rules concerning what qualified as translational movement were not consistent. This most notably came to a head during Minotaur's quarter-final clash against Witch Doctor, where after the fight was paused to unstick the latter after it became stuck on the Upper Deck, tension arose as Mike Gellatly of Witch Doctor refused to engage with Minotaur. Under the impression that the referees would count it out, a lack of communication resulted in Witch Doctor evading a limping Minotaur for roughly half of the fight. Minotaur was only able to crab-walk on one wheel and used the gyroscopic forces of its own primary weapon to arc around the arena. This was deemed barely sufficient despite warning concerning counting Minotaur out throughout the battle, which were not well received by the team.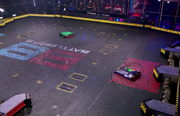 However, in an earlier Round of 32 clash between Hydra and Ribbot, David Jin's bot was similarly arcing around the BattleBox but was counted out at the time, much to the frustration of the Ribbot team.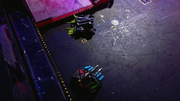 Similarly, whereas Witch Doctor was freed by BattleBots crew in a safe manner and the fight was allowed to resume, 2020 season runner-up Whiplash did not receive the same treatment as it lodged its forks into the Upper Deck in its Round of 16 loss to Cobalt. Following the final episode of the season, BattleBots responded to criticism of the implementation of these rules by stating they would reassess both topics ahead of future seasons.[9]
Static Electricity Issues
[
]

During the season, a handful of teams present were badly affected by static electricity in the new Las Vegas filming location. Notably, a weapon controller in SawBlaze died while the bot was sat inside the battery charging tents, and the team had just an hour to replace it and reassemble SawBlaze ahead of their Main Event fight against defending champions End Game. Team HyperShock theorized that a USB port from the side of their tablet may have broken as a result of the issue, but suffered no damage to the robot itself.
"The static electricity made it hard to just hand people parts this year."
— Kyle Awner of Team HyperShock states the extent of the issue.[10]
OYES Robotics, Bloodsport and the HiJinx team also lost speed controllers during filming, and many other teams were affected in less serious ways, often struggling to handle metal parts or touch their allocated pit tables without receiving minor shocks.
BattleBots: Fight Night
[
]
Episode 1: Slash and Burn
[
]
"Buckle up as bots from around the globe return to the BattleBox to face off in the world's top robot combat tournament including reigning champ End Game from New Zealand, launching its title defence against Hydra, the biggest flipper on the planet."
— Official description for Episode 1.
Episode 2: I Like Big Bots (That Will Not Die)
[
]
"Fourteen killer bots enter the arena in Sin City. Legendary drum-spinner Yeti returns after a year's absence. Rusty is back too but will his Mum's popcorn bowl be enough protection against the deadly weapon of his first opponent?"
— Official description for Episode 2.
Episode 3: Ducks, Dragons, Killer Snakes - What a Zoo!
[
]
"The action reaches fever pitch as more bots make their season debuts. Veterans return to the BattleBox to relive their glory years, while Giant Nut contenders are determined to make a splash."
— Official description for Episode 3.
Episode 4: Out With the Old
[
]
"With World Championship qualification on their minds, many of the best bots on the planet, including Tantrum, Sawblaze, Madcatter and former champ Tombstone, put it all on the line trying to win their second match of the qualifying round."
— Official description for Episode 4.
Episode 5: Let's Uppercut to the Chase!
[
]
"The march toward "The Giant Nut" continues as several fan-favorite bots face a potential 0-2 start; in a violent main event, defending champs End Game take on 2019 finalists Witch Doctor in a clash of the vertical spinners."
— Official description for Episode 5.
Episode 6: Bigger Than Bots
[
]
"A legendary driver and his teammates attempt to overcome not only their opponent, but personal tragedy - as the second half of the World Championship Qualifiers begins."
— Official description for Episode 6.
Episode 7: Edges, Wedges and Wheels
[
]
"It's a symphony of destruction as a fresh group of bots look to leave their mark on the 2021 season with a signature victory; the night reaches a crescendo as two of the sport's best drivers square off in the main event."
— Official description for Episode 7.
Episode 8: Flip the Script
[
]
"Shocking upsets shake up the entire competition. And with the World Championship looming, it's the last chance for many teams to make a statement that they belong in the Round of 32."
— Official description for Episode 8.
Episode 9: Put Up or Shut Up
[
]
"The penultimate week of the qualifying round has fourteen of the field's most destructive bots vying for a kick at The Giant Nut! In a tactically tantalizing Main Event two of the most aggressive drivers duke it out in a clash between Skorpios and Yeti!"
— Official description for Episode 9.
Episode 10: To The Victor, Go the Spoils
[
]
"It's the Selection Show! The Qualifying Rounds wrap up with 7 must-win matchups, as many fan faves try to secure a spot in the World Championship Tournament. At the end of the night, the field for the Round of 32 is revealed."
— Official description for Episode 10.
Top 32
[
]
Episode 11: Let The Tournament Begin!
[
]
"The World Championship Tournament has arrived! Only one team will hoist the most coveted trophy in the sport, the Giant Nut. The defending champions, End Game, are ready to defend their crown, but a stacked group of contenders aren't backing down."
— Official description for Episode 11.
* = Mammoth replaced Glitch as the No. 9 seed after Glitch was forced to withdraw from the Round of 32 due to major technical issues with its primary weapon. The team was unable to fix this in time for their fight with Witch Doctor.
Episode 12: 8 Down, 8 to Go
[
]
"It's all on the line for 16 killer bots as the round of 32 concludes. Spinners, lifters and flippers battle for survival in their quest for the ultimate prize: the Giant Nut!"
— Official description for Episode 12.
Top 16
[
]
Episode 13: Round of 16
[
]
"The march towards The Giant Nut rages on as the final 16 bots fight for survival! The best of the best are left, but only eight will survive tonight to face the ultimate conflict."
— Official description for Episode 13.
Top 8
[
]
Episode 14: BattleBots: The Finals
[
]
"By the end of tonight's season finale, a new team will hoist the Giant Nut and be crowned BattleBots World Champion. It's winner takes all, as the final eight bots face off in the ultimate robotic fight to the death."
— Official description for Episode 14.
Exhibitions
[
]
Towards the end of the season, BattleBots confirmed a total of ten exhibition fights which would initially be shown to Facebook Supporters before being released publicly at a later date. It is currently unknown when these are due to be shown, or what they entail.
TBA vs. TBA
TBA vs. TBA
TBA vs. TBA
TBA vs. TBA
TBA vs. TBA
TBA vs. TBA
TBA vs. TBA
TBA vs. TBA
TBA vs. TBA
TBA vs. TBA
Trivia
[
]
Discovery Season 6 marks the reboot era of BattleBots being officially longer than its classic era on Comedy Central.

With a seventh reboot season already announced, Discovery is also set to match Comedy Central for the network with the longest run of consecutive seasons of BattleBots.

The entire first episode's fight card was revealed to Supporters on Facebook in October 2021, a whole three months before the episode would air on Discovery.
This season marked the first since the expiry of Robot Wars contracts for a handful of European teams, hence why robots such as Sabretooth were allowed to apply under the same name as their Robot Wars counterparts.
Both Hydra and Blip achieved a total of 17 flips against Black Dragon and Valkyrie, respectively, before meeting one another in the Top 8.
The 2021 season marked the first time BattleBots saw a female-led team win the Giant Nut in Tantrum's co-captain Ginger Schmidt.
References
[
]