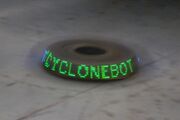 CycloneBot was a Heavyweight robot built by Canadian team CM Robotics that competed at the 2005 BattleBots Rochester R3 event. It was a two wheeled, Silver, invertible, translational drift spinner. CycloneBot also had a unique feature called Tauntware which would display messages as the robot spun.
CycloneBot did not do well in BattleBots, losing one match, and forfeiting another in its only event. The team that built CycloneBot also entered Ziggy into the SuperHeavyweight category at the same event, to much better success as it became the runner-up in that weight division.
CycloneBot also competed in RoboGames, and RFL events up until it was retired in 2007, to very little success. Despite this CycloneBot got an honorable mention in the Robot Combat Hall of Fame in 2007 due to it's unique looks, and crowd favorite status on the live event scene.
Robot History
BattleBots Rochester R3
CycloneBot's first match was against Big Betty. It lost this fight, and was now in the losers bracket where it was scheduled to fight Tetracide. However CycloneBot encountered technical issues, and was forced to forfeit, eliminating it from the tournament.
Wins/Losses
Community content is available under
CC-BY-SA
unless otherwise noted.