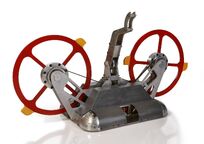 Counter Revolution
 was a heavyweight robot which competed in the 2009
BattleBots
Professional Championship. It was a low box-shaped robot armed with two vertically-rotating discs, one on the front and one on the back. The way the discs were positioned made it look like a reel-to-reel projector for movies back in the day. This design was intended to counteract one of the biggest problems in vertically-spinning weapons: gyroscopic procession. It did this by having the two discs to counteract the forces, making it incredibly stable. Although it was stable, it was still possible to be tipped over when it was 220 lbs. However, it didn't perform well in competition, losing both of its matches at this event.
Counter Revolution was chosen to participate in the 2015 BattleBots reboot as an alternate, meaning it would be ready to compete in case one of the selected robots could not. The robot was modified with the increased weight limit, adding an arm which could tip the robot back onto its wheels if it was flipped and new red discs water jet cut out of steel. In order to combat robots armed with flamethrowers, which were now legal, builder Curt Meyers coated the outside armor in a fireproof substance known as in tumescent paint. When Beta could not compete due to electrical problems, Counter Revolution was chosen as its replacement. It did very poorly in ABC Season 1, losing in the first round by a devastating knock-out to Season 1 runner-up and Season 2 champion, Tombstone.
Curt Meyers (and previous teammate Amy Sun) also built Kill-O-Amp, Jaws of Death and Pokey. Curt applied for Season 2 of the ABC show with an upgraded Counter Revolution, but it was not selected. However, Counter Revolution competed at RoboGames with much more success.
Robot History
Pro Championships 2009
Counter Revolution lost to
Safety Factor
and
Stinger: The Killer Bee
at the Pro Championships of 2009. It is unknown what exactly happened during the fights against those bots.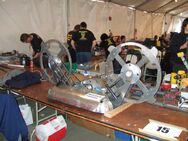 ABC Season 1
Counter Revolution's sole match in the season was against Tombstone. Both machines spun their weapons up and Counter Revolution approached Tombstone. However, Tombstone struck the front of Counter Revolution, severely damaging the body and removing its drive motors. Tombstone struck Counter Revolution several more times, causing large amounts of damage and even cutting through one of Counter Revolution's discs before landing one last hit that launched Counter Revolution through the air and into the wall. Tombstone was given the victory by knockout. Counter Revolution was not given a wildcard meaning it was eliminated in the early stages of the tournament.
Wins/Losses
| Competition | Wins | Losses |
| --- | --- | --- |
| Pro Championships 2009 | None | |
| ABC Season 1 | None | Tombstone |
Faruq Tauheed Introductions
"It causes more headaches than the guillotine. COUNTER REVOLUTION!"
See also
Community content is available under
CC-BY-SA
unless otherwise noted.