This page/section of page contains SPOILERS about re:MARS all:STARS 2022 and/or BattleBots: Champions. If you are unaffected by potential spoilers, then continue to read the page. Otherwise, this page/section of page should not be read before watching the relevant episodes.
Cobalt is a robot built by Team Carbide from the United Kingdom, which competed in ABC Season 2 as well as Discovery Seasons 4 of BattleBots under their ownership. Bought by Robotic Death Company in 2021, Cobalt also competed in Discovery Season 6 and have applied for the 2022 season of BattleBots reboot.
Cobalt was built by Dave Moulds, who had previously joined John Reid and Team Robo Challenge's Grant Cooper for ABC Season 1 entry Beta. It was also built by Sam Smith, who competed with the Tiberius line of machines in Series 4-7 of Robot Wars and Series 2 of Robot Wars: Extreme, winning the University Challenge special with Tiberius III. A modernized version of the machine (Tiberius 4 to be specific) was bought by Team Storm in 2013, and would later enter ABC Season 2 as Photon Storm. Cobalt was originally an invertible, two-wheel drive robot armed with a powerful asymmetrical bar spinner, which bore a close resemblance to a bladed axe head. Cobalt performed decently in its debut season, reaching the Round of 32 before losing to Bombshell.
Around the same time that Team Carbide developed Cobalt for BattleBots, the team built Carbide for Robot Wars, which had great success in its appearances, winning Series 9 overall and making the Grand Final of its other two seasons. In doing so, it became the only competitor in Robot Wars history to make three Grand Final battles. Both the ABC Season 2 version of Cobalt and Carbide were largely similar in shape and design; Carbide differed in using a symmetrical bar spinner, different armor and internals, and a black and green color scheme instead of Cobalt's original white, blue and red.
Cobalt did not return for Discovery Season 3 due to filming clashes with Chinese robot combat show This is Fighting Robots, which Team Carbide had much more success with, becoming champion of the show, despite losing its debut fight.
For the 2019 season, Cobalt was near unrecognizable from its previous iteration, now sporting a black and green color scheme like that of their Robot Wars Series 9 winning entry Carbide, and a four-wheel drive design similar to their This is Fighting Robots entry Tungsten. In this form, it adopted a steep wedge-shaped profile and a vertical flywheel with several sharp teeth. Unlike Tungsten, the 2019 build of Cobalt did not have an electric self-righting axe. Despite a decent start, Cobalt suffered from its wedge body being too steep and relied on a wedge piece at points, which cost it three matches. With Cobalt's main wedge body, without the wedge piece at the front, Cobalt couldn't get underneath anyone. It didn't help the fact that Cobalt had to use bigger tires in its last two matches to avoid getting high centered, which left the middle wedge piece even more vulnerable to getting ripped off in both matches and making it even harder for Cobalt to get under, since its body was no longer scraping the ground, while other robots, like Minotaur, were able to push the British bot around from the front without getting hit by the disc. Though it impressed during the Fight Night rounds, it eventually lost to Team RioBotz's machine.
Team Carbide initially announced that Cobalt would be returning for Discovery Season 5, but due to travel restrictions resulting from COVID-19, they later announced they would not return for the 2020 season.[1][2]
Cobalt returned for Discovery Season 6, now under the control of Robotic Death Company, as Dave Moulds and Sam Smith confirmed their retirement from robot combat to spend more time with family. This version of Cobalt was largely similar to its previous iteration, though the front wedge was made noticeably less steep to get under bots easier, and it sported a new 36lb disc decorated with gear patterns and a robotic skull on the tooth. With Robotic Death Company essentially split down the middle for this season, Matt Maxham, previously of Stinger, was Cobalt's driver for the 2021 season. Along with wife Wendy Maxham, he was joined by Micah Leibowitz, formerly of Skorpios and Wrecks, Alon Belkin from 2020 season rookies Axolotl and several others. Cobalt began with a loss to Reese Ewert and Fusion, but more than made up for its early defeat with one of the most visceral knockouts of the show's history against Ghost Raptor. This was backed up by another convincing win over Gruff to finish with a 2-1 record. With wins over Yeti and Whiplash in the tournament bracket, Cobalt's run for the Giant Nut ground to a halt at the hands of eventual champions Tantrum.
Soon after airing of the final episode of Season 6, Derek Tran confirmed Cobalt's intention to enter Discovery Season 7.[3] Alongside a handful of other robots from the 2021 season, Cobalt also made an appearance as a static display at a live premiere of the tournament conclusion in San Jose, California.
In June 2022, Cobalt was confirmed to return for the re:MARS all:STARS Challenge, once again with Robotic Death Company. Despite bettering Skorpios in the first round, it fell short of the final to Hydra. This proved to be the final time Matt Maxham would drive the robot, as controls were handed over to John Mladenik for future competitions.[4]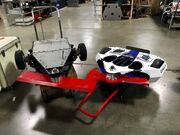 Sam Smith and Dave Moulds reunited with Cobalt in 2022, officially joining Robotic Death Company ahead of Discovery Season 7 application. The team confirmed this via Instagram in August 2022.[5]
Robot History
[
]
ABC Season 2

[

]
Cobalt vs. Overhaul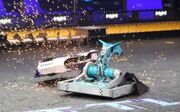 Cobalt's first ever match in BattleBots was against Overhaul. In the beginning of the match, Cobalt started spinning its blade and Overhaul moved toward the drivers booth. Overhaul was able to consistently deflect most of Cobalt's hits and Cobalt started smoking. Despite this, Cobalt's blade was still moving and gave Overhaul one more hit. This hit disabled Cobalt's spinning blade and Overhaul lost drive on one side. Cobalt was able to escape and Overhaul was now being counted out. Although the motor was still spinning the blade, the team wouldn't trust it for another fight. So they decided to modify the chassis to take a bigger motor they could get delivered overnight. In spite of this, Cobalt won the match by KO at 1:26 and advanced to the Round of 32 with its No.14 seeding, where it faced the No.19 seed Bombshell.
Cobalt vs. Bombshell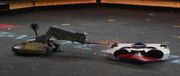 The match started out fairly evenly as Cobalt approached Bombshell while facing backwards and withstood the first attack. However, after a few more attacks, one of Cobalt's tires was torn off, leaving the robot to vibrate a bit as it moved around. A few seconds later, Cobalt's remaining tire was torn off, leaving it unable to move. Cobalt was counted out and Bombshell won by KO at 1:45. This meant that Cobalt was eliminated from the tournament.
Discovery Season 4

[

]
Cobalt vs. SubZero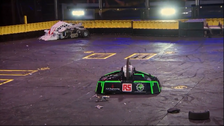 Cobalt's first match since 2016 put it originally against Captain Shrederator, who accepted to fight with little time to make any final adjustments. However, Team LOGICOM had fought Cobalt recently and did not want a repeat performance, so they opted to switch opponents. This instead put Cobalt against SubZero. For this fight, Cobalt added an extra wedge to the front of it in hopes of getting underneath SubZero. As the match began, Cobalt got in the first hit, sending SubZero up and buffering one of the added wedgelets. The second sent a piece of SubZero's added wheel protection flying and tore a tire. Cobalt kept the punishment coming as it started tearing up the right side of SubZero, sending it up and breaking the front right tire. SubZero was still moving on its back wheels, so Cobalt kept the pain coming. SubZero tried to recover and managed to stop Cobalt by going wedge to flipper, but that only held Cobalt off for a second. SubZero tried running away, but Cobalt caught him, pushed him into the wall and tore off the left wheel guard of SubZero, as well as what was left of the front left wheel. Cobalt then got under SubZero and damaged the underside near the pulverizer. SubZero tried fleeing once more, but Cobalt caught up and slammed SubZero in its exposed spacing, tearing out one of its gas tanks and throwing it against the wall and onto its back, before hitting it again and putting them on their side. SubZero got off the wall, but Cobalt turned back around and slammed SubZero once more and SubZero stopped moving. SubZero was counted out, giving Cobalt its first win of the season.
Cobalt vs. DUCK!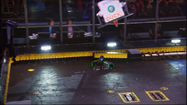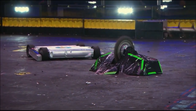 Next for Cobalt was veteran DUCK!. In response, Cobalt added an extra wedge to hopefully get under Duck and cause damage.

This proved to be a good idea because as the match began, Cobalt sent DUCK! flying through the air, but DUCK! came right back down seemingly unscathed. Cobalt continued to attack, sending DUCK! flying each time and eventually flipping DUCK! over near the pulverizer. DUCK! escaped and now had a bent lifting plow so Cobalt promptly tore it off, sending it out of the arena. DUCK! was now weaponless so Cobalt moved in for another attack, but ended up hitting a seem in the floor and landed directly on an uneven patch of the floor where it couldn't move. Cobalt was counted out, giving DUCK! the win by KO.
Cobalt vs. Bombshell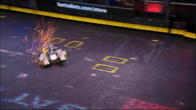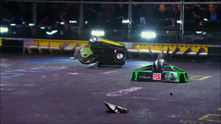 Next for Cobalt was Bombshell in a rematch from 2016, where Cobalt previously lost. Cobalt went with its usual wedge extension to get under Bombshell and cause damage. Cobalt was easily able to get under Bombshell, throwing it high into the air but Cobalt lost its front wedge extension in the process. This did not phase Cobalt as they got under Bombshell again, tossing them into the air once more and this time Bombshell landed upside down with no way to right itself. Bombshell was counted out, handing Cobalt the win by KO, and redemption for their loss in 2016.
Cobalt vs. End Game
Cobalt's run in the 2019 season continued with a match against Jack Barker and End Game. As a result, Cobalt swapped out its tires for larger ones to avoid getting high-centered on the arena floor and a new front wedge attachment to get under End Game and hopefully cause damage. Unfortunately, this didn't go as planned as Cobalt started the match by losing its front wedge, with its wedge embedded into the arena ceiling.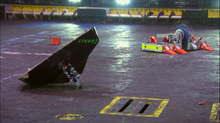 This made it very difficult to get under End Game and the tires that were chosen weren't providing sufficient grip on the arena floor. End Game was experience drive issues of its own, so Cobalt was able to get in a hit. Cobalt then took a big hit from End Game which sent it high into the Lexan, but it landed upside down and could not self-right as it lost its weapon belt. Cobalt was counted out, giving End Game the win by KO.
Cobalt vs. Minotaur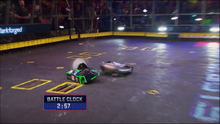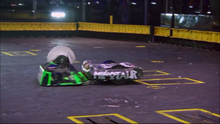 Cobalt, having just come off a tough season, was still capable of making the Top 16. It just had to get past Team Riobotz and Minotaur. Cobalt had a new front wedge and a new 50lb weapon to deal with vertical spinners. Early on, Cobalt lost its front wedge in an attack which launched the British bot high into the air, bringing down pieces of lighting from above. It was still functional after landing, so Minotaur continued to attack. Cobalt was then thrown high into the air and nearly out of the arena but managed to recover, as Team Riobotz sensed Cobalt's wedge was no longer optimal for getting underneath them. However, as the fight progressed, Minotaur's drum was no longer working, but Cobalt struggled with Minotaur's superior pushing power. Cobalt found itself up against the arena walls, only able to cause minor scrapes to Minotaur's drum during the rest of the match until time ran out. The judges awarded Minotaur a unanimous 3-0 decision and a spot in the Top 16, ending Cobalt's run for the Giant Nut.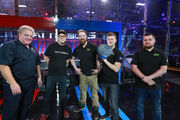 At the end of the season, the Cobalt team were awarded the Most Destructive Robot Award for 2019.
Discovery Season 6

[

]
Cobalt vs. Fusion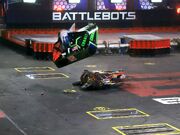 After a season away from BattleBots and now under the ownership of Robotic Death Company, Cobalt returned for the 2021 season. Its first opponent was against Team Whyachi's Fusion, and the team welded an additional front fork onto the bot. Fusion got the best of the early exchanges, sending Cobalt flying away and into the air as Matt Maxham struggled to get underneath Fusion. Cobalt continued to attack but both weapons on Fusions were spinning, and Cobalt continued to be launched up into the air, often landing directly on its own weapon. As the fight wore on, Fusion was able to tear away at Cobalt's front wedge until another assault saw Cobalt land on its head near the arena barrier. Unable to self-right, Cobalt was counted out and Fusion took the win by KO.
Cobalt vs. Ghost Raptor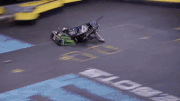 Cobalt's second fight was against Ghost Raptor. Sporting front forks rather than the defensive approach that failed them last time, Cobalt found itself box-rushed by Ghost Raptor in the opening seconds. Cobalt took a hit which sent it turning into the screws of the Upper Deck, but it escaped and landed a few hits of its own to the front of Chuck Pitzer's bot, shredding both of their front wheels. Cobalt's forks then became stuck in the screws, but Ghost Raptor was unable to capitalize before Cobalt turned to face it again. It then scored a hit on the rear of Ghost Raptor before overturning it. Cobalt slid its forks underneath its upturned opponent and charged across the BattleBox, making contact right in front of the drivers. This impact caused a shower of sparks and completely destroyed Ghost Raptor, splitting it in multiple places, separating the drive pods and eventually causing smoke to emit from the remains of the former semi-finalist. Cobalt added an impressive win to its name, now with a 1-1 record.
Cobalt vs. Gruff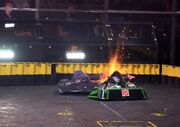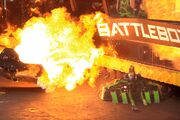 Cobalt's final Fight Night opponent was fellow 1-1 bot Gruff. The team opted for their hinged wedgelets for this fight, and this proved to be the right call as Cobalt immediately got underneath Gruff to flip it upside-down. Gruff had its fork caught in the killsaw slot for a moment, but was soon free and threatened with their flames. However, Gruff ran right into the front of Cobalt again and was launched high into the air, buckling a lifting fork on impact. Gruff took a hit from the 100lb pulverizer before hitting Cobalt's disc head on once more, again flying across the BattleBox. Cobalt continued its relentless assault as Sam McAmis' machine appeared to have lost drive on one side, throwing it against the arena barriers. Smoke began to emit from the underside of Gruff after the next impact damaged their propane tank, and it burst into flames soon after. Unable to show translational movement, Gruff was counted out and Cobalt advanced to 2-1 for the season.
Cobalt vs. Yeti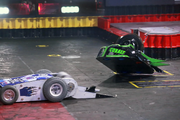 Entering the Top 32 as the No.14 seed, Cobalt faced No.19 seed Yeti in the first round of the tournament. Ahead of this fight, the team equipped Cobalt with large, curved forks which protruded past the length of their outer wedges. Yeti's forks initially prevented either weapon from engaging, but Cobalt was able to nearly shove Yeti into the Upper Deck in the opening seconds. As Cobalt turned around, Yeti stood up on its forks in order to raise its drum, but saw the tip of its left fork curled upwards in doing so. Cobalt was then driven by Yeti into the wall, and lifted off the floor as it turned to escape. Yeti took advantage, getting around to its side and landing the first big hit of the fight with its drum. Cobalt landed upside down, though bounced back onto its wheels and recovered well. It spun to Yeti's side as it tried to attack the exposed wheels, though drove into one of the paddles of the BattleBox. Both robots drove to the center of the arena as Yeti drove up the front of Cobalt and straight into their primary weapon. Greg Gibson's bot was thrown upwards and landed inverted. Though it could drive that way, Yeti was able to use its forks to quickly self-right. However, neither was flush to the ground at this stage and Cobalt again punted its opponent high into the air. Yeti twisted and turned, and one of its rear wheels appeared to have locked up upon landing. Furthermore, Yeti's right-side armor panel had begun to peel away as it desperately tried to recover. It was no longer able to drive, and Yeti was counted out, allowing Cobalt to advance in the tournament.
Cobalt vs. Whiplash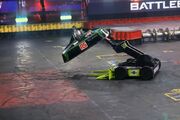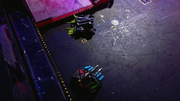 Cobalt's next opponent in the bracket was 2020 season runner-up Whiplash. Whiplash was able to lift Cobalt multiple times, even making Cobalt have to right itself. However, Whiplash mistimed an attack and got one of its forks stuck in the side of the upper deck. Cobalt used this opportunity to strike, and was able to land multiple blows on Whiplash. One of these attacks led to Cobalt becoming stuck on the floor of the arena and the referees decided to pause the match. Although the show claimed that Cobalt's weapon could not be turned off, this has since been strongly refuted by Robotic Death Company and multiple attendees. Upon planning to restart, debris from Whiplash had obstructed the linked drive and weapon switch.
"When attempting to shut off Cobalt, Trey could not shut off the weapon as there was some debris blocking the switch. What we had told Trey which was not heeded, was that our weapon and drive switch are linked, so the drive switch could've been shut off which would have powered down the whole bot. At no point was our spinner stuck on. Trey decided to simply count the whole thing as a double KO, and did the KO as seen filmed."
— Derek Tran clarifies the controversy.[6]
Trey Roski determined that the fight could not be safely restarted, and a simultaneous knockout was declared. Since Cobalt caused the most damage to Whiplash, it got the judges' nod and advanced to the Top 8.
"Was this upsetting for Whiplash? Yes, but remember, this is a tv show and that was cut showing our weapon spinning at the end! I DID shut it off, but it takes 45 seconds to stop spinning and it did shut off at the controller, but the crew bots couldn't turn off the Whyachi switch because there was a piece of Whiplash in the switch, so they said it wasn't safe to work on Whiplash. We were told it was a simultaneous knock out and we won the judges' decision on damage. Was it fair? Don't know. Was it inconsistent box treatment of competitors? Yes. Were we 100% functional at the stoppage? Yes. Did Whiplash have drive issues from hits? Yes. Should they have freed Whiplash? Yes. Was Cobalt stuck also? Yes (though we were stuck on the floor damage from an earlier round fight that went unnoticed by us or the crewbots). So, if they unstuck Whiplash, I don't believe they were translating well enough to not get counted out. So the situation sucks and we got the judges decision."
— Matt Maxham's explanation behind the double knockout.
Cobalt vs. Tantrum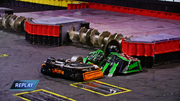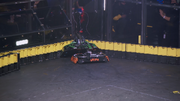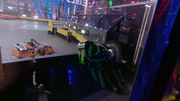 In the quarter-finals, Cobalt faced 2020 season semi-finalist Tantrum, who was yet to lose a battle this time around. For this battle, Cobalt again opted for the hinged inner forks which served it well throughout the tournament up to this point. As Cobalt spun up to speed and entered the center of the BattleBox, it was circled by Tantrum who looked for an early opening. Tantrum's front forks lifted those of Cobalt, allowing it to drive its oppent into the rails and land a couple of punches with the drum spinner. Pinning Cobalt against the Upper Deck, Tantrum dealt another few punched which peeled up the leading edges of Cobalt's forks, rendering them useless. Matt Maxham drove away but parts of the robot were strewn across the floor with little chance of getting its vertical spinner into play. Both robots engaged in a pushing match followed by a period where they evaded one another, but Cobalt's side lifted off the floor as it turned and Tantrum capitalized, pressing it against the rails and grinding its drum on the underside of its opponent. Tantrum then reversed a few inches and slammed it again. This move which sent Cobalt bouncing up and, with the help of their own vertical spinner, flying out of the arena. Tantrum advanced as Cobalt's run for the Giant Nut ground to a halt.
re:MARS all:STARS BattleBots Challenge (2022)

[

]

This page/section of page contains SPOILERS about re:MARS all:STARS 2022 and/or BattleBots: Champions. If you are unaffected by potential spoilers, then continue to read the page. Otherwise, this page/section of page should not be read before watching the relevant episodes.
Cobalt vs. Skorpios
Cobalt was one of eight robots selected to compete in the second re:MARS all:STARS Challenge in June 2022. In the first round of the bracket, it faced Skorpios. After getting to the back of its opponent and leaving gouges in the back armor, Cobalt was barely attacked throughout the fight but could not finish Skorpios off. The fight went to an audience vote, who cheered in favor of Cobalt.
Cobalt vs. Hydra
Next up for Cobalt was Team Whyachi's Hydra. However, Hydra again won by knockout and moved to the final, eliminating Cobalt at the semi-final stage.
Results
[
]
COBALT - RESULTS
ABC Season 2
2016 Championship
14th seed
Round of 48
vs. Overhaul
Won (KO)
Round of 32
vs. Bombshell
Lost (KO)
Discovery Season 4
Fight Nights
2-2, lost Play-in
Fight Night
vs. SubZero
Won (JD)
Fight Night
vs. DUCK!
Lost (KO)
Fight Night
vs. Bombshell
Won (KO)
Fight Night
vs. End Game
Lost (KO)
Play-in
vs. Minotaur
Lost (JD)
Discovery Season 6
Fight Nights
2-1
Fight Night
vs. Fusion
Lost (KO)
Fight Night
vs. Ghost Raptor
Won (KO)
Fight Night
vs. Gruff
Won (KO)
Top 32
14th seed
Round of 32
vs. Yeti (19)
Won (KO)
Round of 16
vs. Whiplash (3)
Won (Double KO, JD)
Round of 8
vs. Tantrum (11)
Lost (KO)
re:MARS all:STARS BattleBots Challenge (2022)

Round of 8
vs. Skorpios
Won (Crowd)
Semi-Finals
vs. Hydra
Lost (KO)
Wins/Losses
[
]
Faruq Tauheed Introductions
[
]
"Roses are red, this bot is blue. Poems are dumb. Now, you're gonna die. It's COBALT!"
"Blade in the UK, pound for pound, the deadliest bot in the 'Box. It's the banger, you're the mash. It's COBALT!"
"This bot is made of one compound: fractures. Trust me, you are out of your element. It's going to give you the bluesies from the bruiseies. Here's COBALT!"
"Roses are red, this bot's now green. Blah, blah, blah it's... gonna kill you. It's COBALT!"
"If it were a beer, it would be called Bots Blue Rippin. Wastes great, best killing. Alright, it's thrilla time! This bot's for you. It's COBALT!"
"From the UK, the killer fable, box you up like the periodic table. It got your number and when it gets its shots in, don't ask why. It's elementary, my dear Botson. All hail the hitman from Brit-land, COBALT!"
"From Pleasant Garden, North Carolina, he came, he saw, he sawed... It's COBALT!"
"You know a bot's a killer when It's chemical element 27. 27 is the very age all those rock stars went to heaven. Did this bot kill all those musicians? Is it one to blame? Of course it did, you idiot. It killed the entire Hall of Fame. It's COBALT!"
"This team's from a place called Pleasant Garden. Man, that sounds nice. Let me guess, low crime rate? Good schools? Just a wonderful life? Then again, how pleasant could it actually be when its most famous resident is this robotic killing machine? Give it up for COBALT!"
"The bot with only one full-time job on its resume: kicking your ass. It's COBALT!"
Trivia
[
]
Despite being under the ownership of Robotic Death Company, Cobalt sported the Union Jack flag for Discovery Season 6.
Cobalt is the first modern BattleBots competitor to have been entered by both a UK and a US-based team.
Cobalt has competed in every even-numbered season of BattleBots since its 2015 reboot, and been absent for every odd-numbered season.
All of Cobalt's fights except for its match against Minotaur have resulted in a knockout.

This includes its fight with Whiplash, as it ended up as a double KO.

In the full untelevised Round of 16 fight between Cobalt and Whiplash, Cobalt strangely did not receive an introduction whereas Whiplash did.
Cobalt's main vertical spinner is designed to carry the foe with the small teeth, then uppercut them with the bigger one. This weapon style is what allows the weapon to be effective.
See Also
[
]
References
[
]