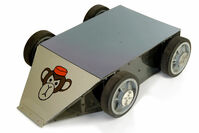 Chipper Monkey was a middleweight robot which competed in Season 4.0 of BattleBots. It was a silver four-wheeled robot with a static wedge and no active weapon. It didn't perform well in competition, losing its first match to ZiggZagg.
It also competed in Robot Wars: Extreme Warriors as Basenji and was armed with two hole saws. The team later returned for BattleBots Rochester R3 in 2005 with the Middleweight Mr. Chuck a lot which did only slightly better.
Robot history
Season 4.0
The match began with the two circling and pushing each other, and ZiggZagg got under Chipper and managed a few slams into the spike strips. He got stuck during one of his own attack runs, but managed to get free. Chipper Monkey acutally got under ZiggZagg then, but ZiggZagg quickly escaped. The bots circled each other more, and ZiggZagg put Chipper into the spikes another time. ZiggZagg got back under Chipper again, but this time both bots were immobile for some reason, but separated. Chipper Monkey then went up and over Zigg Zagg, but got one good hit on him, smacking right underneath like a wedge hammered into a stump. Zigg Zagg looked a little hesitant and intermittent after that, but the match soon ended, with Zigg Zagg once again right underneath his opponent. It came down to a 23-22 decision, with ZiggZagg taking the win.
Wins/Losses
External Links
Community content is available under
CC-BY-SA
unless otherwise noted.